If you are like most people selling your home in a seller's market, where there are few houses for sale and lots of buyers, you would think spending money on home staging is a dumb idea.
After all, why spend money on staging when you can reasonably expect it will sell quickly. Why spend money on fixing things or remodeling? Why spend money on painting, or even cleaning?
I see it all the time. I live in a small town that has limited housing, so it is always a seller's market. I am amazed sometimes at the listing photos I see online.
 I get it. What you are really saying is why spend any money at all if you do not have to. You do have holding costs like mortgage and utilities after all and will have to pay your realtor and closing costs.
"That is an interesting belief that will cost you."
Think about it. The supply of houses is limited. People are looking to buy. They want the best house they can get for the money. If there are five houses for sale, and they all look just OK, including yours, you will likely still sell quickly but at what price? About the same as everyone else with a similar OK house.
What if your house looks amazing compared to the other similar homes? Everyone is going to want it. What will happen? Can you say bidding war?
What do I mean when I say amazing? Your house is clean, repaired, beautifully staged and move in ready. You have professional photos showing it off online. Everyone will want it and they all know everyone else will want it too!
OK, I hear your gears grinding from here…. but how much will it cost me to do all that compared to how much more I will get on my home sale? I am glad you asked.
In my experience, if people spend .5 to 1% of the home's value on getting their home ready for market, which includes the painting, repairs, cleaning, and staging, they often get 10-20% more on their home sale.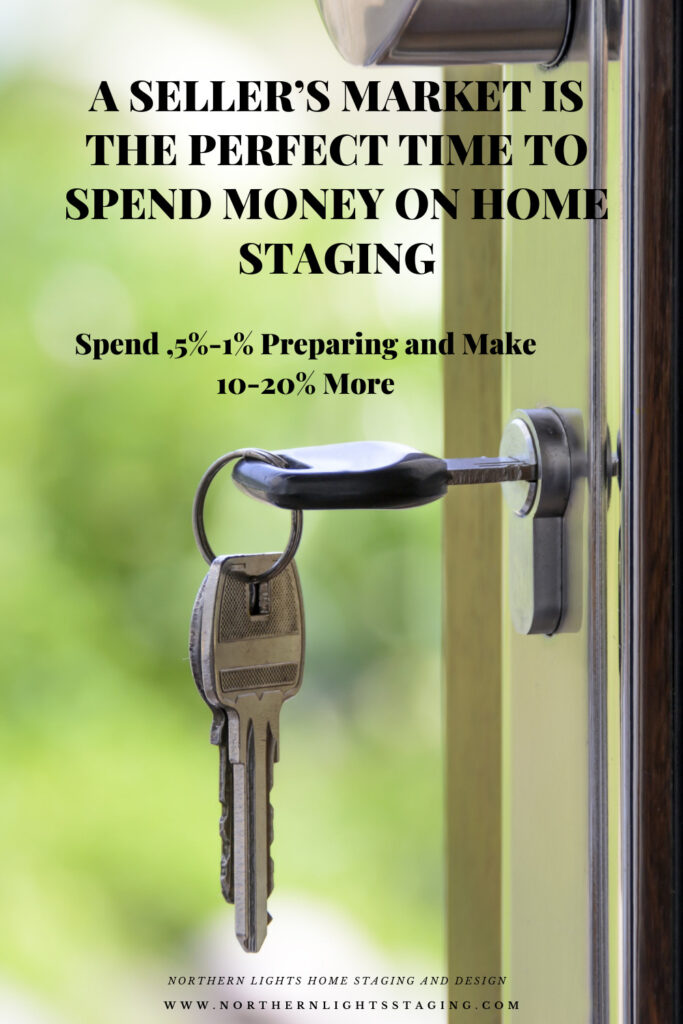 For example, I recently staged a home in a seller's market. The realtor was concerned that the seller would be lucky to get 20K less than they wanted to list for in the house's current condition.   The owner knew they needed to move their things out and get it cleaned. They were not considering doing much more. The realtor suggested home staging.
We started with a consultation in which I recommended painting over some colors I knew would not be appealing to buyers, installing some missing lights, removing most of the existing furniture and personal items , having it cleaned,  having the yard work done and for me to stage it. I believe the maintenance and painting probably cost them about $500.  The consultation, staging and accessory rentals cost about $1500. So, the owner spent about $2000 to prepare it for market.
So, what happened? After I staged the home, the seller received 2 over asking price offers within 24 hours and 15 offers in 7 days.  They sold the house for 30K over asking price! So not only did they make up for the 20K the realtor thought they could not get to meet their asking price, but they also made an additional 30K. That is 50K more than expected, because they spent 2K on preparing and staging.
Note this was a small house, so costs to prepare or stage and prepare larger houses can vary quite a bit based on the size and what they need. At the same time, larger houses have a much higher sales price and greater opportunity for the seller to make even more on the sale.
Spending money on home staging is kind of like going on a diet. You have to put up with a little short-term pain of spending some money up front to get the big pay-off in the end. Or instead, maybe I should say home staging is like going on a healthy diet….you know it is the right thing to do to get a return of perfect health, and with home staging to get the return of your best sales price. It is simply hard to get started!
So, are you going to hang out eating cookies all day or do what is good for you?
So Are You Going to Eat Cookies All Day?
Get your online home staging consultation or staging service today. Click on the pictures to learn more. For in person consultations or staging, call for a custom quote