I have a unique philosophy and system of Interior Design called Aligned Design you will not find anywhere else.
It is a holistic design approach that combines art, science and energy to create the perfect space that expresses who you truly are and want to be.
Why is working with me different than other designers?
Like many designers, I create beautiful and functional spaces (the ART of Design).  My favorite style to create is a colorful, modern Global Style, filled with eco-friendly natural materials, hand-made elements and with connections to nature and the outdoors.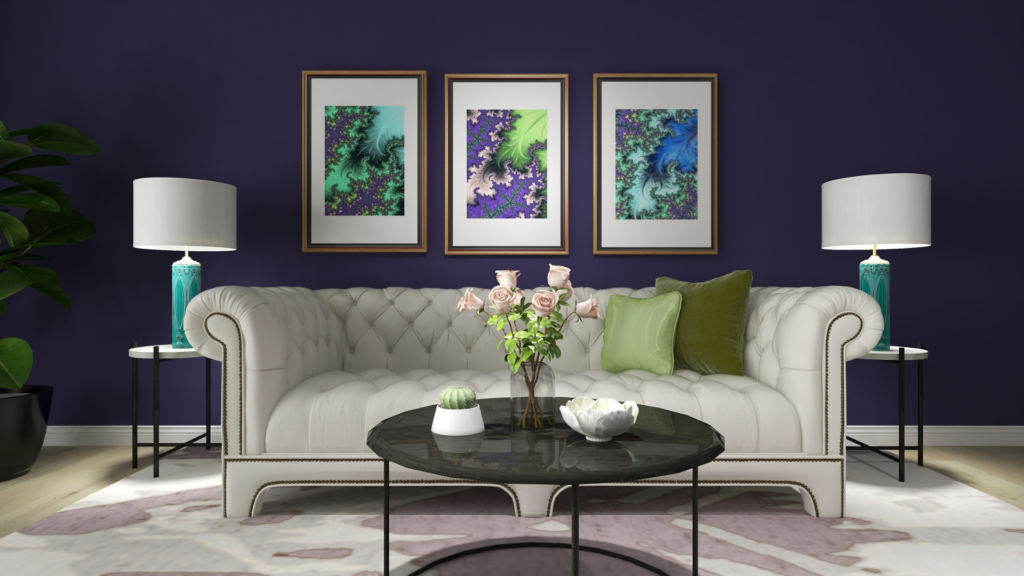 Unlike the majority of designers, I am a certified color strategist, one of the few in the country. This means I measure color and use color science to give you extraordinary results beyond just using my eyes and telling you what I think will look good together, as most designers do. This mixture of ART and SCIENCE brings your design to a level beyond what you will find with most other designers.
Even more important than what you can see, is what you can't see. The ENERGY of the space is what causes you to feel a certain way. The ENERGY is more than just whether you have good Feng Shui. It is how the energy of all the objects and the energy of color combine. One of my superpowers is reading the ENERGY of your space and balancing it with your energy to help you feel aligned. After all, what's the point of living in a beautiful space if it makes you feel uncomfortable.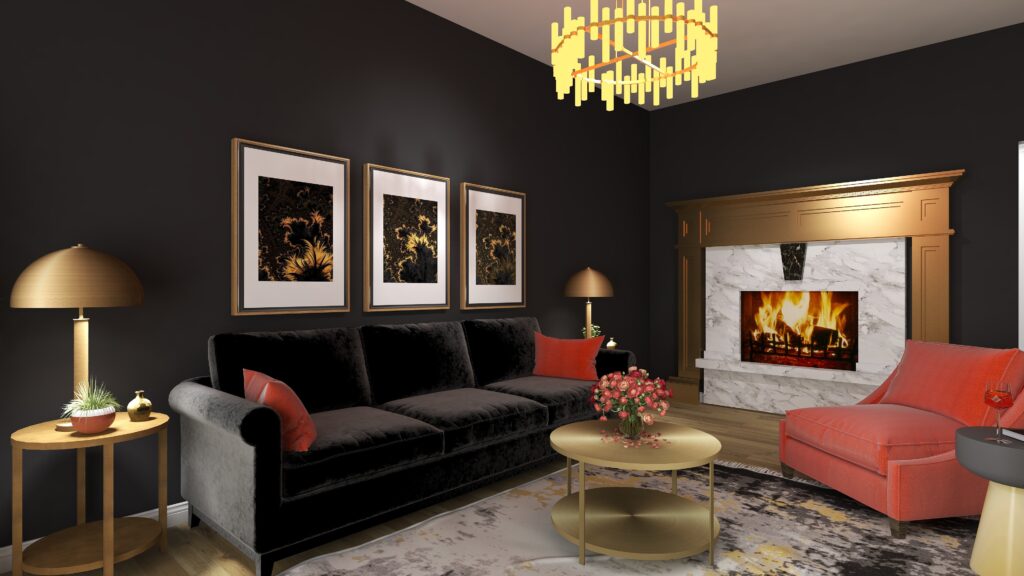 I am also an energy artist, and my designs include custom energy art and home decor that ties your design together, creating beauty, harmonizing your colors and reminding you what is important to you. I create art specifically to support you.
Through my unique Aligned Design method, I combine ART + SCIENCE + ENERGY to create magic in your space, so it is the perfect space to support you in your journey to be your best.   
I offer in person and online Interior Design services, so no matter how close or far away you are, we can work together.  Online design is called Edesign.
See examples of the results of my Aligned Design system in the video below. Then sign up for an Aligned Design consultation today.
Aligned Design Consultation
My most preferred service is an Aligned Design consultation that considers design, color and energy to come up with a holistic plan for your home. Let's look at your space in a unique way and consider first how we can work as much as possible with what you already have. I will create three pieces of energy art specifically for you and what you need. This includes the design only, and you can decide what products you want to put them on (such as art, pillows, or other decor) to be purchased separately. The consultation includes 8 hours of my time. Six of these hours are working with you, and 2 hours are reserved for creating your art.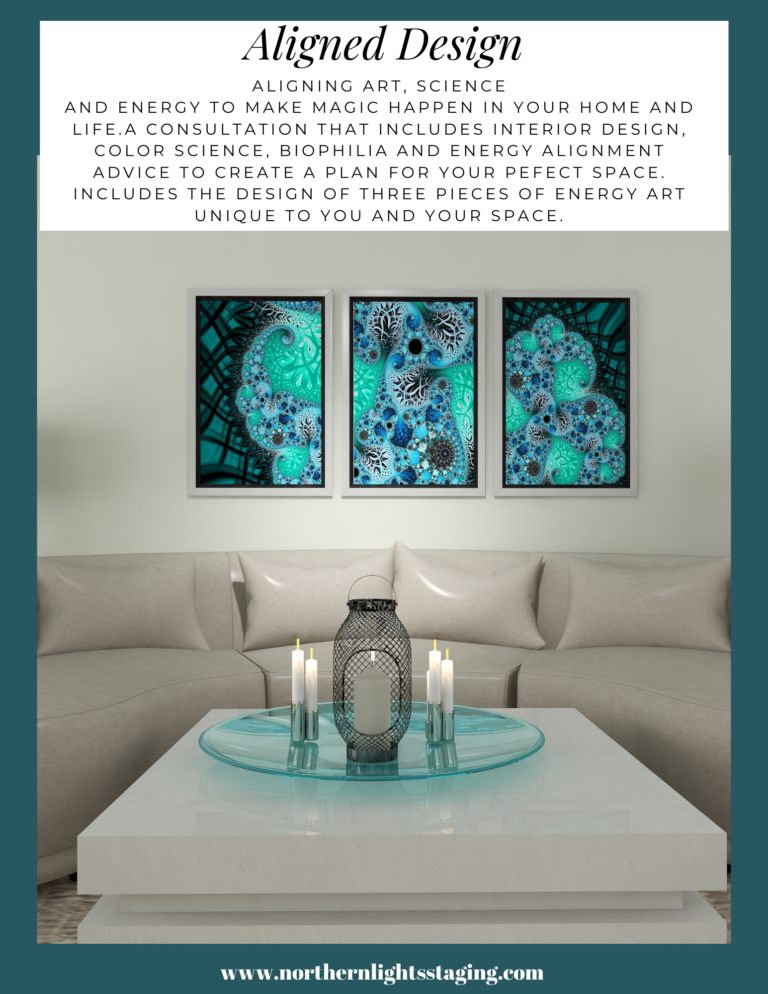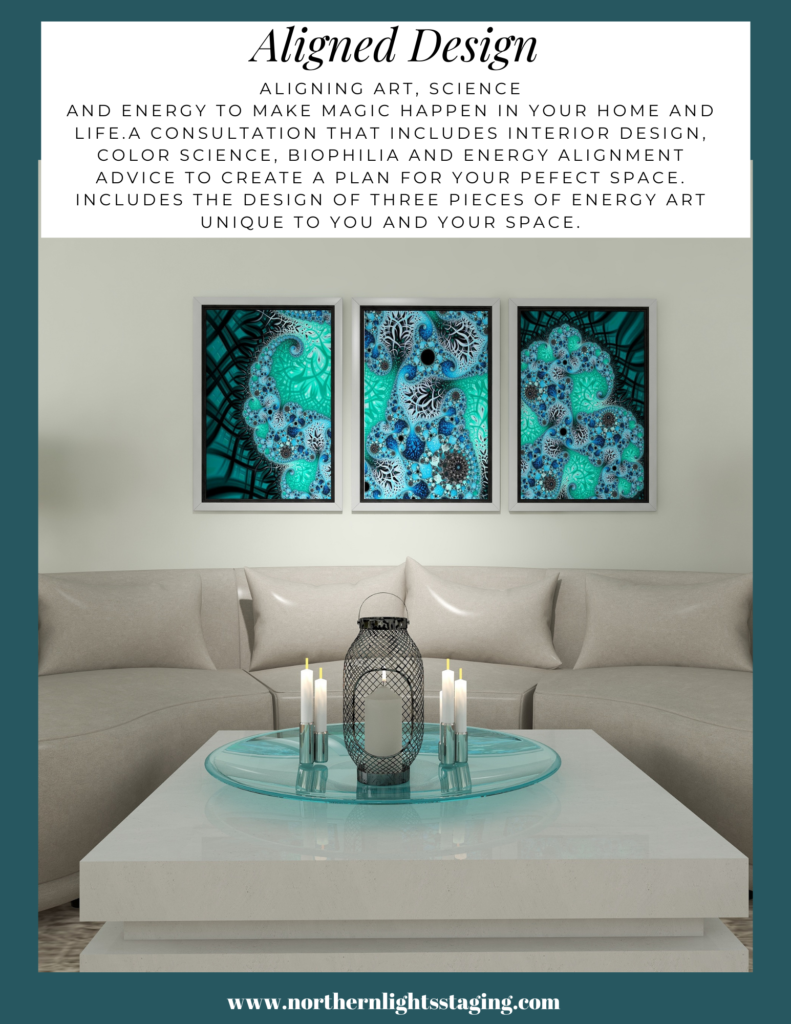 Now that you have your plan, do you still need to purchase specific furnishings and decor to enact your plan? Need help on specific areas? Need help visualizing it with a floor plan or 3D render?
I can do a short consultation or work by your side to give you exactly what you need. Let's discuss to see what is best for you.
We can work together in person or online. It is more economical to work online or if you buy a larger block of time.
If you are picking paint colors for you interior, I do recommend my Aligned Design consultation to make sure your colors with your Interior Design, as they go hand in hand.
If you prefer to just look at color alone or are picking exterior paint colors, try my Not Your Average Color Consultation.