Expansion is the thing that we all want. Expansion is a better life than we have now. It is something more, something bigger, something better. We are always striving for expansion.
When people buy something, it is because it provides expansion in some way in their life.
One of the reasons Interior Design is important is it creates expansion. It is worth investing in.
Creating a perfect space for you gives you something more, a better life than you have now.
If you have a business, creating the perfect space that attracts customers is key.  They come because they believe what you are offering is giving them expansion. It may be a better meal, a more luxurious room, an easier life or a more attractive look. 
If you are selling a house, home staging, which is like Interior Design for home buyers, creates an atmosphere that the new house offers expansion, or a better life than the buyer has now.
Has the last year made you rethink how you are living your life and what is important? Maybe it is time for some expansion in your own life.
Have you noticed while spending more time at home that many things may not be serving you to create a better life?
Does your home serve you as your workplace, sanctuary, gym, school, or whatever you need it to be?
Imagine a home that looks great, feels great, and supports you so that you can be great:).
Creating a perfect space is important. Why wait?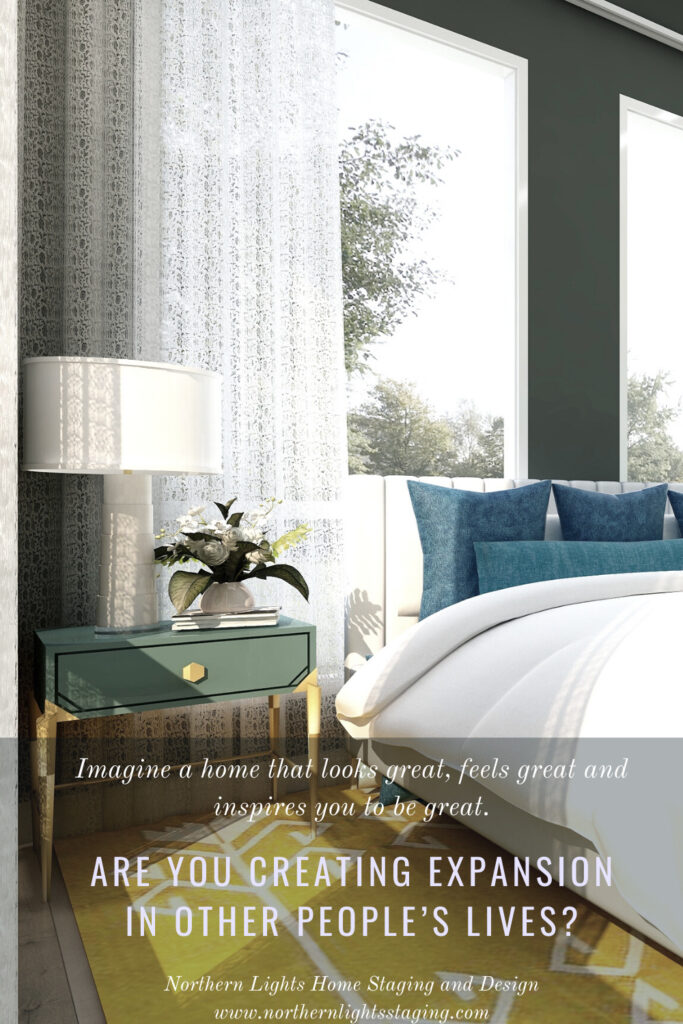 This Edesign I created of this beautiful bedroom is an example of expansion. This bedroom is relaxing, yet happy and inspiring. It brings the outside in. It is eco-friendly. It provides a  calm and relaxing retreat or sanctuary to spend time in front of the fire with your special someone. This design could be for a homeowner, or for a business if you had a hotel or Bed and Breakfast. It is also a beautiful example of how a bedroom could be staged if you were selling the home. In each case, it shows an example of a better life and appeals to people's emotions. 
The products shown may contain affiliate links meaning I receive a small commission for sharing with you at no cost to you.
My philosophy of great Interior Design, which I call Aligned Design, considers three key factors. These are art, science and energy. The intersection of the three is where the magic happens.
The "Art",  or the creativity, is what most of us think of as  "Interior Design", and includes beautiful furnishings,  decor, lighting, finishes, color and architectural details, all artfully arranged to look beautiful and function perfectly with our lifestyle.
The "Science", is about using color science to take your color to the next level. Color has power and affects the way your design looks and how you feel. Using color science, rather than just subjective opinion on what looks good together (the art), provides another level of expertise that takes your space from looking good to spectacular. Science contributes knowledge and products for sustainable and eco-friendly designs that help you stay healthy and protect our planet.
The "Energy" is all about connection. Connecting to yourself, your story, who you want to be and what you need in your space to support that journey.  Connecting to the energy around you in and surrounding your home (Feng Shui) and to nature (biophilia). This connection creates another level of "feeling good" that is hard to put into words, but when you feel it in your space you will love that it is there.
Most designers offer parts of these "pillars" of great design. My unique philosophy is that they should be considered together  in a holistic way, and that alignment is what  "Makes Magic Happen" to create your perfect space. 
Are You Ready to Create Expansion in Your Life?
Are you ready for your house to look great, feel great and support you to be great? My Aligned Design consultation considers art, science and energy to give you guidance to create the perfect space for you.
Curious about your Interior Design style? Take the quiz and find out.