What is a Global Design Style?
Global styles are all about your worldly adventures and telling your story! They are usually very colorful, rich in bold designs and natural textures, patterns, colors and arts and crafts of various cultures. Each piece has a story and becomes a conversation starter.  Treasures are displayed without rules or grouping by the part of the world each piece is from. Antiques mix with modern pieces, and natural objects such as animal horns, plants and rocks add to the charm. While global design styles are eclectic and may mix and match items from a variety of countries, you may be drawn to the colors and cultural artifacts of some countries more than others.
What is Indian Style?
Indian style design creates inviting, informal, relaxed spaces filled with bright colored hand spun fabrics with paisley patterns, floor cushions around colorful rugs, intricate mandala motifs and nature-inspired themes with flowers, birds, animals.
You love the arched wood furniture with curved armrests and legs, carvings and inlay work in metal, ivory, stones and mirrors. Fill your rooms with wooden chests, footstools, bird cages, masks, clay pottery, and boxes in sandalwood metal or marble. Add some metal accents such as brass lamps, pots and figurines and some beautiful Indian flowing window drapes, bed canopies or bedspreads.
Create a sanctuary with an outdoor fountains and courtyard. Indian colors include vibrant bright blues, reds, saffron orange and golds and earthy tones like ochre yellows, browns and burnt oranges for walls and floors with brighter colors for accents and accessories.
Here is an example of an Edesign I did for an Indian style bedroom featuring the beauty of Indian art and hand crafted design elements. It is rich in color and provides a space to relax, read, and spend time together. This design celebrates the color purple and uses Pantone's  color, Love Symbol #2 created in honor of Prince for the walls. I loved working with this rich and beautiful hue!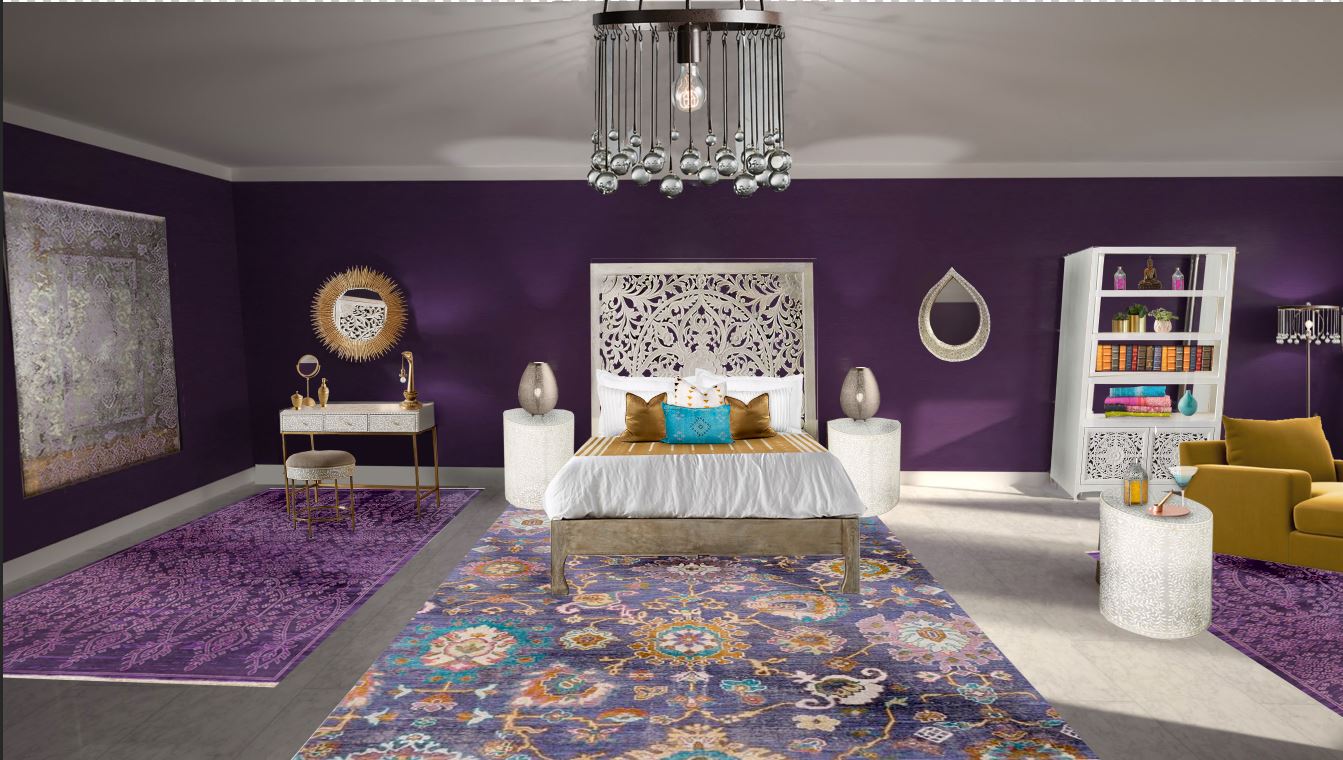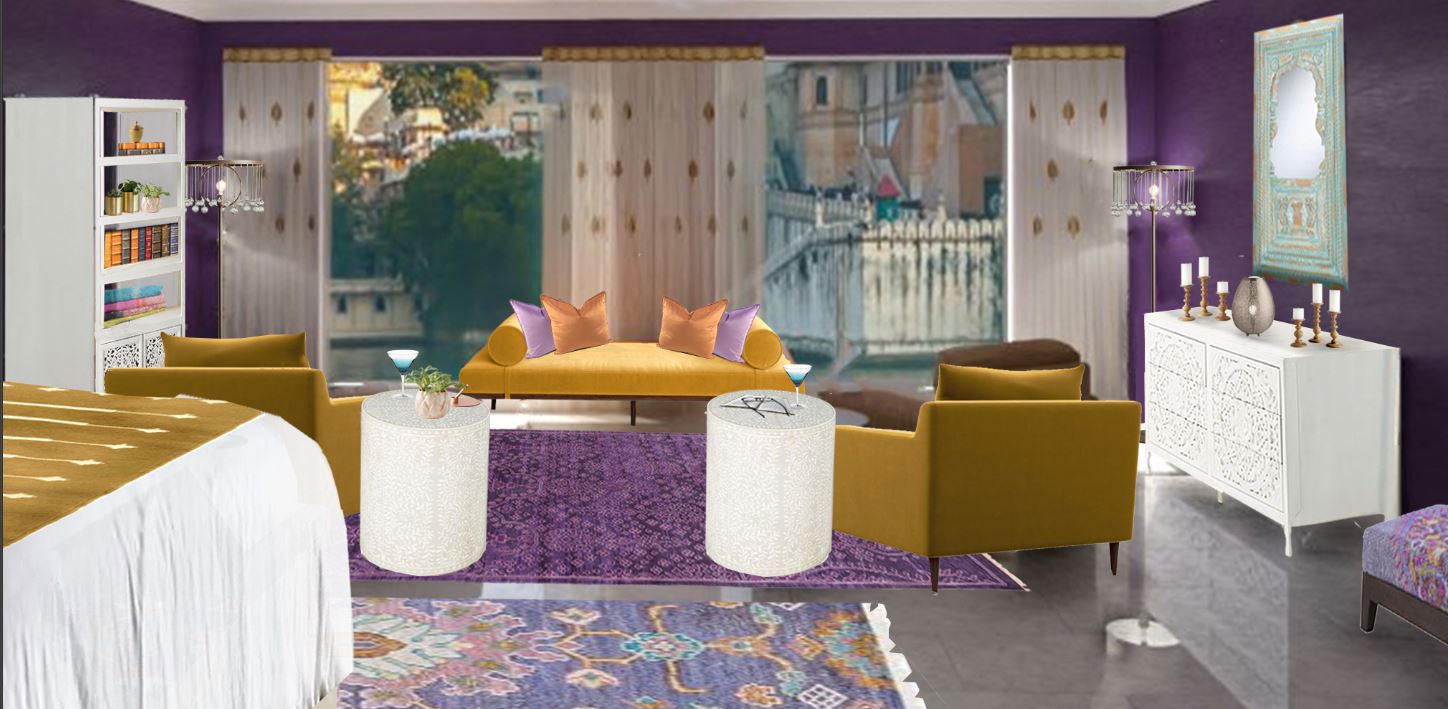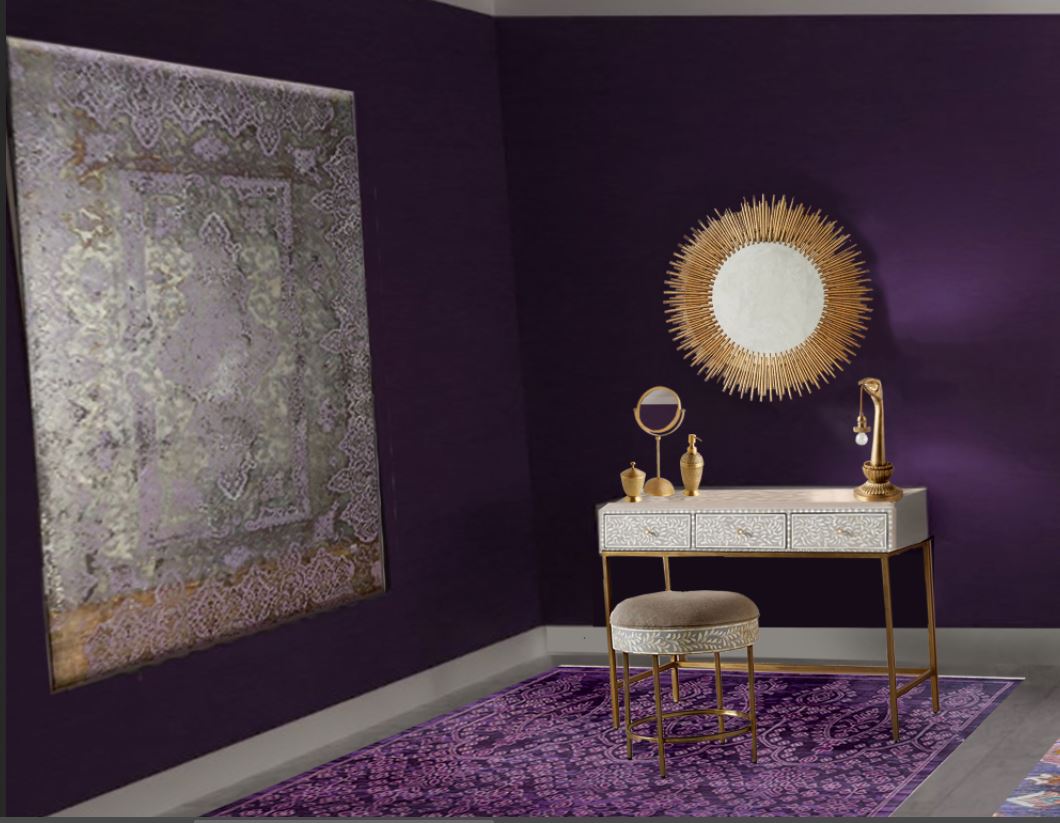 The concept board below shows the floor plan with a seating area near the window for enjoying the beautiful views and reading. An area is set aside in the opposite corner with a make up table, mirror and another seating and dressing area on the opposite side of the bed.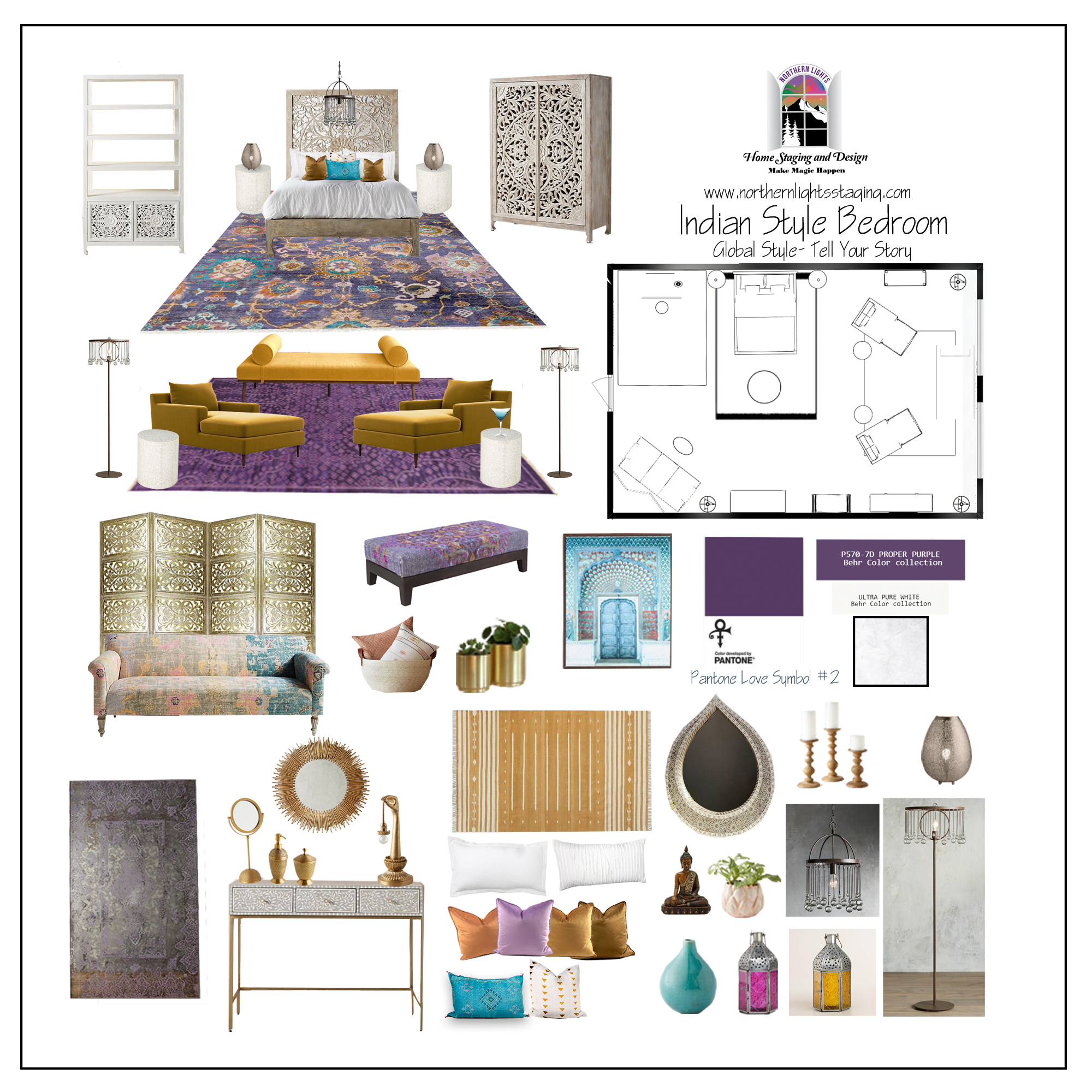 See below to learn more about my inspiration pieces and some of the products I used for the design. Some links are affiliate links, meaning they give me a small commission for sharing with you at no additional cost to you.
Inspiration
The beautiful purple rug and carved bed from India were my primary inspiration pieces. The rug inspired the color scheme celebrating a passion for purple!
Color Scheme
I used Love Symbol #2 on the walls in the design to harmonize with the purple rugs.  A paint color that is similar and would work with the design is Benjamin Moore's Ultra Violet.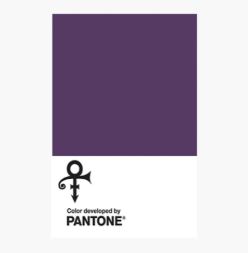 The perfect compliment to this purple is Tumeric (yellow/gold) color, which is a typical color in Indian design based on the flowering plant, Tumeric which is native to India.
Design Elements
The color of Tumeric inspired the Sloane Chaise Lounge chairs in Citrine velvet, the Darcy Day Bed, and Ravi Dhurrie rug from India I used as an accent piece on the bed as well as some of the velvet pillows from Bryar Wolf in various shades of this color. Get 5% off the rug, velvet pillows and anything at Bryar Wolf with the code northernlightsstaging at checkout.
My other inspiration piece was a beautiful wooden carved bed from India.
The carved bed inspired the dresser, armoire and shelving units from the same set (Lombok collection- Anthropoligie).
The purple from the inspiration rug and walls inspired the other purple area rugs, purple vintage inspired Arabesque mirror, purple velvet pillow from Bryar Wolf  and the Zahara purple rectangle bench.
The Scroll Vine Inlaid vanity table and drum side tables are handcrafted from hardwood with bone inlay,  typical of Indian design.
I selected the gold mirror and accessories to work with the golden Tumeric color and they are a perfect compliment to the striking purple walls.
To highlight the beautiful blue color in the rug, I selected the blue Moroccan silk Ayat pillow for the bed from Bryar Wolf (get 5% off anything on their site with code northernlightsstaging. I also selected the blue Wood Jharokha mirror from India above the dresser and the beautiful Rug Printed Sofa with shades of blue as well as the Door of India wall art.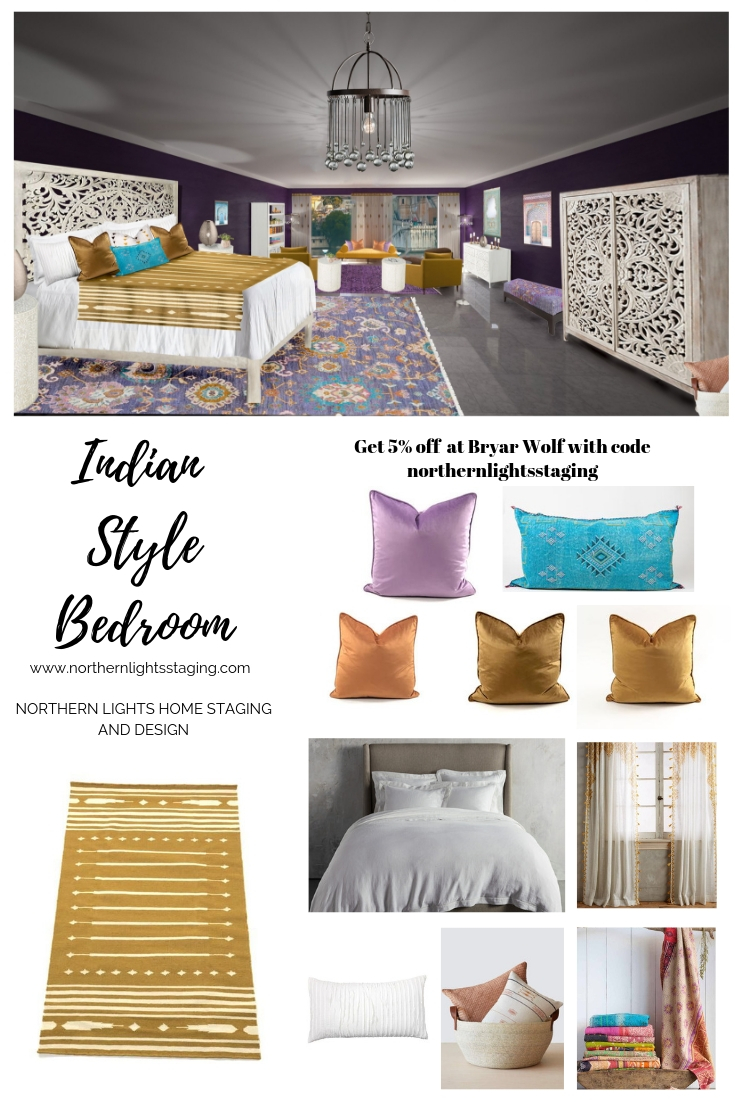 Get the Look- Tell Your Story!
Want to get the look of Indian style design in your home? Try Edesign! The project above is an example of what you would receive with a Full Service Edesign package which includes a floor plan, concept board, 3D renders of the design and a shopping list with a complimentary check up on your design after you implement it. Check out all my Online and Edesign services. I would love to help you.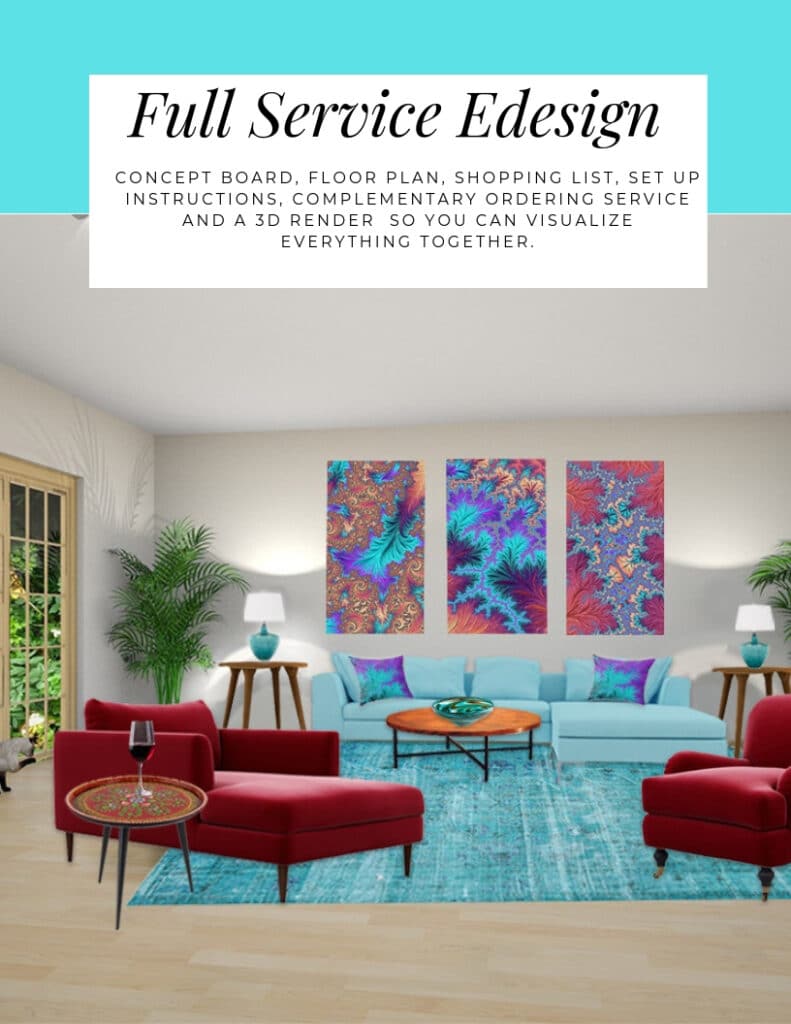 Get Inspired
Follow me on Pinterest for daily inspiration on global styles and eco-friendly design. Check out my board on Indian style for daily inspiration on this beautiful style! Want to explore other styles? Check out my What's Your Design Style board.
 What's Your Global Design Style?
Are you curious about other global design styles and what might be right for you? Take the quiz and find out!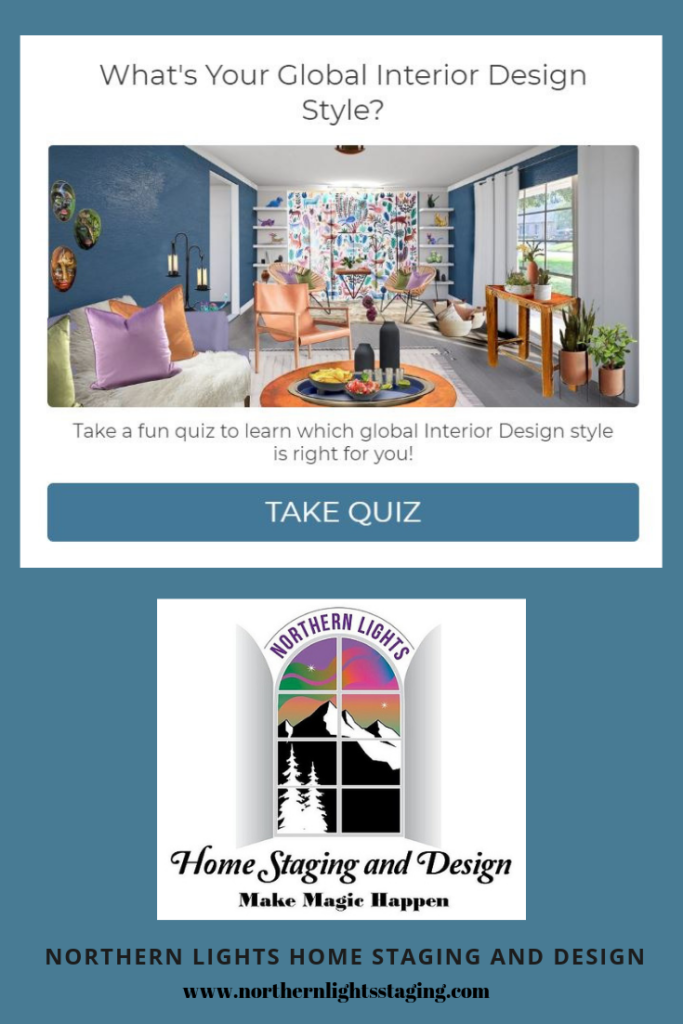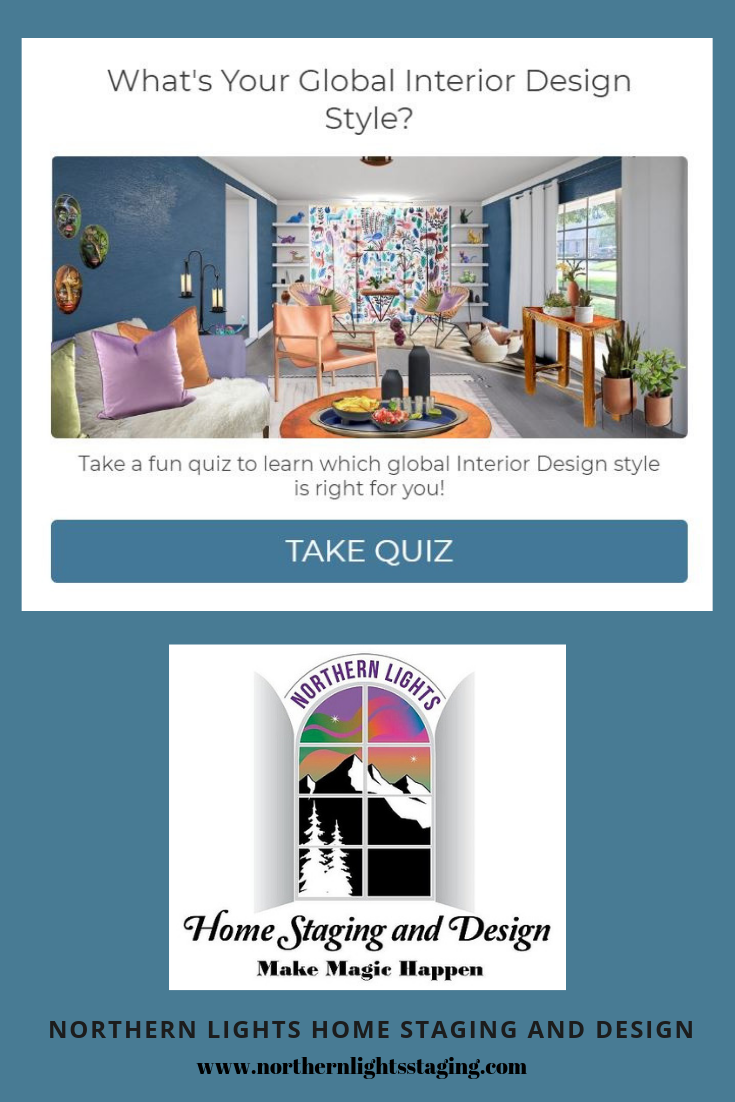 ---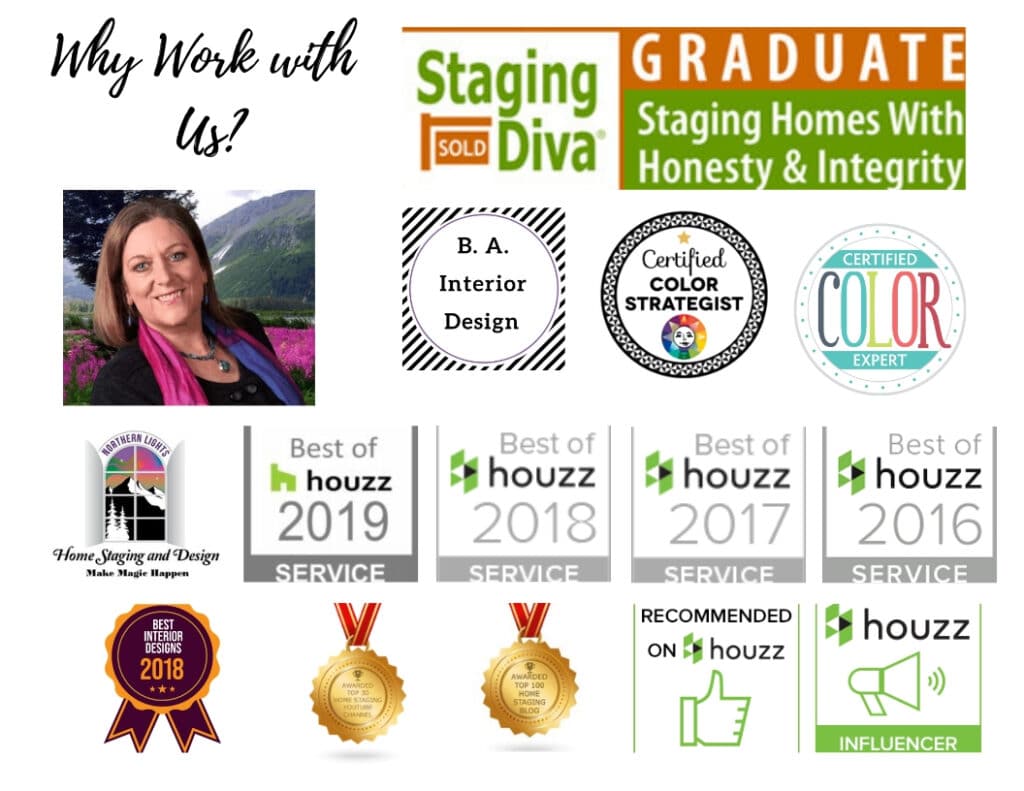 ---