Does the magic of lighting makes your heart sing? Do you love rich color, textured fabrics and natural materials? Your global design style may be Moroccan!
What is a Global Design Style?
Global styles are all about your worldly adventures and telling your story! They are usually very colorful, rich in bold designs and natural textures, patterns, colors and arts and crafts of various cultures. Each piece has a story and becomes a conversation starter.  Treasures are displayed without rules or grouping by the part of the world each piece is from. Antiques mix with modern pieces, and natural objects such as animal horns, plants and rocks add to the charm. While global design styles are eclectic and may mix and match items from a variety of countries, you may be drawn to the colors and cultural artifacts of some countries more than others.
Moroccan design is filled with intricate carvings, arched doorways, beautiful tilework and vibrant colorful textured fabrics, baskets and accessories. Beautiful Intricate metal lanterns and pendant lights create amazing and magical patterns of light in your room. Mosaic and ceramic sinks create luxurious bathrooms
Moroccan homes use bright colors, such as red, blue, orange, turquoise, pale ocean blues and green mixed with gold. Interiors are filled with carved furniture pieces, poufs, floor cushions, textured vases, exotic figurines, Moroccan-inspired Berber, Kilim and Azilal tribal rugs, metallic details and natural elements, such as wood and stone.
Designs reflect the diverse culture of Arabs, Berbers, Europeans and African immigrants.
---
Here is an example of an eco-friendly Edesign I did for a Moroccan style living room,  highlighting traditional Moroccan pieces mixed with modern elements such as mixed metals and furnishings.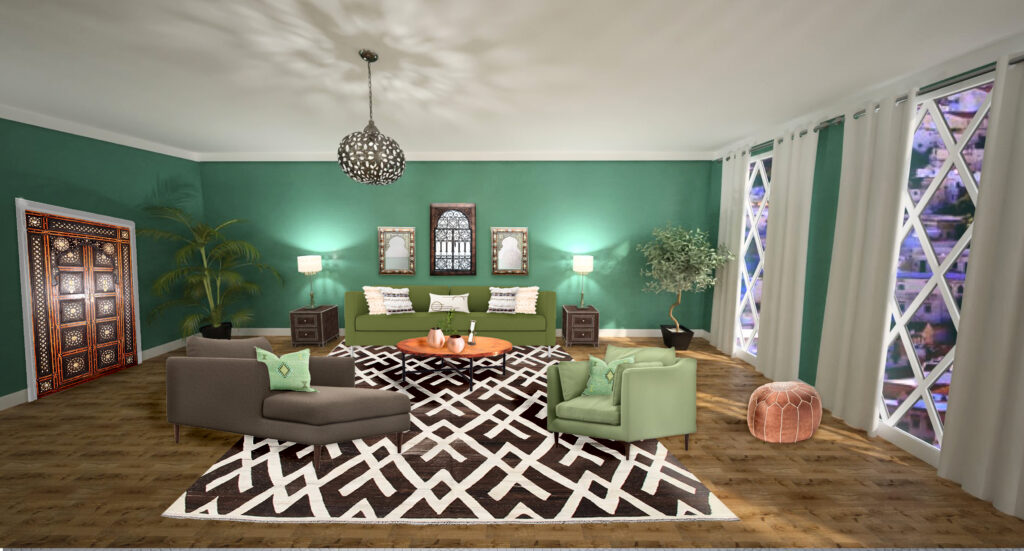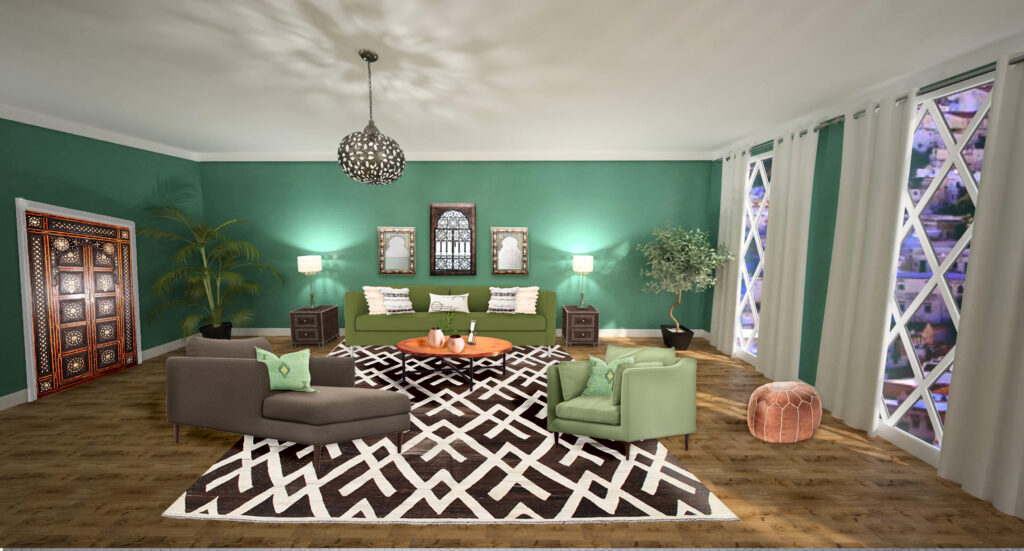 Here are some of the products and finishes I used for this design. Some products may contain affiliate links meaning I may receive a small commission if you purchase something at no additional cost to you.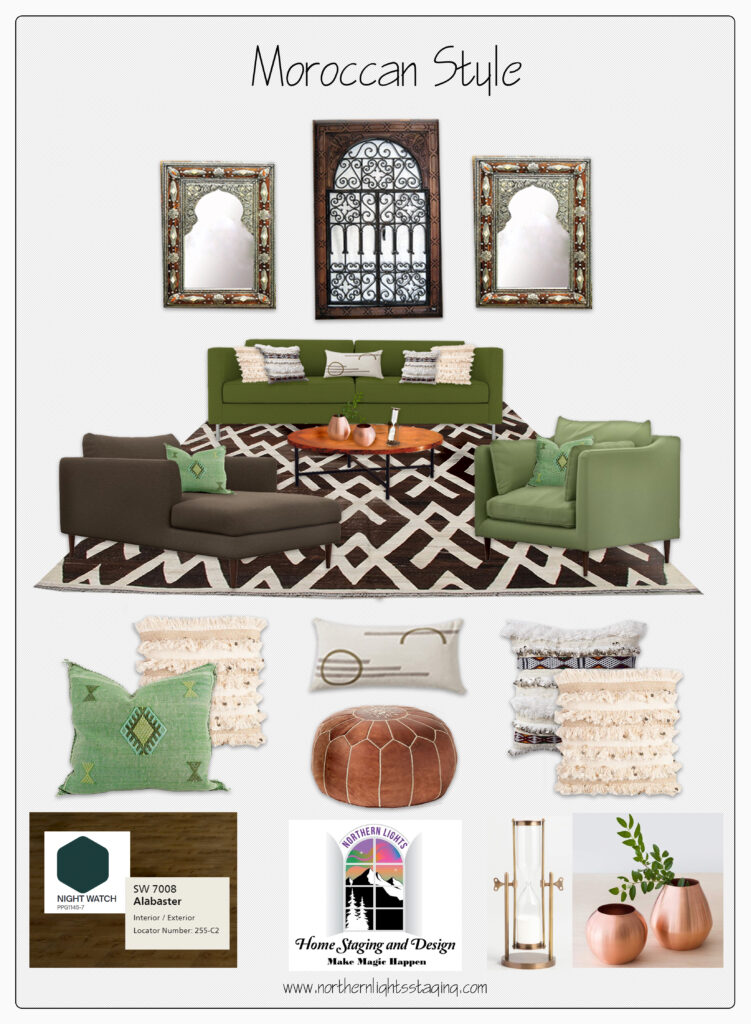 The inspiration and color scheme for this design came from this gorgeous Moroccan Kilim rug from Atlas Weavers. Kilim Rugs are tapestry weaves that date back to the fourth century and have a flat weave as well as bold designs and colors. They are made with natural dyes. Usually made of wool, they are not only beautiful, they are eco-friendly. A great piece of art for your floor that can last a lifetime or more. And you can get 20% off this or any other rug or non-sale item by using the code "Northern Lights" at check out!
I decided green would be a perfect third color to go with the beautiful brown and white of the rug to give the room a natural color scheme. I chose PPG's color of the year, Night Watch for the walls and Sherwin Williams Alabaster for the trim. Other shades of deep green could also work well, as I mixed and matched various shades of green for variety in the furniture and pillows. Generally, all greens play nicely together.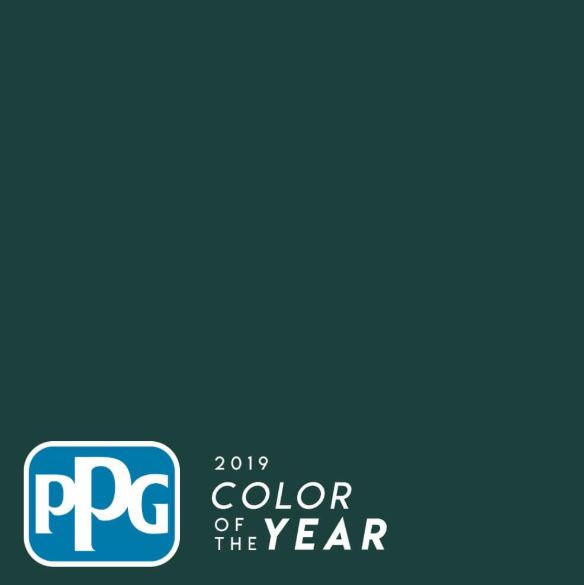 This eco-friendly sofa by Medley Home Furniture is made with organic latex cushions and eco-wool pillows. Medley Furniture offers wonderful eco-friendly and sustainable furniture. And, you can get 5% off anything with code NLS5 at check-out.
This simple but beautiful copper coffee table is made in Mexico, but I selected it to pull in an element of eco-friendly copper to enhance a modern element of mixed metals that ties nicely to the Moroccan art and lighting below.
For art, I selected beautiful, authentic hand crafted mirrors, windows or doors from Morocco available at Berber Imports. Click on the link to Berber Imports to see all the following pieces. The center piece of art is an aged wrought iron window with traditional Moorish design in a carved cedar wood frame. It is flanked by two Moroccan mirrors, made from wood and beautifully decorated with hand carved white brass in the shape of old Moorish arches. 
This gorgeous Moroccan door from Berber Imports is made from reclaimed cedar, all hand carved,  with raised three dimensional brass carvings and with two tones of camel bones with an  antique finish. It can be used as an indoor or outdoor door or just as a piece of art.
The elegant arch and the almoravids hand knockers give it a beautiful moorish touch!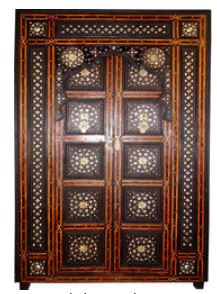 Moroccan style often incorporated intricate lighting that creates absolute magic in a room! This hand hammered Moroccan Lamp from Berber Imports is made of traditional heavy fez brass in a modern style. Motifs are consistent with traditional jewelry design often used in a women's mdamma or gold belt.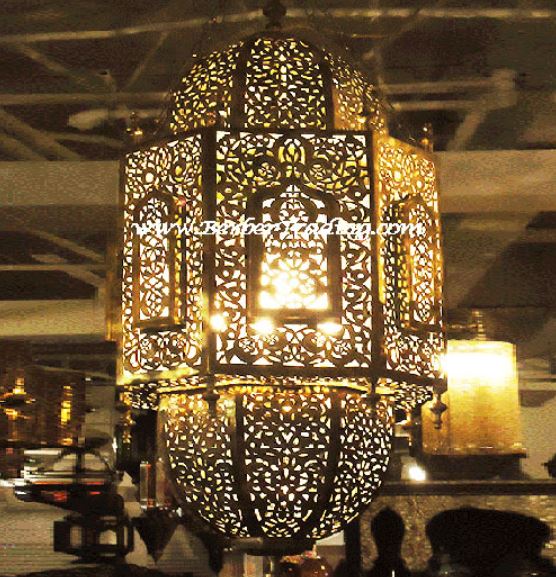 I adore these pillows from Bryar Wolf!  Each is one of a kind. Local villagers harvest the leaves of the Sabra Cactus plant and loom the filaments into textural canvas with patterns of ancient motifs. Made with natural botanical pigments, each pillow cover gets its unique, burnished character from washing and drying under the Moroccan sun. And you can get 5% off everything at Bryar Wolf with code northernlightsstaging5 at check-out.
This Bohenian Chic pillow adds a touch of white to go with the rug and adds and element of beautiful softness and texture.
This white cotton pillow from the Citizenry is handwoven by artisans in Kerala India, and block printed by a master printer in Jaipur, each pillow can take up to 4 days to complete. Not from Morocco, but a beautiful design that adds to the global style of the whole.
This beautiful Moroccan Poof from Berber Imports is made from soft Moroccan leather.
This hour glass from World Market looks like a vintage piece and is made in India, not Morocco.  I thought it would add a element of old world charm and would tie to the brass and other mixed metal accents.
These copper vases from the Citizenry are handcrafted in India by the artisans of Senapati. I selected this to mix different metal elements and harmonize wit with the copper table. Copper goes beautifully with all greens.
Follow me on Pinterest for daily inspiration on global style and eco-friendly design. Check out my board on Moroccan  style for daily inspiration on this beautiful style!
Create your own Moroccan Oasis
Ready to create a Moroccan style room in your home?  Check out my Online and Edesign services. I would love to help you. The project above was an example of Full Service Edesign. Learn more about what Edesign is and how it works in my article, How can I work with an Interior Designer on my budget. Learn more about Full Service Edesign and how it works here. Feel free to give me a call at 907-362-0065 to see if Edesign would be the best option for you!  
What's Your Global Design Style?
Are you curious about your global design style? Take the quiz and find out which style might be right for you.