People often struggle with creating a great color scheme.  Often, we start the conversation by talking about the limitations, or the box of colors you need to stay within based on your fixed finishes. In my last few blog articles we have discussed how you could take your favorite color, blue for example and create different color schemes. We explored monochromatic and analogous schemes. Today, lets look at complimentary schemes.
Complimentary color schemes are based on using two hues that are opposite to each other on the color wheel.  When placed next to each other, they create the strongest contrast for those two colors.  They each make the other look more intense and brighter than they look apart.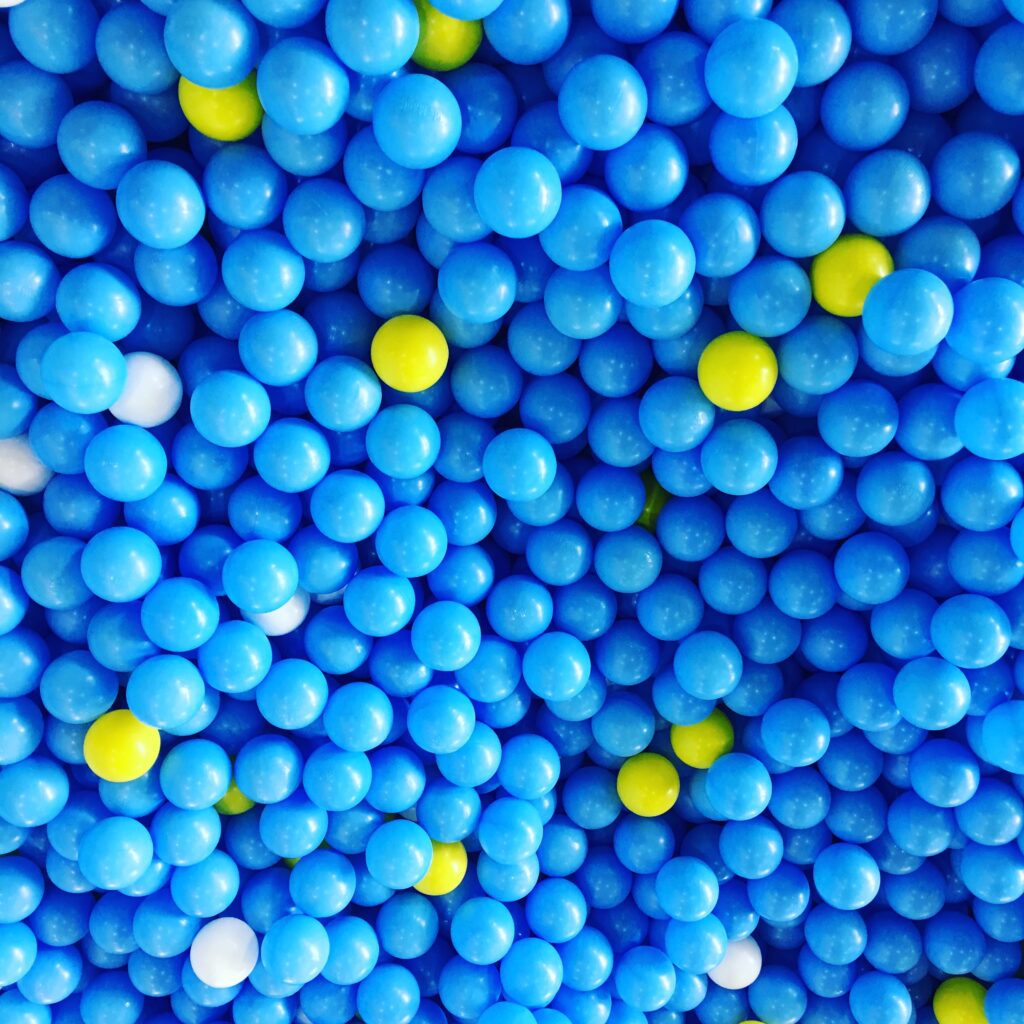 Complementary colors can create interesting optical illusions. For example, if you stare at a square of color for thirty seconds to a minute, and then look at a white paper or wall, you will briefly see an afterimage of the square in its complementary color. Try it with this blue square and see if you see an after image of yellow.
Why does it work? Leonardo da Vinci observed that the finest color harmonies were those between colors exactly opposed. Maybe that is where the saying opposites attract came from?
It's opposite or compliment on the color wheel is yellow, which ranges from Yellow/red to Green/Yellow and can have varying degrees of saturation or chroma, and lightness. In other words, there are lots of yellows we can work with:)
Here are examples of two living rooms I created using a blue and yellow complimentary color scheme. The first is bright and dramatic. The second is more relaxed and neutral.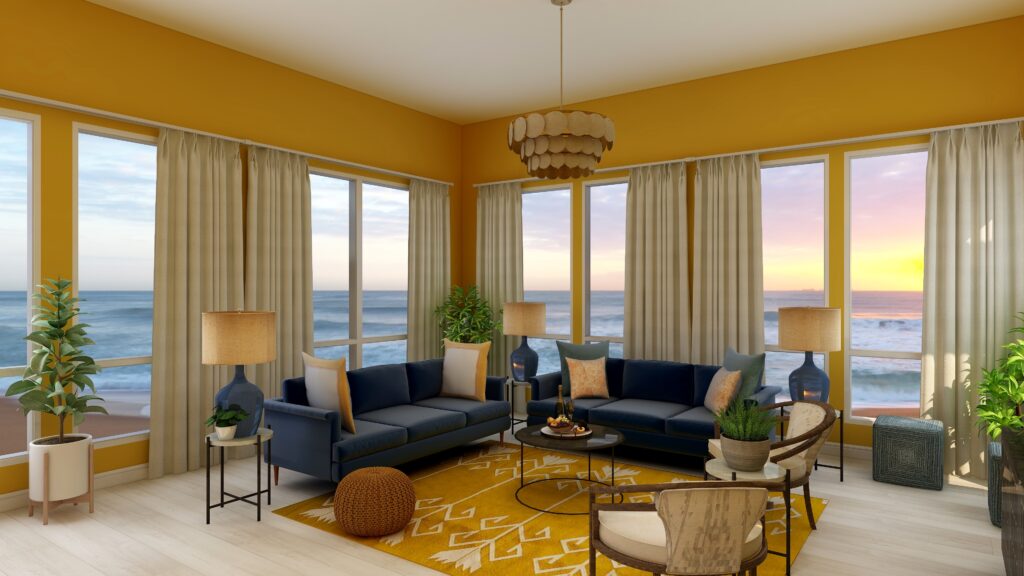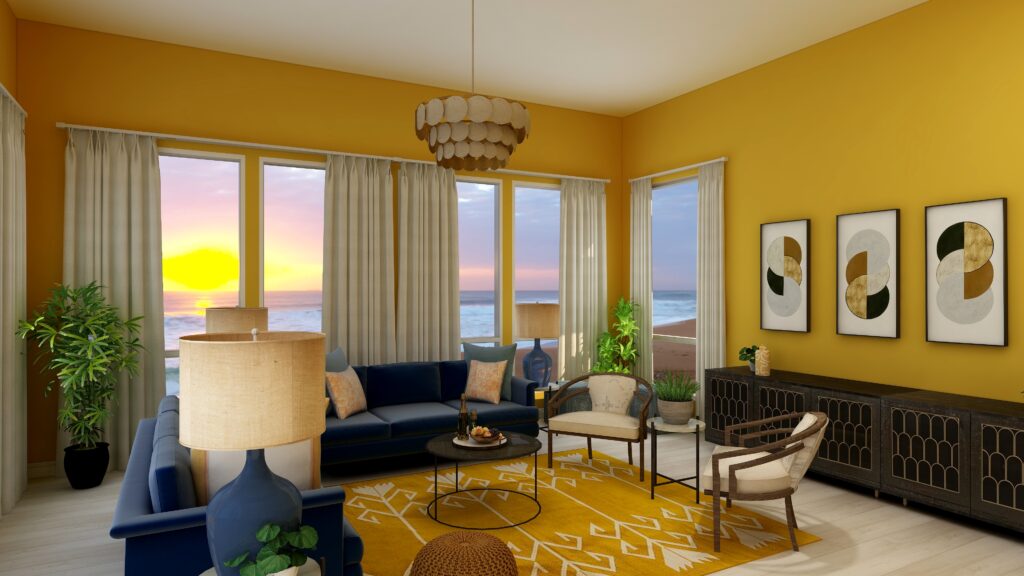 Complimentary color schemes don't have to be bright and colorful. They can use darker, less saturated or more muted tones of opposite colors for a more understated look. The design below uses an area rug with muted yellows and blues, and wallpaper with minimal yellow. Otherwise everything is the same.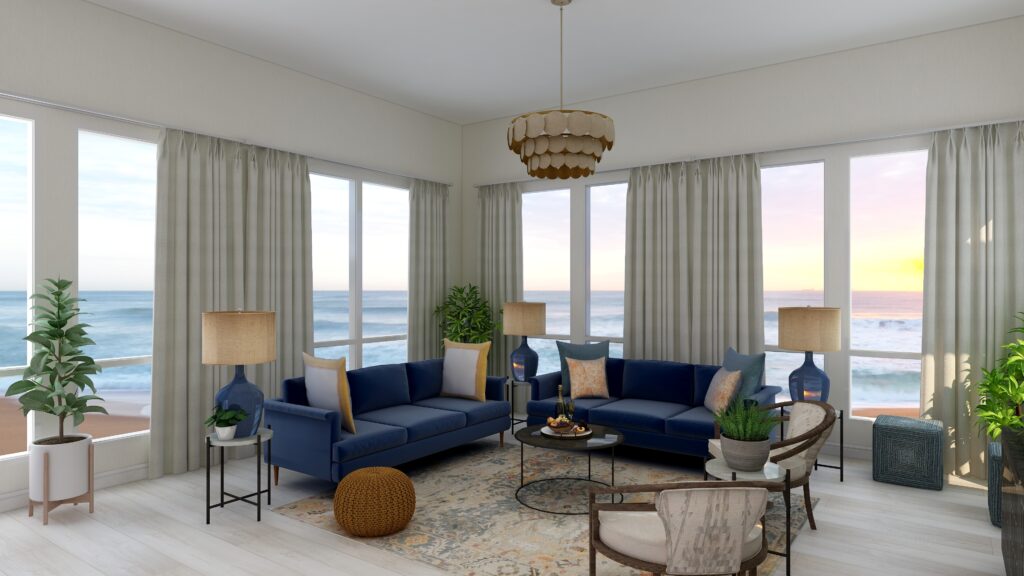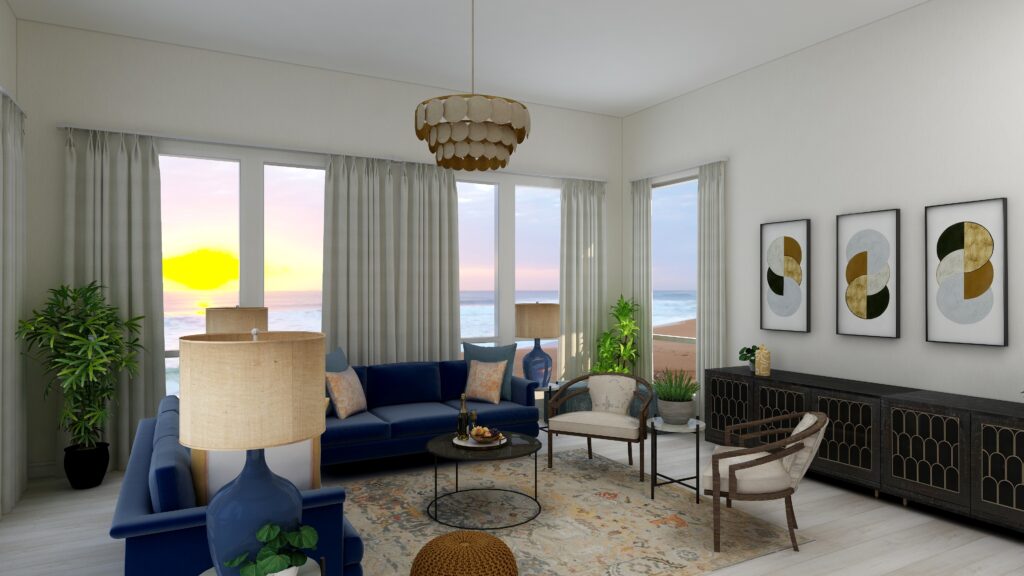 Benefits of A Complimentary Color Scheme
A complimentary color scheme is relatively easy to put together. Pick your favorite color and find it's opposite on the color wheel. 
Complimentary color schemes can be really dramatic because of the high contrast. Very nice for living rooms, dining rooms and areas that you like to entertain.
Complimentary color schemes can also use darker, less saturated or more muted tones for a more understated and relaxing look.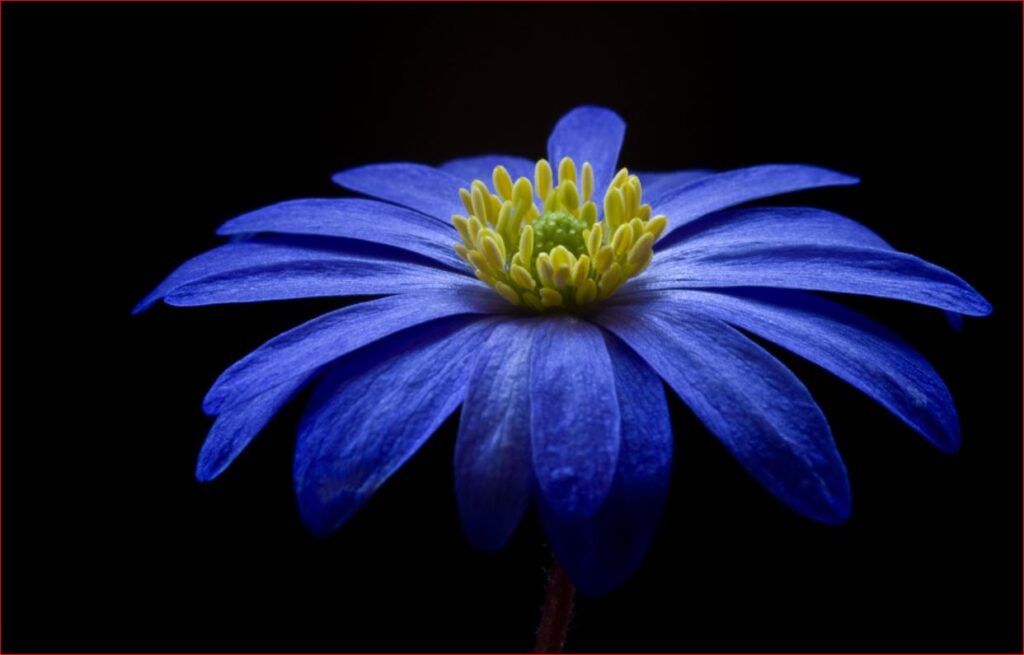 Create Beauty with Color in Your Space
EACH MOMENT IN LIFE IS YOUR CHOICE.
YOU HAVE THE OPPORTUNITY TO SURROUND YOURSELF WITH BEAUTY RIGHT NOW.
OR NOT, IT'S UP TO YOU.
EVERYTHING IS EASIER WHEN YOU LOVE YOUR SPACE.
What is Your Global Design Style? Take the Quiz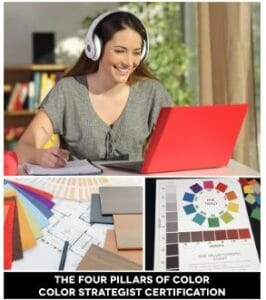 Click on the picture to find out more about the best training class on color available, the Four Pillars of Color!.