Great question. I'm glad you asked
Usually, they are very different things. The key difference is who you are decorating or designing for.
Home staging is decorating for the buyer. The goal is to make an emotional connection with them, so they can envision themselves living there and want to make an offer. You are appealing to their vision of their ideal lifestyle. To learn more about home staging, see my article, Home Staging- How it Works and What it Costs.
Interior design is decorating for the homeowner. The goal is to also to make an emotional connection and create their vision of a home that works for their ideal lifestyle.
There are some definite differences in how you make this emotional connection. In home staging, you are decorating for the target market, or most likely buyer of the home, whether It's a young family, retired professionals or whoever. Colors are generally more neutral to appeal to a greater number of people. The decorating should highlight the features of the home, rather than tell the story of the owners. Personal items are usually removed. About half of the items your normally live with are removed to make it feel more spacious and show off the features of the home itself. Home staging is often done with the seller's belongings, or with rental furniture and décor which are often typical retail items that are lower to mid-range in price.
With Interior design, it is important to let the personal story of the homeowner shine. Colors can be as rich or colorful as you like. Personal items are highlighted and given a place of honor. How much is on display all depends on the style the owner prefers. Interior design may use a wide range of retail or unique or custom furniture and decor in a wide range of price points.
Virtual staging is digital home staging done to a photo of a vacant room. The virtual staging may be done with a software program that has specific items available for use in the program, or it may be done by a designer with access to any product available on the market, both retail and custom. Virtual staging by a designer may offer more options for design and home décor than staging software programs. To learn more about virtual staging, see my article, Virtual Home Staging and Design- the Pros and Cons.
Recently, I completed this virtual staging project, which was selected as an example of Edesign for an Interior Design magazine, "Vision", for the article "5 Things You Need to Know About Edesign" by JoAnne Lenart- Weary. The article starts on page 50, and my design is on page 55. To learn more about Edesign, see my article, Edesign-How it Works.
In this case, the virtual staging was both home staging and Interior Design! I used Photoshop, rather than a virtual staging program to complete the design.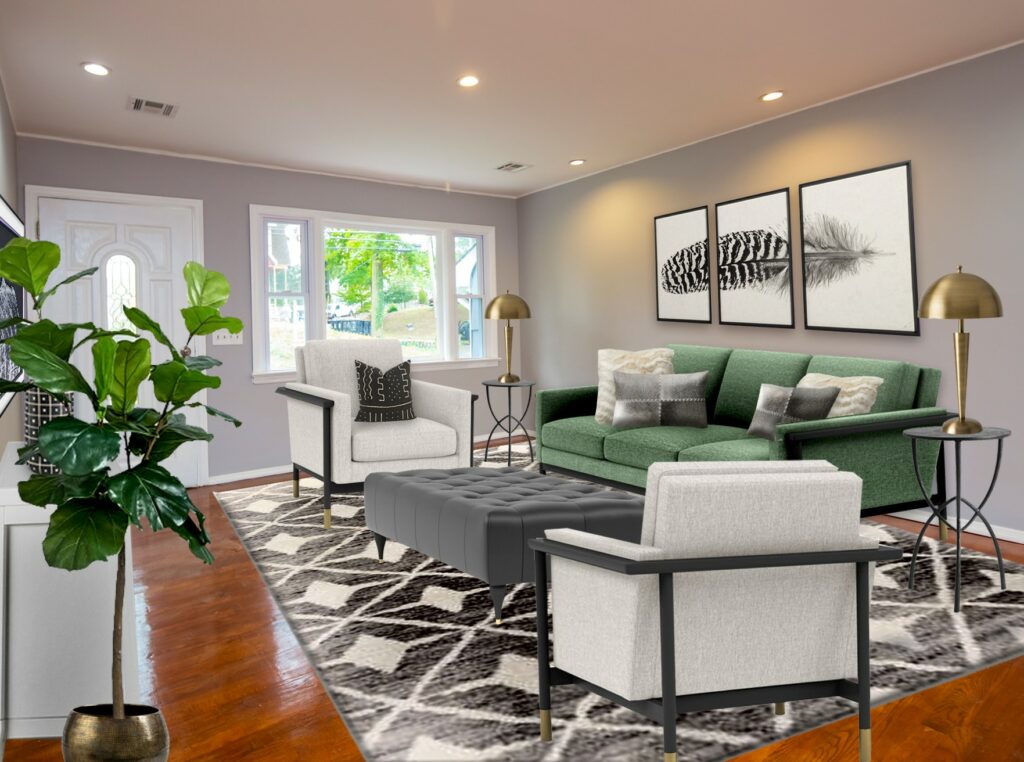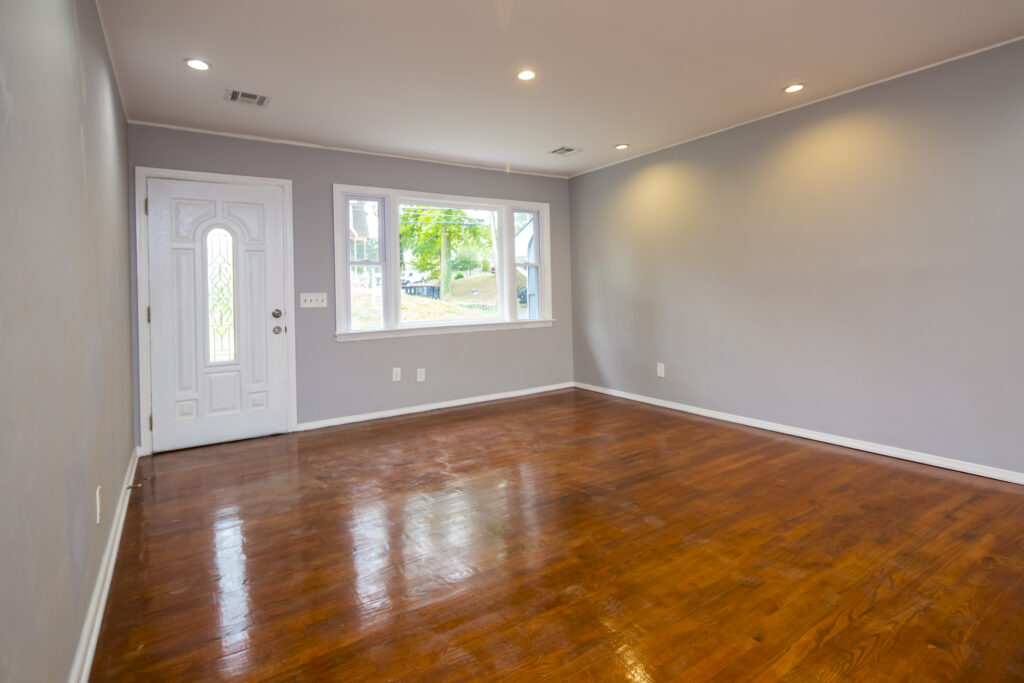 The target market for this staging project was a young family in a high-end neighborhood. I created a modern global style design I thought would appeal to young, professional buyers in their 30's that were starting a new family. I used greens for the colors, as green appeals to most people, and would not seem either too feminine or masculine. The wall color of the home was already neutral. The design is casual, comfortable, modern and uncluttered to highlight the features of the home. The living room design was chosen for the magazine article.
Here is the living room from another angle.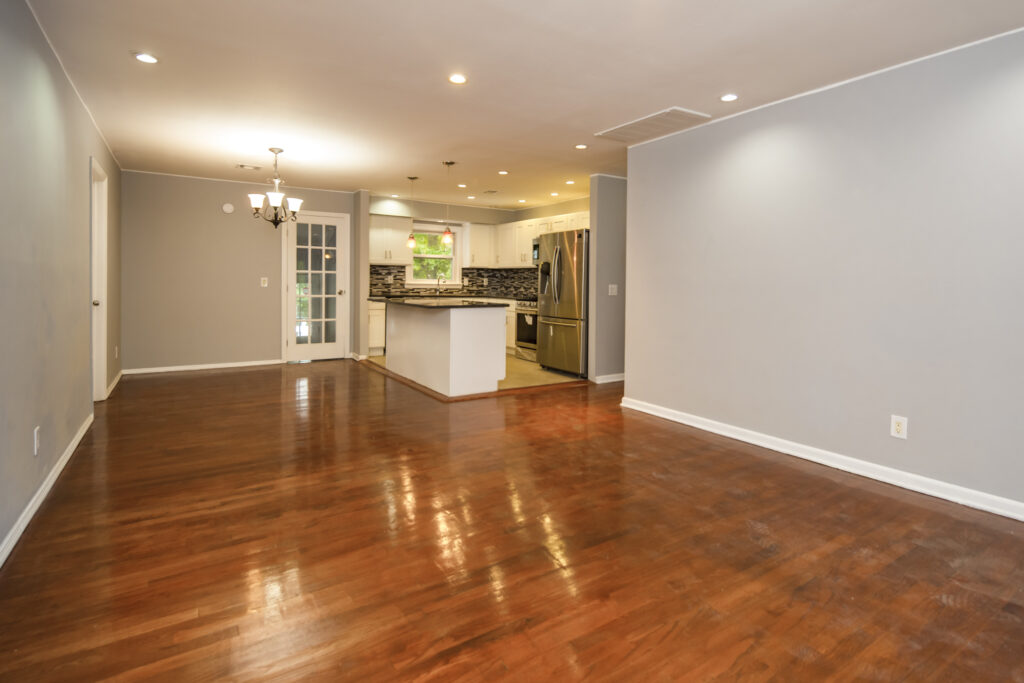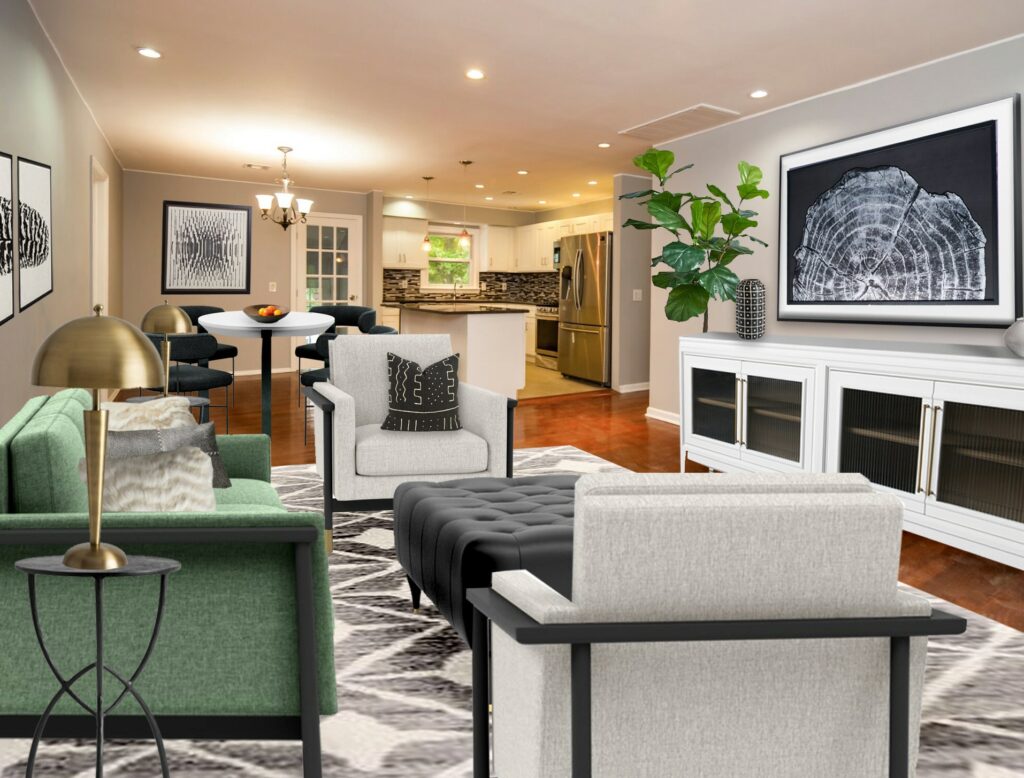 Here are a few of the products I used in the living room design. Click on the pictures to learn more. Some are affiliate links, meaning they give me a small commission for sharing at no additional cost to you.
I love all this beautiful black and white art from Arhaus.
Here is close up of the dining area in this open concept space.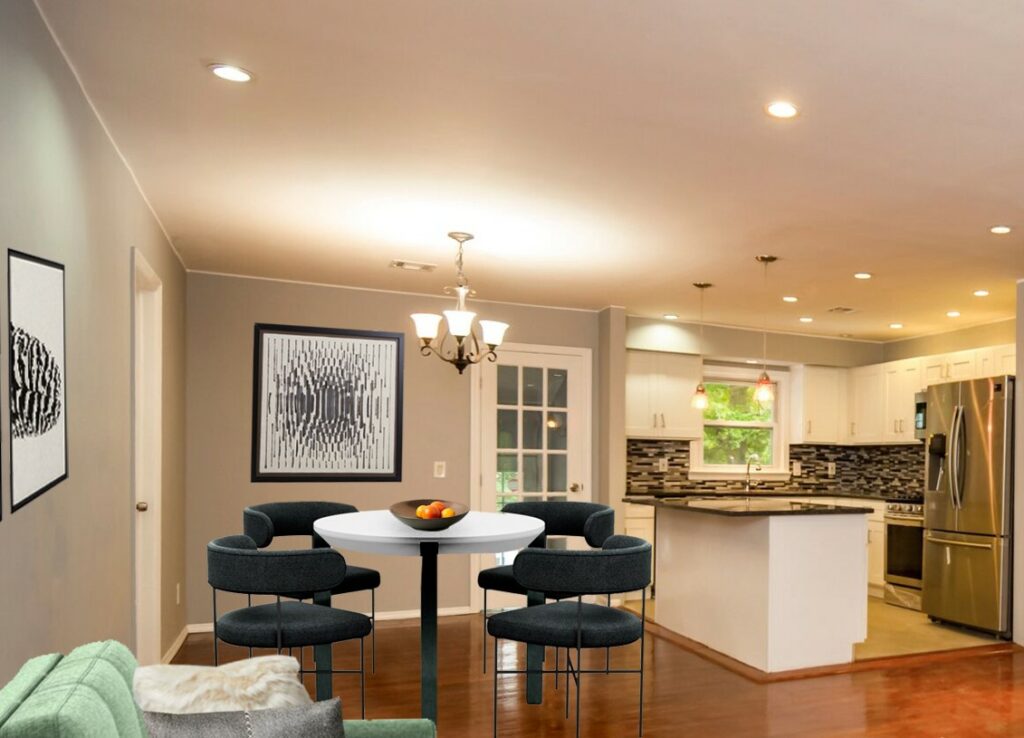 To show the possibilities for the large unfinished basement, I created a playroom area next to a comfortable family area where mom or dad could work while doing laundry and keeping an eye on the kids. There is also a crafting area and table. The rugs and kids' furniture are all washable and pet friendly.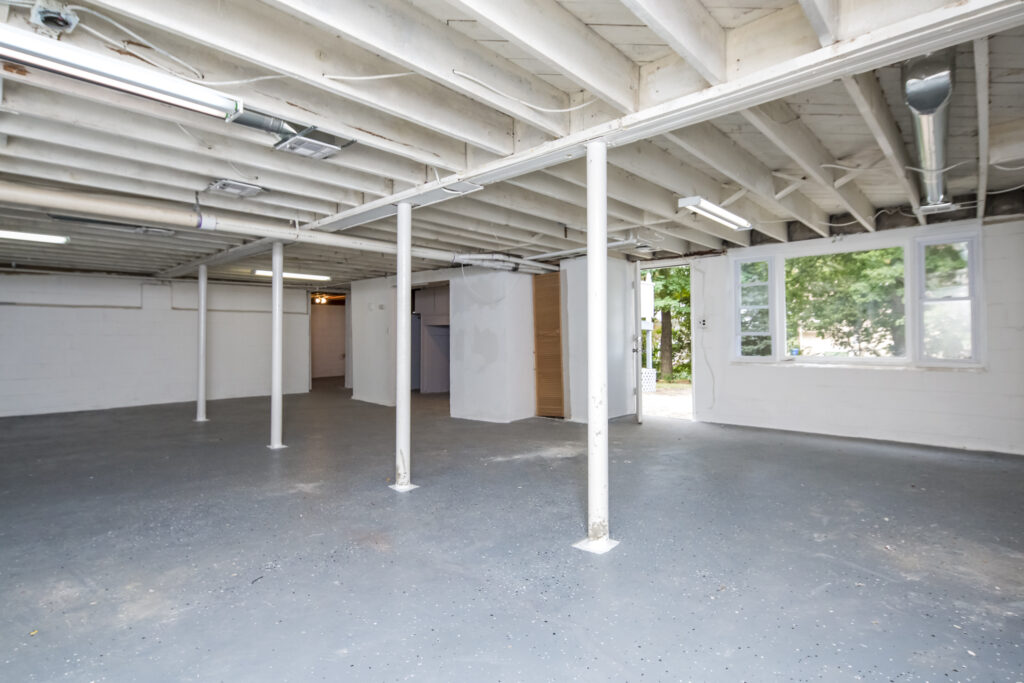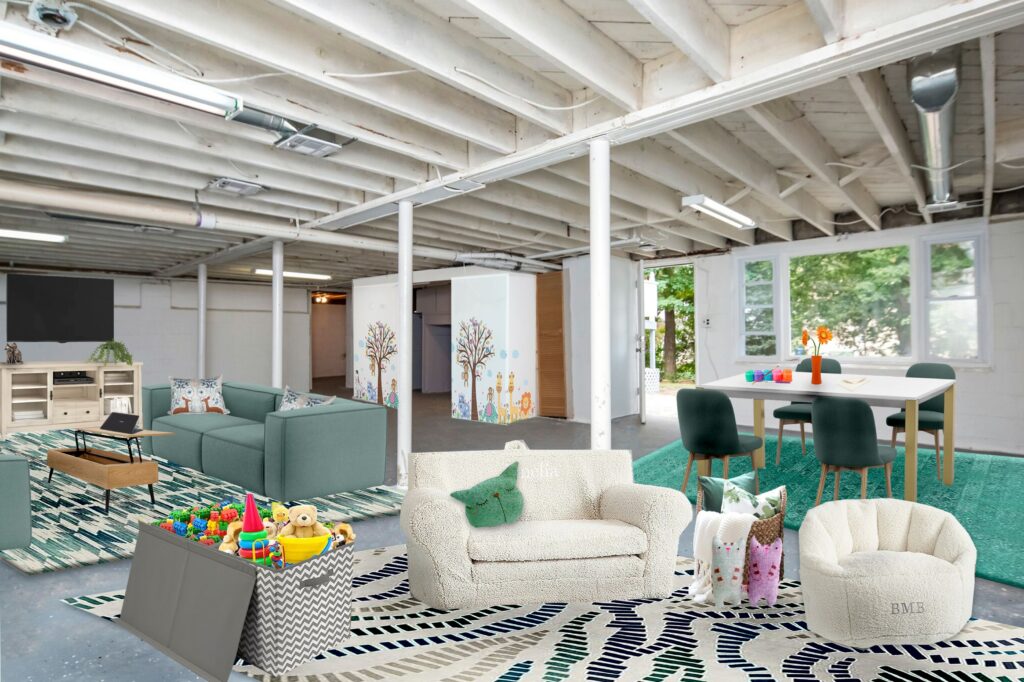 Here are a few of the products I used for this unfinished basement. These beautiful rugs from Ruggable can be removed from the pad and washed in a washing machine, and are kid and pet friendly, as are the washable covers on the bean bag furniture for kids from Pottery Barn Kids.
You may be wondering, is virtual staging helping this house sell? The house is still for sale. It has been on the market 4 months, and was virtually staged after being on the market a month vacant. In looking at the market data for similar homes today, it appears this home is initially overpriced by $30k-$40K (10%) and the current price is still over market value even with 4 price reductions. Staging can help you sell quicker and for more, but it is not a silver bullet, and requires a competitive price when first listing and good marketing for it to work. Virtual staging has generated more interest in the home, and is probably the best option in this case so the sellers do not incur monthly rental costs for furniture and accessories associated with traditional home staging, as they wait to get their asking price.
Need Help with your Home Staging Project?
Need help staging your home for a speedy and profitable home sale?  Check out my home staging services. I offer local in person home staging consultations, vacant and occupied staging. I also offer online home staging consultations, virtual staging and social media marketing for your home sale nationwide.