When I painted the exterior of my house, it looks gorgeous, like a new house. Then,  I was inspired to repaint and redecorate the inside so there would be harmony between the outside and inside.
The thought of decorating makes me happy. 
I know it will take time, work, and money, but I don't care because I know decorating will make me feel great! 
Why is that? What is it about decorating that is so good for our minds, our hearts, our souls? Why do we want to do it? Why should we do it? I can think of nine reasons, and when added together, the end result is bliss!
One of the first steps in redecorating is getting rid of the old, excess, or unwanted things that are taking up space. Taking stock of what we love and what we don't or haven't looked at or used in years is a good first step.
This allows us to make room for new things and provides space to highlight the things we love most.
Getting rid of excess stuff always makes me feel refreshed. How about you?
Going through the de-cluttering process often brings on a frenzy of organizing as we create more room for all our things.
This always helps me feel like I have a little more control over my life, my destiny, my time.
I feel more relaxed after getting rid of things and reorganizing what's left.
It Celebrates Good Memories
Once the decluttering is done, there is more room to re-arrange what is left, display cherished art and accessories in a new way, and highlight objects with memories of travels, friends, family, and our history.
Our story comes to life for us and others to see and enjoy.
It Allows Us To Express Our True Selves
 Once we have decluttered, organized, and started to display the things most meaningful to us, it is time to take stock of what new things to bring into our space.
If you haven't done this for a while, lots of things are probably looking dated and you may be bored with them.
Maybe your style and likes have changed and what you have doesn't express your taste anymore.
It is time to what serves you now and to bring it to life. Express yourself!
We always feel the most comfortable and at home in a space that truly reflects who we are.
Does your home make you feel that way now?
Whether you love bright, bold color or revel in calming and serene neutrals, color has a big impact on how you feel every day.
Changing the colors of the walls or accessories can make the space look fresh and new and change your mood…for the better!
What an amazing feeling to walk through your rooms and let beauty, rather than chaos wash over you.
Imagine how much better you would feel every day.
When we are not proud of the way our space looks, we tend to be less likely to invite friends over to socialize and connect.
Once your space looks beautiful, you want to show it off! Decorating helps make us more likely to entertain friends at home and spend time relaxing and connecting.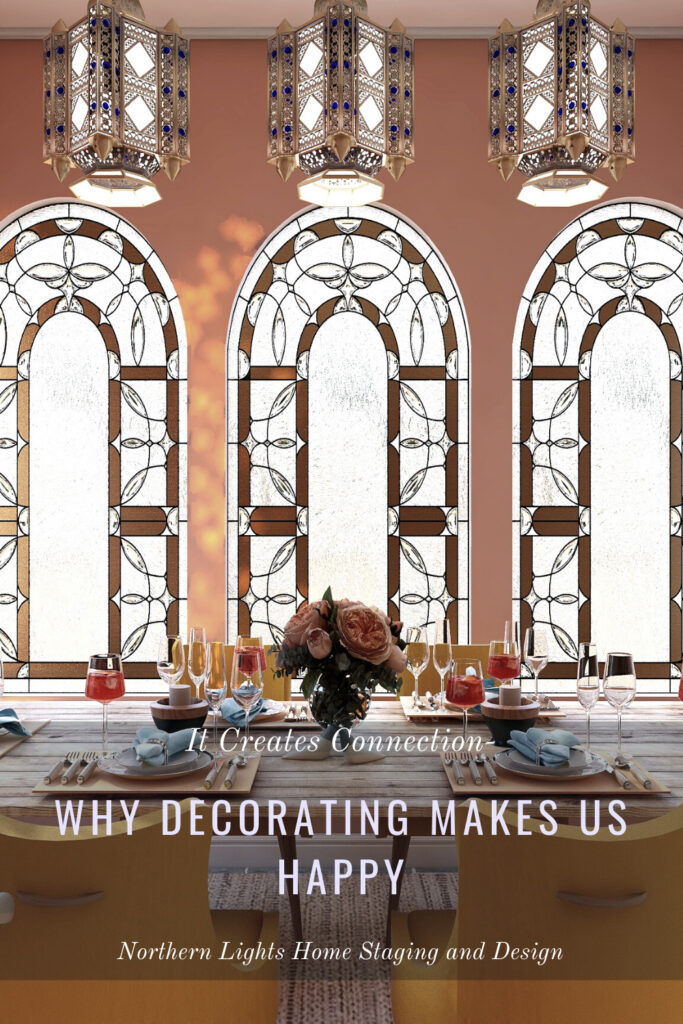 Creating our perfect space or sanctuary to retreat to during our busy lives renews our energy and gives us the space and peace of mind we all need.
Well-being is the highest state of mind you can achieve. Our surroundings have a big impact on that feeling.
Redecorating is exciting, a journey of discovery.
We may not be sure exactly what the end result will be.
It can be like a treasure hunt for all the right pieces of a beautiful puzzle that tells our story. Sometimes the end result may surprise you!
Does the Process Bring You Joy?
I realize, the process may not be fun for everyone and you might need a helping hand. You may struggle with the de-cluttering and organization, how to arrange things,  figuring out your style, finding new items to complete the space, selecting paint and other colors, and more.  That's what I am here for. And I am would love to help you find your bliss.
The first step is to create a plan with an Aligned Design consultation. I take a holistic and transformative approach to Interior Design, aligning art, science, and energy to develop a great plan for you. Then we work on the details of implementing it with my in-person and Edesign Services.
See all my Edesign Services here.
Curious about your design style? Take my quiz to find out more about what brings you joy.