Global Style Interior Design is all about telling the story of your life and adventures through your decor. Each piece has a story and becomes a conversation starter.  Treasures, old and new are displayed from various parts of the world and layered in a rich tapestry of color, texture, art and history. Here are 10 great reasons to love and try global style with some examples of decor items to get the look.  
One of the thing I love about global style Interior Design is the rich bold colors as in this Indian style bedroom Edesign I created. Colors of a particular country are usually based on their landscapes, plants, spices, symbols, national flags and more. They are rarely "neutral colors". In this design of an Indian Style bedroom, the color scheme came from this beautiful handmade Indian rug and other decor elements based on the color of Tumeric, a common spice in India.
Global style is filled with interesting and unique art, reflecting the rich colors or cultural elements of various countries. This Bohemian style living room was based on my own fractal art to celebrate the rich colors and textures of Bohemian style.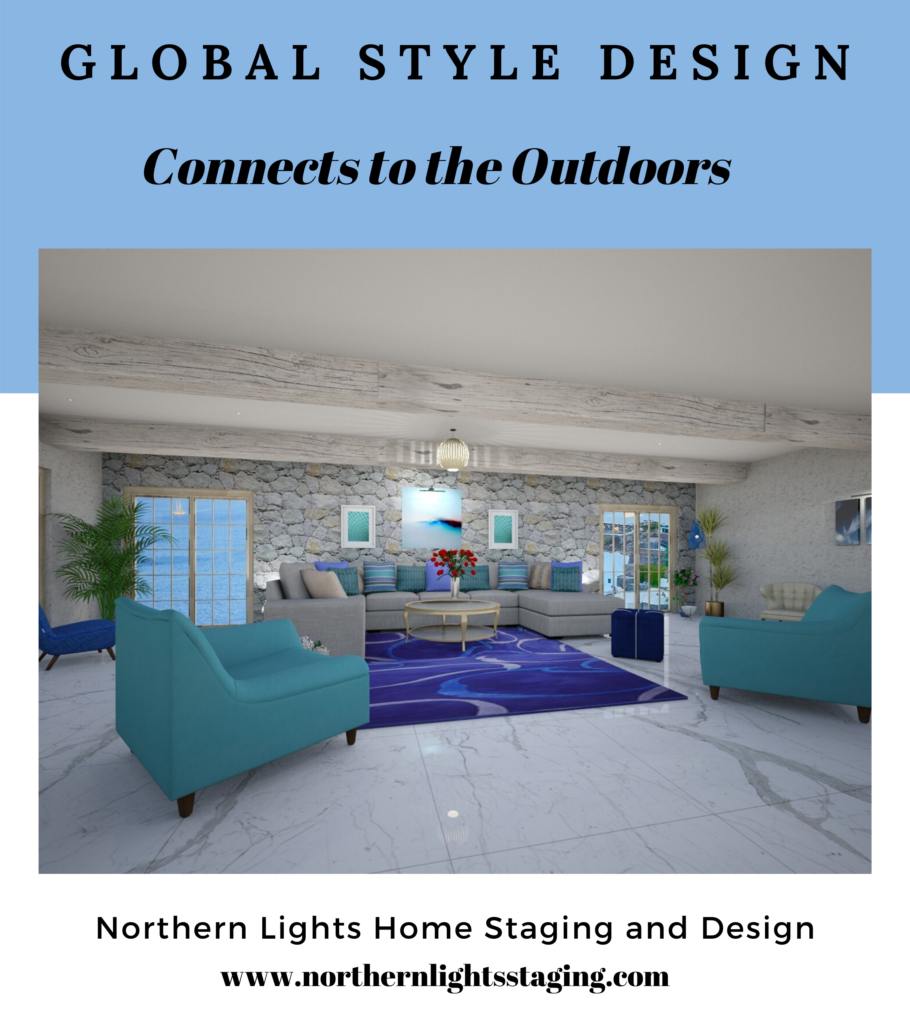 I love that most global styles, are very connected in their colors and patterns to the natural environment. This Greek style living room I designed  or example, is a coastal style that is in tune with the colors of the sea, sky, rocks and native plants of Greece.
Global style loves mixing interesting textures and patterns. From soft silks,  to textured wools, carved wood, metals with intricate embossed or cut out patterns and beautiful cultural patterns on rugs, pillows and art. All these things can be artfully layered to create a rich and diverse design filled with interest wherever you look as in this design for a global style bedroom.
Global style is all about telling your story, whatever it is! Whether it is Bohemian or more streamlined, vintage or modern, colorful or neutral, tell your own story with global style elements that appeal to you as in this modern global style living room.
Global styles celebrates the culture and history of the countries they originate from. or it can combine elements from many countries. Try including decorative elements that are unique to a particular culture. An example is this design of a Turkish style living room. Turkey is known for their Kilim rugs and decorative coffee sets. Below are examples of a vintage Turkish Kilim rug, and a pillow made from a vintage rug from Kilim.com, as well as a traditional coffee set. Get 5% off anything from Kilim.com with code nls2019 at checkout.
I love the lighting in global style designs. Much of it is handmade with intricate cutouts in metal that create magical patterns of light in a room, such as in this Moroccan/Turkish living room. Beautiful lighting is also a hallmark of Turkey and Mexico. See these great examples of Moroccan lighting below.
Global style easily mixes new and modern materials with vintage decor or antiques as in this Vintage Boho Office. Often heirlooms like Moroccan rugs are passed down through generations. Mix historical or cultural artifacts and family heirlooms with modern elements to tell the story of your life and your family.
 I love the way Global Style Interior Design celebrates your adventures by displaying treasures you have found in your travels. An example is this Mexican style living room which highlights wooden masks, copper furniture and hand made lighting from Mexico.
Global style is very eco-friendly and primarily uses natural materials. There is an abundance of wool rugs, metal lighting and accents,  carved wooden furniture and wall art,  leather, rattan, natural stone and pottery. In this example of a Moroccan style living room, the focal point is a gorgeous traditional wool rug. Moroccan rugs are like a work of art for your floor. Learn more about the Magic of Moroccan Rugs in my blog article. Get 20% off these gorgeous, authentic Moroccan wool rugs below or any non-sale item at Atlas Weavers with code "northern lights" at check-out!
Examples may contain affiliate links, meaning I may get a small commission for sharing them with you if you buy something, at no additional cost to you.
Follow me on Pinterest for daily Inspiration on Global Styles.