Market research is the first thing you should do before developing a plan for staging your house if you want to make top dollar on your home sale. I know, market research sounds boring. Why should you care?
 Here's why:
Understanding the Target Audience: Market research will help you understand who the potential buyers are in your area. Knowing your audience means you can stage your home in a way that appeals directly to their preferences and needs.

Pricing Insights: Through research, you can ascertain the average selling prices for homes in your area, ensuring you don't undervalue or overprice your property.

Identify Trends: Market research can reveal current home design trends that buyers are gravitating towards. By staging your home in line with these trends, you increase its appeal.

Stay Competitive: By understanding what other sellers are offering, you can ensure your home has a unique selling proposition that differentiates it from other properties on the market.

Minimize Time on Market: Homes that are staged in line with buyer preferences tend to sell faster, reducing the amount of time your property stays on the market.

Optimal Use of Resources: Instead of randomly buying or renting furniture and decor for staging, market research helps you invest wisely in enhancements that are most likely to yield a return on investment.

Anticipate Buyer Concerns: Research might reveal common concerns or objections from homebuyers in your region, allowing you to address these proactively through your staging and marketing efforts.

Increase Return on Investment: Homes that are staged effectively, considering the preferences of the target market, often fetch higher offers from potential buyers. Market research can show you what type of finishes and amenities similar houses have.

Professional Perception: Demonstrating that you've conducted thorough market research and staged your home accordingly can instill confidence in potential buyers, positioning you as a thoughtful and professional seller.

Tailored Marketing Strategies: Once you've gathered insights from your research, you can tailor your marketing strategies to highlight the features that matter most to potential buyers in your area.
In essence, market research ensures that the effort and resources you put into staging your home align with what potential buyers are looking for, thereby enhancing the likelihood of a quick and profitable sale.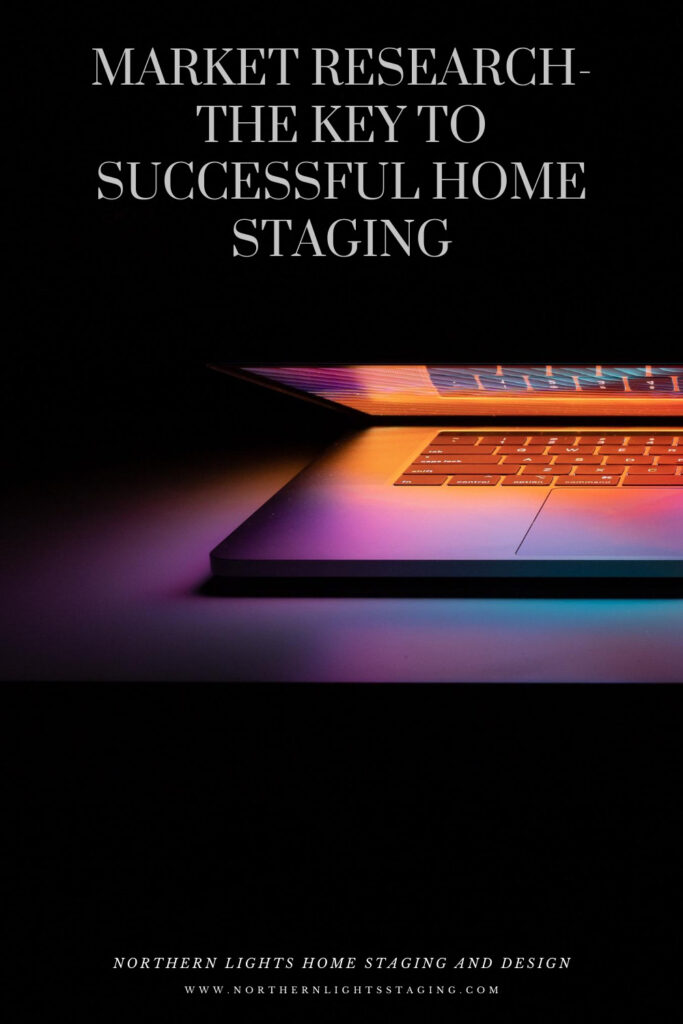 Look at the range of prices. If you want to be on the top end of the range, your home needs to look as good and better than the other homes in that part of the range to stand out. That is where home staging can really help you outshine the competition.
Who is Your Target Market
To pinpoint your target market, consider the nearby businesses and educational institutions. Local businesses might appeal to employees or those drawn to their services, while proximity to schools can attract families with young children. Nearby medical facilities could be a magnet for healthcare professionals or even for those prioritizing health and convenience, like the elderly. Consider: Is your home perfect for retirees looking to downsize? Or is it more suited for first-time homeowners or millennials? The aesthetic preferences of these groups will differ significantly. Remember, the décor and color palette that resonates with one demographic might not strike a chord with another, influencing your staging decisions accordingly.
What Investments will give you a Good Return
Another reason to do market research is to look at what type of amenities similar homes have such as countertops and flooring.  So, for example, if you are going to be updating your countertops before selling, and everyone in the area has granite countertops, it probably won't be a good idea to update with Formica, or to invest in granite if everyone else has Formica. In the first case your home will not look as nice as the competition, and in the second, your house will look nicer but will not likely get back the return on the investment you made with your sale price. 
How to do Market Research
Hire a Professional Stager: Consider investing in a professional home stager right from the start. They typically conduct their own market research and possess a keen understanding of what appeals to buyers in your specific locale.

Understand the Demographics: Analyze the typical buyer profile for your area, focusing on age, family size, income levels, and professions to determine whom you're staging for.

Analyze Local Real Estate Listings: Browse local real estate platforms to gauge how similar homes are staged. Look for dominant styles, colors, and arrangements.

Visit Open Houses: Gain firsthand insights by attending local open houses. Observe successful layout and decoration strategies.

Seek Feedback: Engage with friends, neighbors, or colleagues who've recently purchased homes. Their preferences can provide staging direction.

Consult Real Estate Agents: Tap into the expertise of real estate professionals to gain insights on market trends and effective staging methods.

Survey Potential Buyers: Conducting informal surveys or discussions can help delve deeper into the needs and desires of potential buyers.

Check Online Forums and Groups: Online platforms like Reddit or local Facebook groups offer genuine insights from local homebuyers.

Consider Local Amenities: Research nearby institutions like schools or hospitals, and consider the types of families or individuals they might attract.

Study Interior Design Trends: Keep abreast of current design trends to ensure your staging feels modern and inviting.

Analyze Previous Feedback: Reflect on any feedback if your home has been previously evaluated or listed. Such insights can guide refinements in staging.
Executing market research before staging ensures your home resonates with a broad spectrum of potential buyers, increasing the likelihood of a swift and profitable sale.
A professional home stager will do market research on your home before staging, and consult with your Realtor if you have one on the expected target market. They are experts at decorating to make an emotional connection with your target buyers. Get started with a home staging consultation today.