Some time or another, we all get our five minutes of fame, or infamy depending on what you do with it. I think your choices tell a lot about who you are.
I have had many chances for my five minutes of fame on the radio, on the dance or music stage, in publications and more. This time felt a little different, maybe because the audience seemed so big!
I thought I would share my experience, in case it helps you when your five minutes comes around:)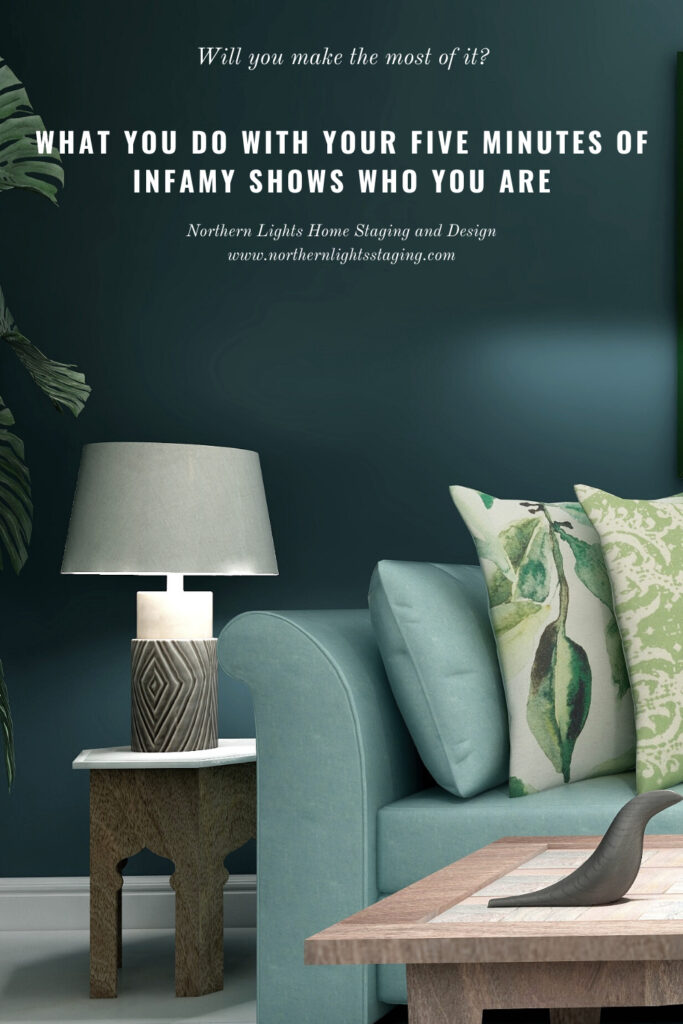 I had a call from the Podcast Business News Network in New York City, inviting me to do an interview on home staging and Interior Design. The man I spoke to gave me the impression the interview would be about 20 minutes and it would happen either the next day or the day after. They found my name on the Staging Diva Directory of Home Stagers. They mentioned how they had 21 million listeners live and 40 million listeners total. There were about 100,000 in Alaska where I live (mouth drop).
I asked if I would know what the questions were in advance and they said yes. They also said it was free, and there was no obligation. The interview would be live and then I would get a link to the recording to share on social media or wherever I wanted.
I thought OK, what the heck. What could go wrong other than saying something dumb when 20 million people could hear me. Why not. Sign me up.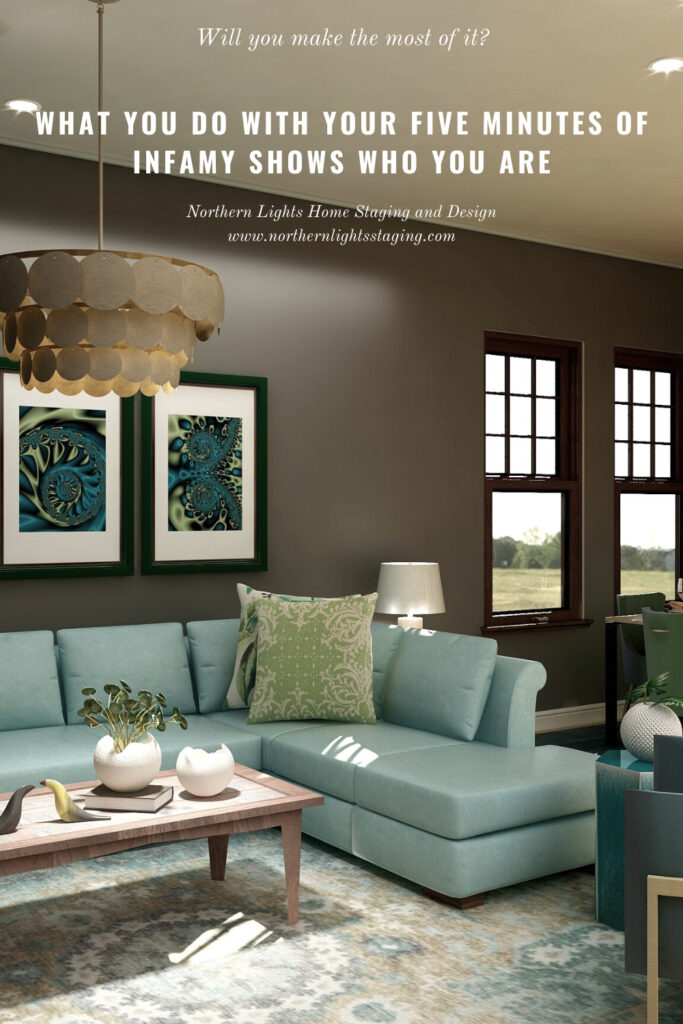 I was transferred to someone else who was to schedule me. Then I was told it was only 5 minutes and they would send me a questionnaire to fill out. Hmmm, OK, well that is fine too.
I got my questions quickly by email, took the evening to consider my responses, and sent them in the next day. I considered what message I really wanted to get across, and practiced, timing myself to make sure it could be said in under 5 minutes. Not easy! There was a lot of editing.
Other People's Reaction to the Upcoming Interview
Now it gets interesting. I posted some info about the interview, the day and time, and how people could tune in. I hoped a few people might be interested and it would be easier picturing some friendly faces listening.
Friends on Facebook were all very supportive.
Crickets from anyone on my Facebook business page.
Some colleagues downplayed it or warned me about it. One said, oh I got one of those messages and deleted it. Another mentioned the red flags to consider, such as the reviews made it sound like the show was a bunch of infomercials and it may just be about selling me something. Others just ignored my post altogether. After all, most of us are busy with our own stuff with no time to waste listening to interviews.
The Facebook group I am in for a business class was incredibly supportive, with all kinds of positive things to say and suggestions on how to make the most of the interview, especially the call to action at the end.
My mom said, oh I will be busy then so can't listen. You will do fine.
After all that, I had mixed emotions, running from nerves to excitement to wondering if I was being taken in by some too good to be a true scam.
What would you do? 
I started thinking, if I help 1 person out of the supposed 41 million just by jabbering on for 5 minutes, it is all worth it.
Whatever happens, I can share it in a blog article and help others as well.
All the preparation for the interview helped me clarify how I describe my new Aligned Design system to people which will help me with my website copy.
I learned a lot from my business class friends about how to make the most of these short interviews when the opportunity presents itself.
I also learned to consider what the red flags might be and if they were worth not doing it for. 
Please give a description of your company and the products/services you offer.
Northern Lights Home Staging and Design offers Color Consulting, Edesign, Interior Design, and Home Staging, for homes and businesses in south-central Alaska and everywhere online. I also create a one-of-a-kind fractal art home décor. My unique method, called Aligned Design aligns art, science, and energy to create the perfect space for you or your customers. Considering these three key things together what makes the magic happen.  
2. How long have you been in business?
3. Tell us about your background and business.
Homeowners hire me to collaborate with them to create the perfect space for them, which makes them happy and it supports them in being their best selves. I think of this as creating "expansion", or the look and feel of a "better, happier life". Who doesn't want that!.
Business owners also hire me to create that perfect space to attract their ideal customers. People buy when they think you are offering something that makes their lives better or happier in some way, whether it is an experience or a product.
Home sellers hire me to create that perfect space through home staging. I portray the possibility of that "better life" which makes an emotional connection with buyers so they make an offer.
Creating the Look and Feel of Something More, and a Happier, Better Life
To create the look and feel of something more, and happier, better life, I use a holistic approach, that aligns art, science, and energy,
Art is the creativity I use to express your style, tell your story and create a room that is beautiful to you.
Science is the color science which I use to help you create your perfect color palette. As one of the few color strategists in the country, I measure your colors and use color data as well as what looks great to give your extraordinary color.
Energy is the connection I create between you and your space and surroundings using tools like Feng Shui, and biophilia or connecting to the outdoors. 
Example of Creating Expansion
Imagine,  a master bedroom that looks like a calm, relaxing sanctuary with great views of the ocean and a fireplace. The design and colors connect with the outdoors. It had beautiful furniture and art, soft rugs and a fireplace with 2 chairs and a bottle of wine. For a homeowner, this "perfect space" would provide a sanctuary at the end of the day. For a business owner, say a Bed and Breakfast owner, the room would offer an experience of a "better and happier" life that people would pay for. For a home seller, a room staged this way would offer the buyer a glimpse of a better life they would have if they bought the house.
What Do You the Listeners to Know About You?
I believe that your space has a huge effect on how you feel every day. When your space is aligned with who you truly are or want to become, you feel better. And that feeling can spread to other areas of your life, and to everyone around you. Your surroundings influence who you are and can become. It is worth investing in yourself by creating your perfect space.
How Can People Contact You?
If you are ready to create your perfect space, give me a call at 907-362-0065 to discover for yourself what's possible.
Visit my website at northernlightsstaging.com and take my free style quiz to discover what your perfect space might look like and get my free top ten design tips to start creating your perfect space today.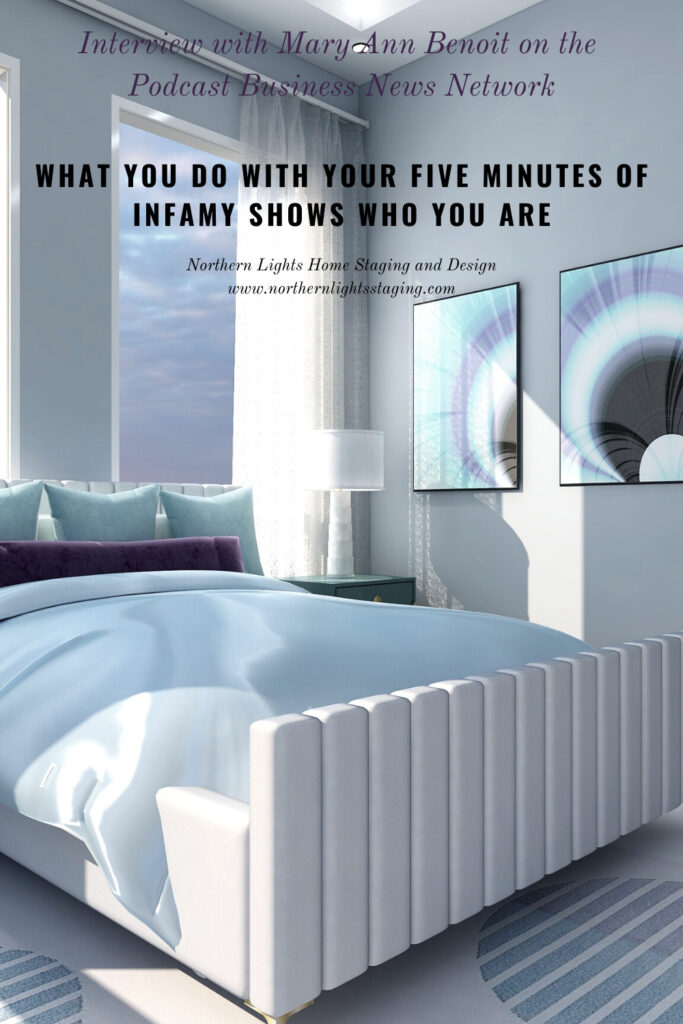 I was a little nervous, not too bad. All was going well. Then, they threw in the surprise question.
Seriously?
Why oh why do they do that? But guess what. I rolled with the punches. The question was, tell us about your background.
Ahhhhh, no. That will take the whole 5 minutes and no one cares. I would rather tell people about my business which could actually help them. So what did I do?
I answered with one sentence and then proceeded to tell them about my business. In other words, I took charge of the interview and talked about what I wanted to:)
I felt a little bad about that , but not that bad. Anyway, it was over in a couple minutes so I didn't feel bad for long!
Over all, I think it went pretty well.
One friend listened that I know of, and was very complimentary.
I got a call from their executive producer who wanted to share the feedback from the show. She mentioned 8 people tried calling in, they had numerous compliments and three people inquired about it. It was funny, when she said this I thought this is probably the sales pitch they give everyone. But, when she opened the conversation she said they had an amazingly good response, and the tone in her voice made me wonder if it was really true and it surprised her. Or maybe she was just that good.
In any case, she did try to sell me on more. She said the free shows were a way to see who was a good candidate for a longer show and judge audience response. They had a variety of show packages you could do ranging from $500 for one show to 5 weeks for $7500 with individual commercials created, and the podcasts being listed forever on the site. I did not pay much attention to all the details because I was not interested in doing that.
This might be a good opportunity for you, however, regardless of the business you are in, so you can check out their website and see if you want to get your free 5 minutes of fame and go from there.
FYI, my mom actually listened to it after all. She is generally more critical than complimentary on just about anything I do, but in this case, was gushing with praise. That made it all worthwhile for me:)
How about you? What would you do? Take it, leave it, make the most of it or pass it by? Let it scare you? Rise to the challenge? Think about it….maybe they will call you tomorrow!
Ready to create your perfect space and make a little magic happen? After all, where will you be six months from now if you continue to wait? Re-arranging the deck chairs on the Titanic and expecting a more beautiful outcome? You already know the end of that story! Call me at 907-362-0065 to see what's possible for you and set up a consultation.
Are You Ready to Create Expansion in Your Life?
Are you ready for your house to look great, feel great and support you to be great? My Aligned Design consultation considers art, science and energy to give you guidance to create the perfect space for you.
Curious about your Interior Design style? Take the quiz and find out.