What does the color of your house say about you?  The exterior of your house is what the world sees. And, it is what you see every day. Does it reflect your personality? Does it make you happy? Is it inviting to guests or customers if you have a home based business? If you are selling, is it attractive to buyers? Your house sends a message to others and tells your secrets about who you are.
When it comes time to paint the exterior, you have a lot of options and some limitations you need to consider.
Limitations when Picking Paint Colors
Let's start with the limitations. Just as with the interior, you need to consider the "fixed finishes", the things which rarely change, which for the outside is primarily your roof color or features such as natural stone or brick. Wall and trim colors you select will have to be harmonious with those colors, as well as with each other.
Consider your Environment
You also need to consider the surroundings. Will your colors go with your landscaping and the view surrounding your house? Will they fit in with the neighborhood? A bright, saturated color may not fit in well with a neighborhood of neutral colors, but may work great in areas where that is the norm.
Consider Guests and Clients
Do you run a business from your house, such as a vacation rental? What image will the colors project to your customers? Is it consistent with your brand? You may be using photos of your house to attract customers online. Will the photos attract your ideal customer?
Selling your Home? Consider the Buyer
Are you selling the home? If so, you may need to narrow your color selection to appeal to more buyers. More neutral colors may appeal to a wider range of buyers, but your house still needs to stand out from the crowd and be memorable. A great front door color can help with that and can be easily changed if a buyer prefers a different color.
Make a Statement with your Front Door Color
Your front door color makes a strong statement. A house with very neutral colors can add a colorful door to make the home unique and memorable.
Color is a personal thing. People see colors differently and have an emotional response to what they see and surround themselves with. People tend to be drawn to different colors based on their nature. Does the color make you feel relaxed, happy, energized, inspired, or depressed? How do you want to feel in the home?
Consider how Color Affects Your Home's Comfort
The colors you select may also affect the cost and physical aspects such as temperature. For example, dark colors covering a light house may take more coats of paint for sufficient coverage. Dark colors will absorb heat on a sunny day, requiring your primer to provide a more flexible base. Dark colors may be too "hot" for a deck where you want to relax and stay cool on a summer day.
Consider how Color can Affect Your Home Based Business
As a certified color strategist, I did a color consultation for this Bed and Breakfast to determine exterior colors and design for this business in a residential neighborhood. The goal was to create a unique but welcoming and relaxing color scheme that would fit into the surroundings (mountains ocean, glaciers), the neighborhood (an eclectic mix of neutral and colorful homes) and work with the landscaping (colorful flowers, primarily in shades of purple and pink, dominated by rose bushes with fuchsia blooms. The roof was blue and there were no other fixed finishes to consider. I had previously done Interior Design work for this Bed and Breakfast which doubled the income and bookings, and helped with branding and attracting the ideal customer identified for the business. Ideal customers were retired professional couples interested in outdoor adventures, wildlife viewing, bird watching and art.  The current brand was colorful, relaxing, artistic and luxurious and down to earth. The style was coastal, based on the location next to the ocean.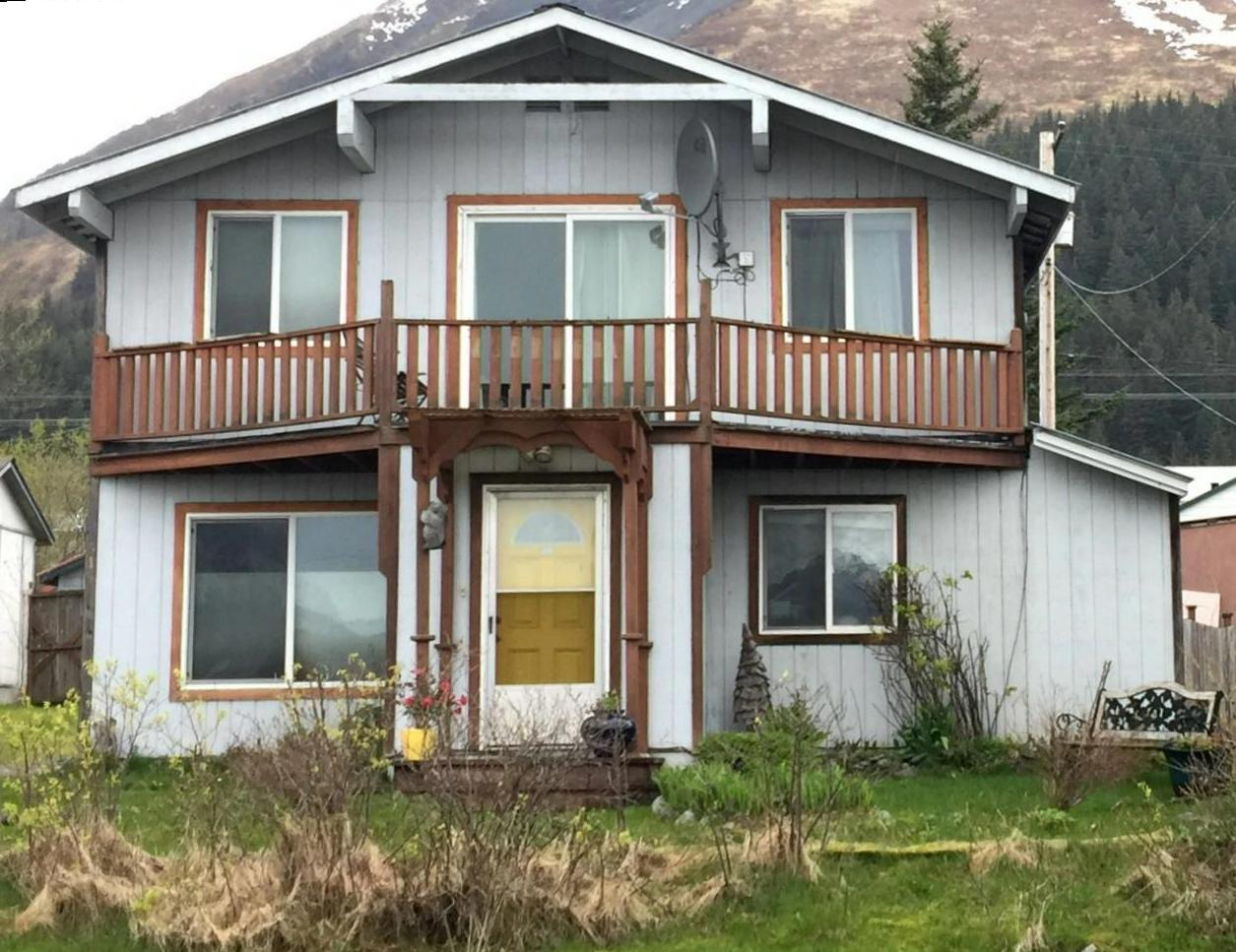 A deep, rich teal color (Sherwin Williams Moscow Midnight) was selected for the walls to harmonize with the roof and surrounding mountains and ocean. It also worked well with the neighborhood which had numerous blue and turquoise houses (mainly lighter shades). The dark color made the colors of all the flowers in the landscaping "pop", particularly the purples, yellows and reds. It also blended perfectly with the greenery of the landscaping and mountains.
A warm white trim color (Sherwin Williams Alabaster) was selected to highlight the blue and harmonize with colors of the clouds and snow-capped peaks in the surroundings. This bright but warm white with a touch of yellow was selected to provide a nice balance to the cool blue walls. Leaving the cedar trim and decks their natural color, although convenient, would not have worked with the blue. White was also selected for the second floor deck to keep the temperature cooler, as the deep blue of the walls would absorb heat. The white deck and trim provided a background for colorful outdoor furniture and plants that were harmonious with the rich teal walls and provides a  relaxing sanctuary for the owner.
Forward Fuchsia was selected for the front and back door to highlight the color of roses in front of the house and provide an inviting, unique and fun front door.
A sign was designed using the trim color for the background, the wall color for the lettering and two lines in Fuchsia. The sign blends nicely with the balcony, providing the business name without standing out too much in the residential neighborhood. A metal bird sculpture depicting a flock of sea gulls was painted white to match the trim and placed near the peak of the home to highlight the brand and focus on wildlife viewing for the business.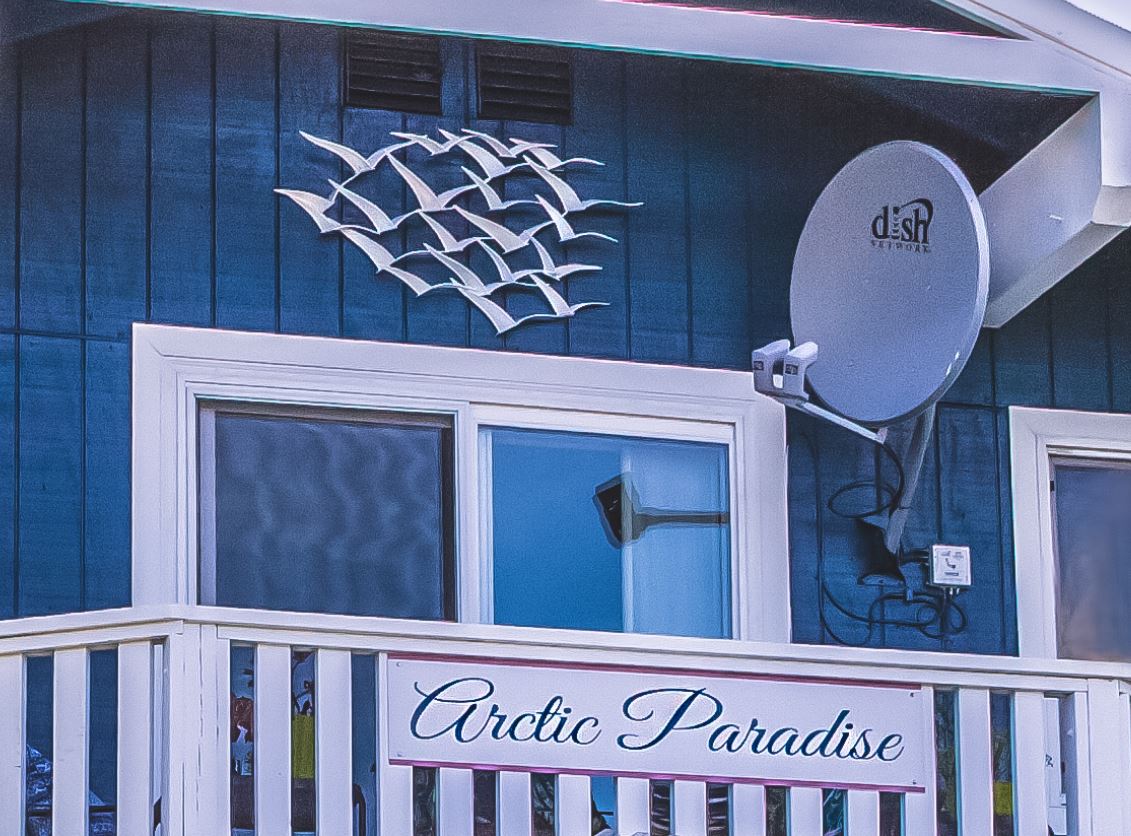 A new white screen door was placed at the front door with full glass to highlight the fuchsia door. The border was decorated with a unique alcohol ink design to highlight the colors of the door and flowers and add the artistic element of the brand. The front doorknob was replaced with an artistic satin nickel design to replace the older brass doorknob.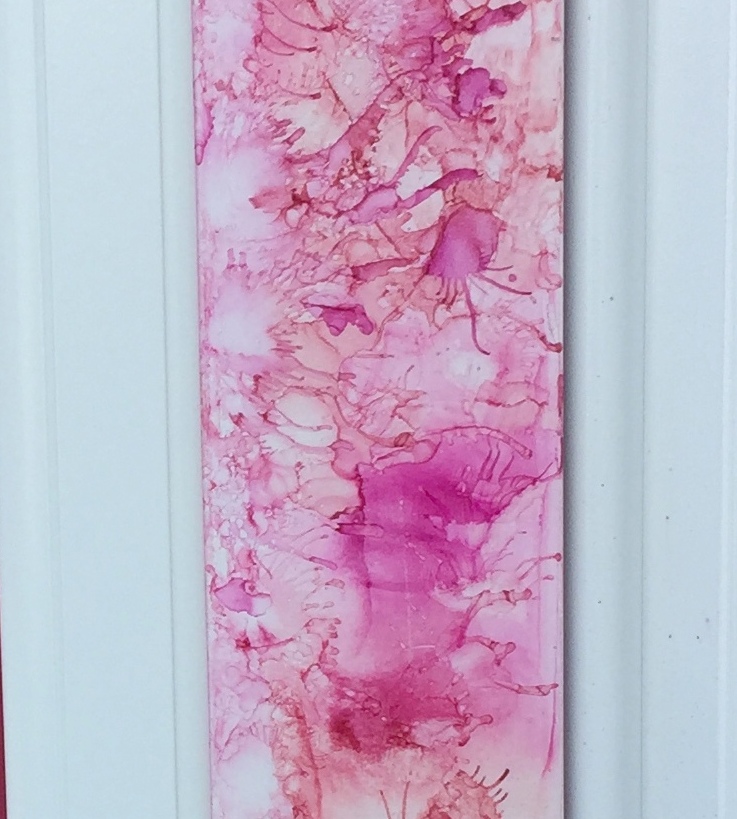 Comments from neighbors, customers and friends on the new look included that it looks "Bright, cheery and comfortable looking, a beautiful work of art in progress, lovely, beautiful transformation, beautiful use of color, love the door, love the birds, has to be the most charming B&B in Alaska!"
It also has started a wave of comments from the neighbors about how they needed to paint their house too, which over time will help update the look of the whole neighborhood!
The triad of colors were selected and measured to work together in terms of warm and cool aspects, saturation, brightness and a perfect balance of hue families using both the art and science of color. If you are getting ready to paint your house, consider getting help from a certified color strategist. Get your colors right the first time! Make a statement that reflects you, makes you happy and is welcoming to your guests and neighbors.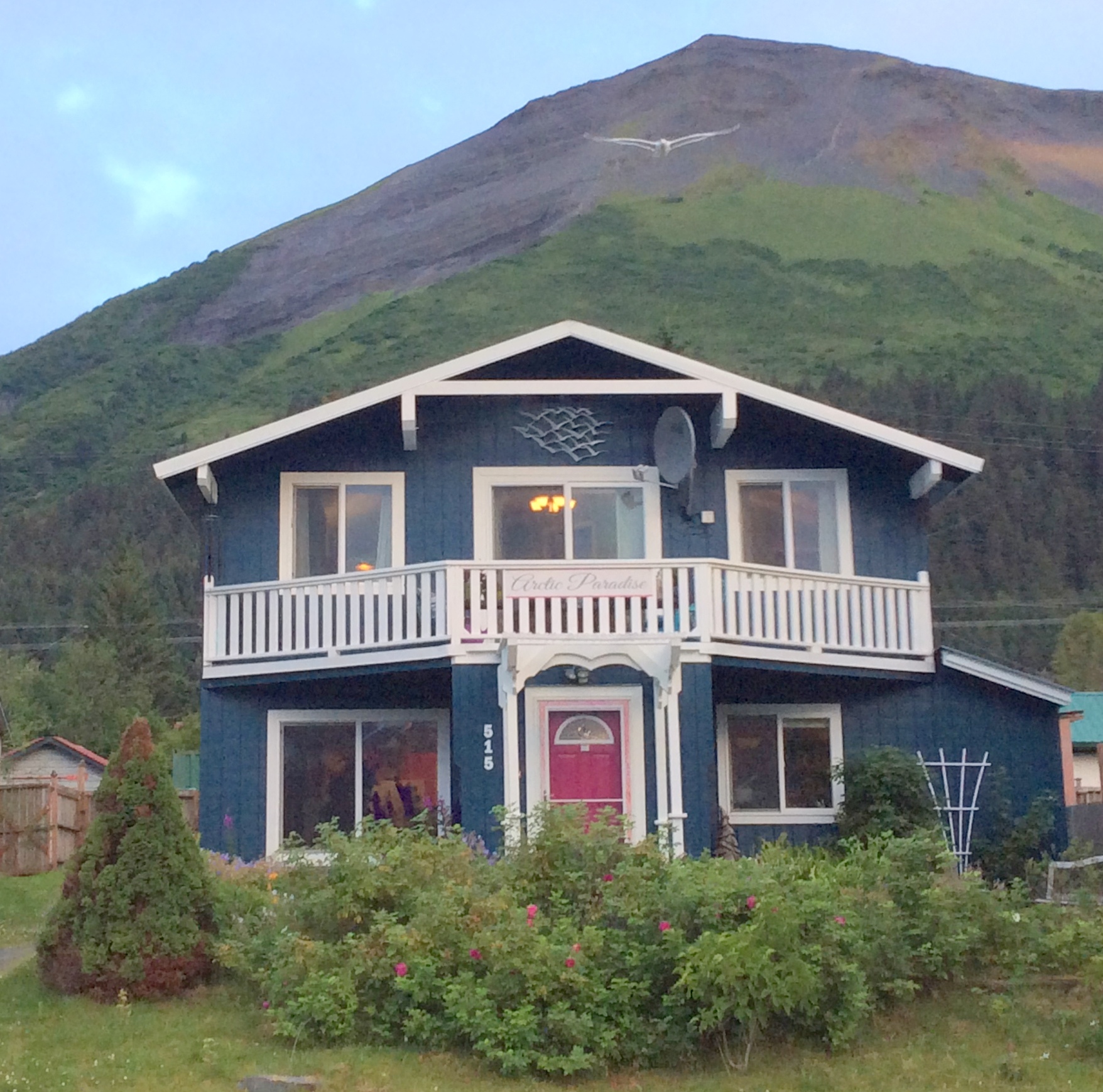 Are you ready to paint your house?
Get a color consultation today and get your colors right the first time so you avoid making costly mistakes and really love the end result. I can work with you wherever you live with an online consultation. Learn more.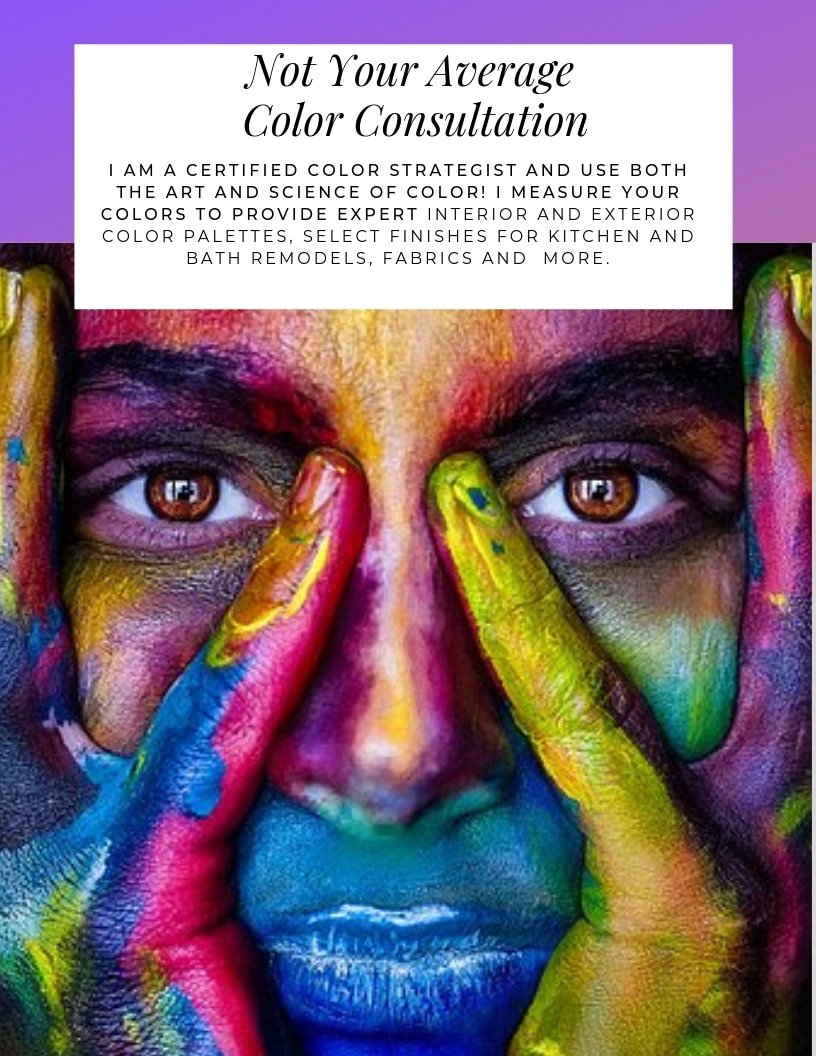 Do you have some paint colors already picked out but are just not sure if they really work well together? Get an expert opinion before you spend money on the first can of paint. Learn more.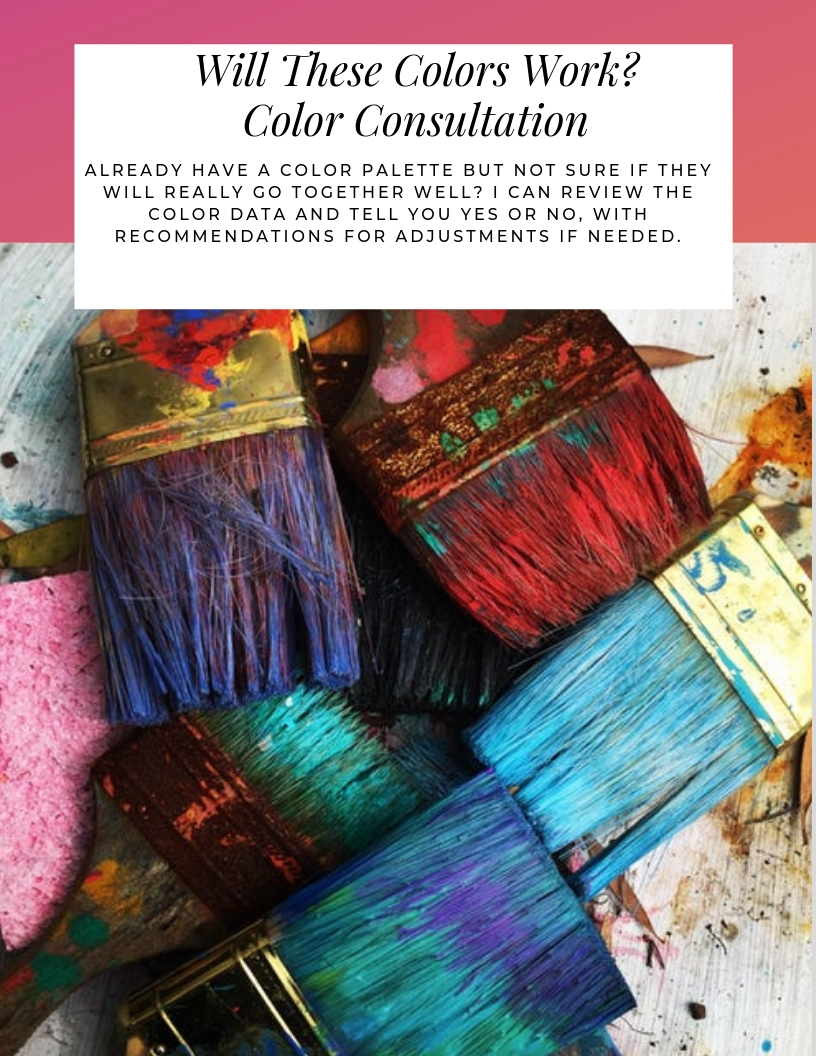 Want to learn more about picking great colors?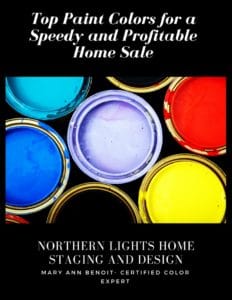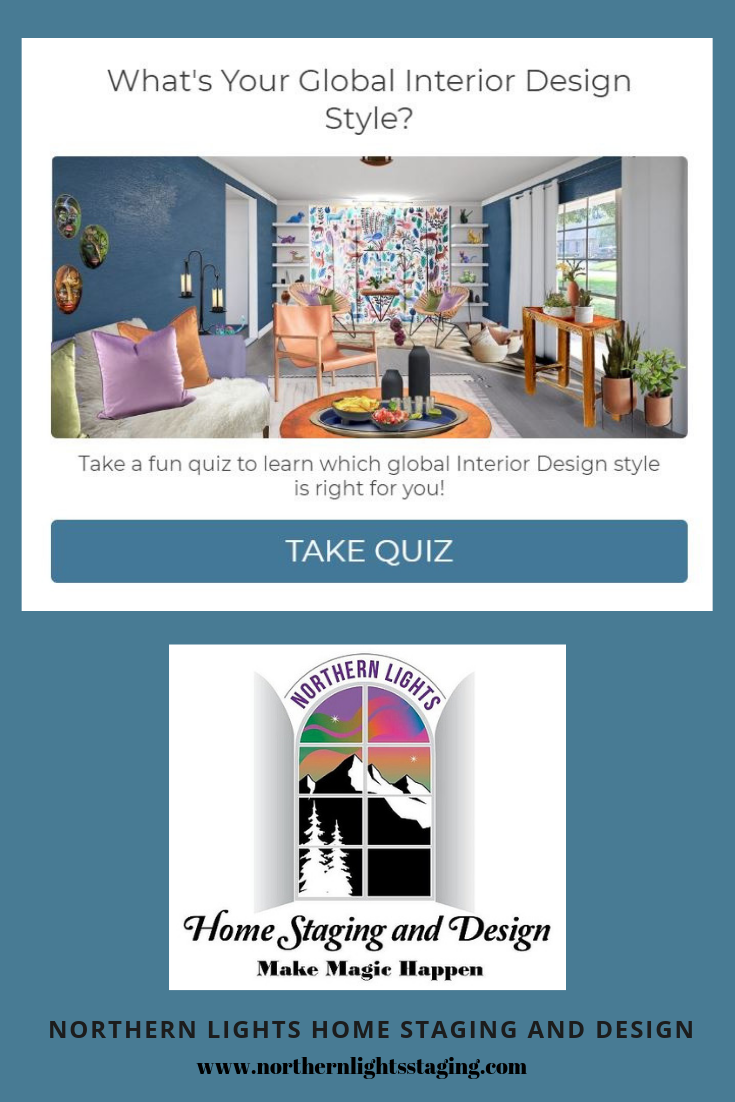 Call 907-362-0065 today for a color consultation
 info@northernlightsstaging.com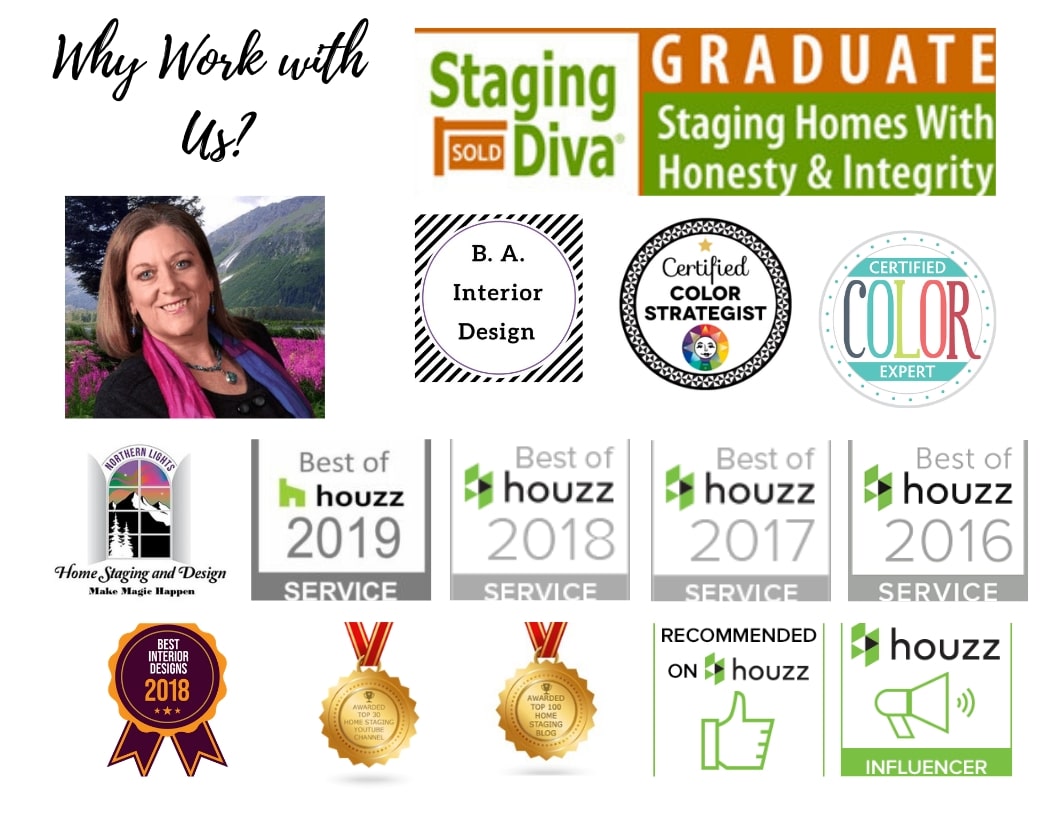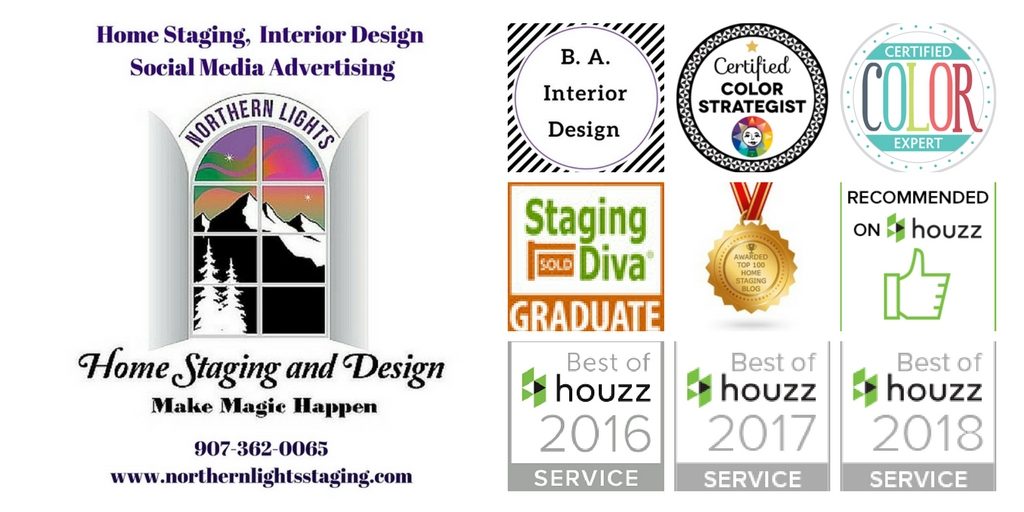 ---