Precision equals beauty. I know, it sounds weird. But it's true!
Today in drum class, as we were practicing our "ornaments" or rolls coming before the main notes, my teacher Amir says, "You are all playing very precisely today. It is very beautiful.
Our ornaments are a series of three notes played with the left hand that lead up to the main note played with the right hand. What makes them precise and beautiful is that each note is clear, evenly spaced, starts with lower volume, and gets higher until the main note is the loudest. At its fastest, it might sound like the whoosh of a car going by, but the goal is to make every note precise, audible, and even so you can hear the beauty of the whole phrase.
It is not as beautiful if you play it fast, unevenly, or too loud, so the notes are muddy rather than standing on their own. 
Of course, I start thinking of Interior Design, haha. 
Precision in the small elements that highlight the main pieces are just as important in design as in music.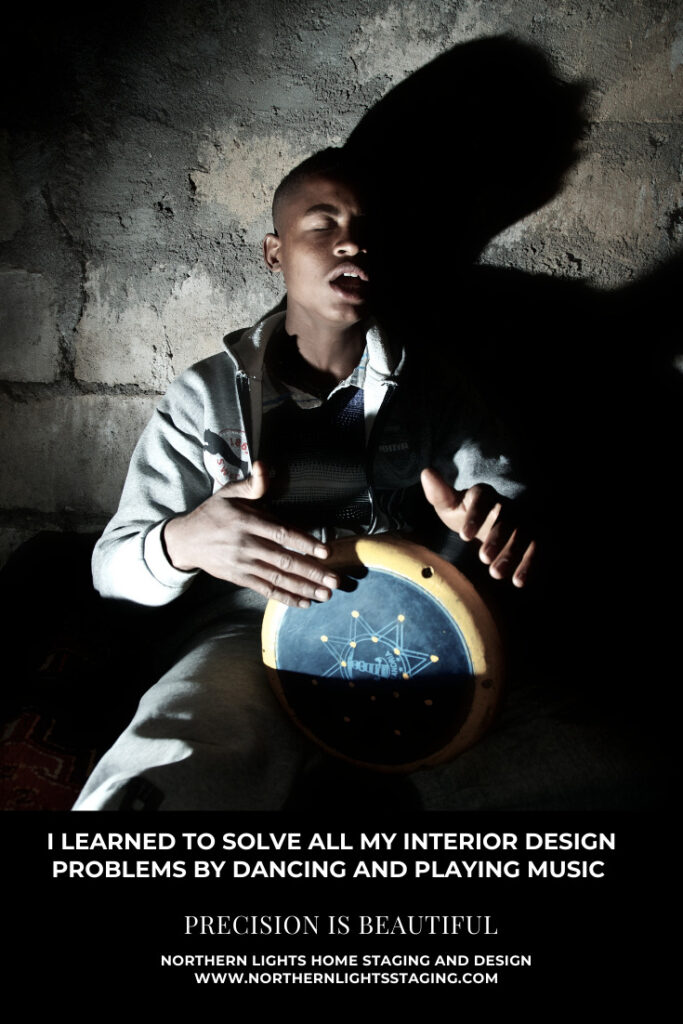 Precision and Interior Design
Precision and Extraordinary Color
Precise color is beautiful. It comes from knowing color science and picking perfectly matched or harmonious colors based on their lightness, saturation, or hue angle. Precision using color science creates the most beautiful harmony.
Precision is particularly important when selecting similar colors, particularly whites. If the colors are too close in their hue angle and do not have enough difference in their chroma or lightness to make them different, one will make the other look "dirty" or "dingy".
Close enough might look nice, but it is not extraordinary. You know that when you see it, even if you don't know why.
If the information above sounds like a foreign language but you like the sound of having extraordinary color, call a color strategist (like me) for a color consultation to make it happen:)
Precision and Accessories
When you arrange accessories to highlight a main element, such as a fireplace, coffee table, or bookshelf, the accessories are like the small notes in the ornament leading to the main note in the music. Perfectly done, all the pieces and the whole are beautiful.
As in music, the clarity, spacing, and volume of the note is important.
Each piece should stand on its own because it is beautiful and has its own story to tell that relates to the room's theme.
Arrange each piece just right so the spacing lets the accessory shine in its own right, but it also highlights the main piece, such as the fireplace, bookshelf, art etc. Using the rule of threes is excellent for determining arrangements and giving each piece enough space to shine on its own and not be too crowded. Vary heights and create layers for interest.
Above, the accessories on the credenza were selected to highlight the colors and shapes of the art.
Below, the accessories on the coffee table were selected to highlight the natural themes and colors of the art and pillows behind the table.
 Ensure that scale of the accessories are not too large or "loud" with the other accessories.
The grouping of all accessories together should highlight the main element, not overpower it. For example, you want people to notice the fireplace, rather than an overwhelming amount of large, loud accessories on top of the mantel that draw your attention, and not necessarily in a good way!
Try it for yourself. Pick some of your favorite accessories and play with the arrangements, colors, scale, spacing, and textures. Stand back and note if they all look beautiful on their own and add to the room but together, highlight the larger piece being accessorized
Here are a few favorite accessories made of natural materials you might enjoy including in your design (some contain affiliate links).
Here are a few favorite handmade accessories you might enjoy including in your design (some contain affiliate links).
Are You Ready to Create Your Masterpiece?
Now that you know some of the elements that work together to create your perfect space, are you ready to take action to make it happen in your home? If you knew absolutely for certain that creating a perfect space would create a better life for you, you would do it, wouldn't you?
Let's tell your unique story and find the alignment of art, science, and energy that makes you happy.  Let me help you take that trip to your perfect space in a Ferrari instead of a stagecoach. Try my Aligned Design consultation and let's get started.
Curious about your Interior Design style? Take the quiz and find out.