Every Part Must Do Its Part
Music is made of parts and every part is critical to making the magic happen. When they work together perfectly, then you have created a masterpiece!
All music has a structure. This usually includes a series of parts in order such as an introduction, a verse that is repeated several times with variations, a chorus or bridge that is different, and often the memorable highlight of the piece, a few more verses, and an ending. Often there are solos in the chorus.
All of these parts help build and tell the story and create something "delicious to the ears" as my drum teacher Amir likes to say.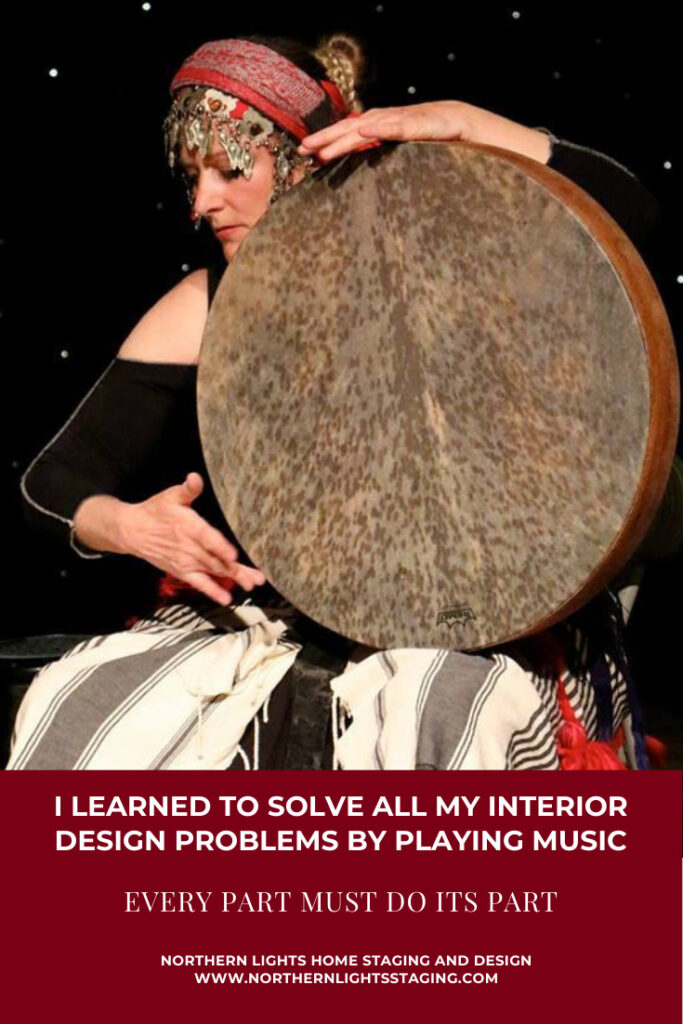 Within the structure, there are more parts. These are the instruments, which layered together create a rich, delicious song for your ears. Eash has an important role to play in the final result.
The drums keep the rhythm for all the instruments. The bass is the bridge between the drums and the melodic instruments, playing both rhythm and melody. And there are several melodic instruments.
The melodic instruments usually take turns supporting each other with one or two playing the main role while the others back them up playing supporting roles or harmonies.
In the video below I created a 13 beat piece of music and played all the parts myself. Even as a one-woman band, I needed to make sure all the parts would work perfectly in harmony with the others and each supported the whole.
Mary Ann Benoit performing all the parts of her composition, For the Love of 13's.
In many pieces, every instrument has a chance to be the star for a short time during a solo or by playing a more prominent part, while the others back them up. But, there should only be one star (at least at a time).
The magic happens because of the layers, which work in harmony for the greater good of the musical composition.  The collaboration creates something much more beautiful than any particular part or instrument on its own.
Even if all the instruments are the same, the layers of all working together to create one piece is magical.
Khoda, performed on Dafs and Frame Drums by students at Amir's School of Music.
Yet, every part has a chance to shine. The piece needs just the right number of parts, no more or less.
Interior Design Lessons from Dance
What does this have to do with Interior Design?
Your perfect space has a structure, tells a story, and is layered with pieces that all have their supporting roles and time to shine. When done in perfect harmony, that is when the magic happens.
This is Part 2 in my revelations from lessons learned from playing music on how to create your perfect space. 
The older I get, the more I realize the connections between all things artistic. The same principles apply to making the magic happen in Interior Design or any other art form. You just need to open your eyes, listen, and feel it to notice.
It always seems to come back to the alignment between art (creativity), science (color), and energy (connection) that makes the magic happen. I use this alignment to create both beautiful dance pieces and interiors.
To learn more, see Part 1, I Learned to All my Interior Design Problems by Playing Music.
You might also enjoy my series on lessons I learned about Interior Design from dancing:
I Learned To Solve All My Interior Design Problems by Dancing: The Magic of Transitions.
I Learned To Solve All My Interior Design Problems by Dancing : Surprise Me.
I Learned To Solve All My Interior Design Problems by Dancing and Learning to Tell a Great Story.
I Learned To Solve All My Interior Design Problems by Dancing- Bring on the Bling.
I Learned to Solve all My Interior Design Problems by Dancing- There Can Only Be One Star.
I Learned to Solve all My Interior Design Problems by Dancing- Be Brave.
I Learned to Solve all My Interior Design Problems by Dancing- Create Drama with Shapes.
I Learned to Solve all My Interior Design Problems by Dancing- Create Drama with a Focal Point.
I Learned to Solve all My Interior Design Problems by Dancing.
Intro, Verses, Chorus and Finale
Like a piece of music, your design also has a structure. You can think of it as an introduction, verses that lead to the dramatic chorus, more verses, and an ending.
As you enter the room, the flow to your focal point is like your introduction. All the supporting pieces that create the meat of the room and the story are like your verses. The focal point or main attraction is like your chorus or bridge and then you have an exit or end. All working together, tell the story of the room.
Like instruments that each add a different sound and unique character to the music, your design parts include your flooring, furnishings, accessories, art, and lighting. They all need to coordinate and work together to create something more beautiful together than any individual part. The parts all have roles to play. If they are not contributing to a better "whole piece" than it may be "clutter" and should be removed.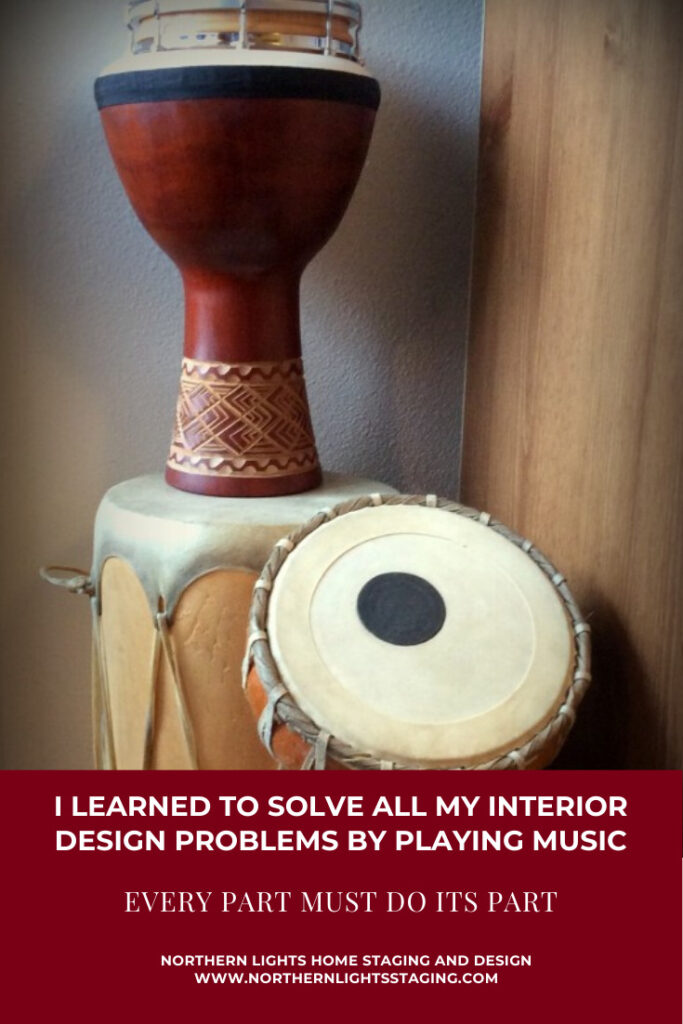 Musical compositions often allow the instruments to take a solo and have their time to shine while being supported by the other players.
Your art is often the focal point or soloist. Why not take a cue from music and change out your art to change the look and feel of your room from time to time. It creates a more interesting composition.
Here is an example of this same room (an Edesign by Northern Lights Home Staging and Design), with different art or "soloists". See how the energy of the room changes by changing the art?
Playing with One Instrument or Many
One playing with a group of similar instruments, each piece still needs to add to the overall texture of the compositions in the Daf arrangement for Khoda above.
This neutral living room is an example of a musical piece with all the same instruments, due to the similar neutral colors. Each part stands out with its different patterns or textures to add to the final design.
This monochromatic and neutral design as the same feeling in that all the parts are very similar, but the subtle but interesting differences of the individual elements creates a beautiful layered final design.
In the Edesign below, all the parts are very different, as when you have a musical piece with many instruments. When the parts are so different, extra care must be taken to make sure all the parts work in harmony (such as with your color palette).  
Are You Ready to Create Your Masterpiece?
Now that you know some of the elements that work together to create your perfect space, are you ready to take action to make it happen in your home? If you knew absolutely for certain that creating a perfect space would create a better life for you, you would do it, wouldn't you?
Let's tell your unique story and find the alignment of art, science, and energy that makes you happy.  Let me help you take that trip to your perfect space in a Ferrari instead of a stagecoach. Try my Aligned Design consultation and let's get started.
Curious about your Interior Design style? Take the quiz and find out.