You know it when you see it.
Whether it is the right person or the right house for you, your gut instinct will tell you it is right. Then your logical brain will come up with all the reasons to support the decision you already made.
The person or the home has made an emotional connection with you and that is all she wrote.
If you are the one selling, how do you make the emotional connection with buyers?
Home Staging.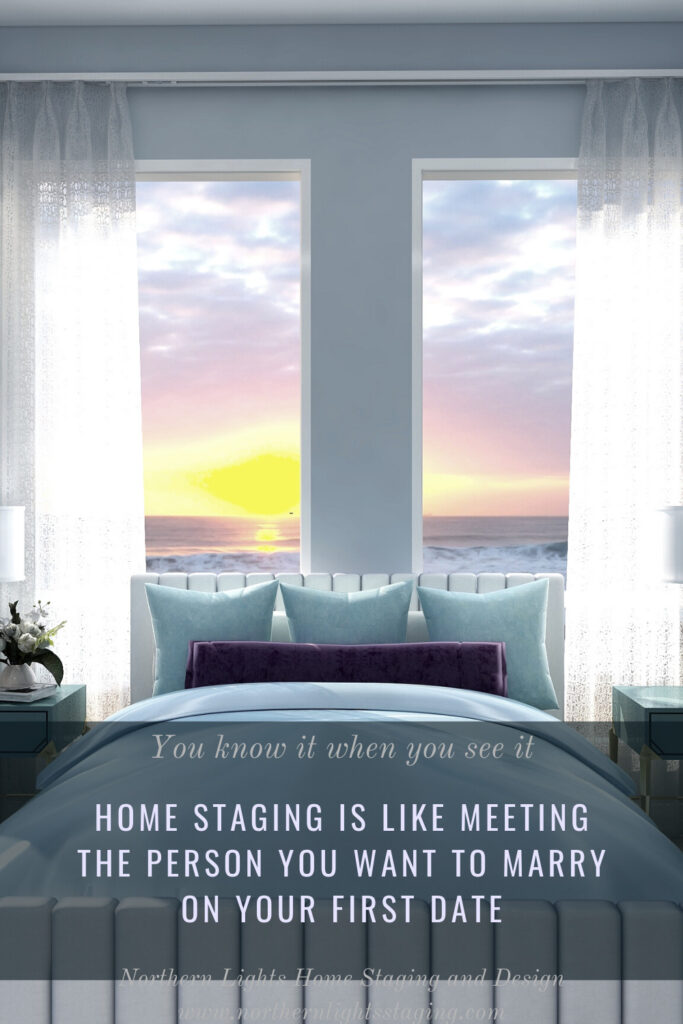 Home staging is the art of decorating a home to sell fast and for top dollar. It works by highlighting the home's best features and creating an atmosphere that buyers make an emotional connection with, so they can visualize themselves living there. Each year statistics come out that talk about things like staged homes sell 78% faster and for up to 20% more. Of course, this all depends on how well you or the realtor markets the home and if it is priced competitively to start with.
Wondering about the cost? A better question is how much will it cost you not to do it. This video gives a general idea.
What are my Home Staging Options?
Every house is different and there are options for every situation. When searching for a home stager, remember that low cost is not always better. Quality and the end result is what matters. Remember, staging always costs less than your first price reduction if it does not sell, and great staging will often bring in a lot more than your asking price. 
 Professional staging can help sell faster and for a higher price. See my article, "My Top Ten Home Staging Tips" for the most important things to consider. It's also good to know things you should not do! See my article "How NOT to Sell Your House in Seven Easy Steps" and "Why Your House Won't Sell" to learn more.
Check out the following options to see what best fits your situation. The prices listed are general estimates for planning. Every house is different and the investment in staging may vary.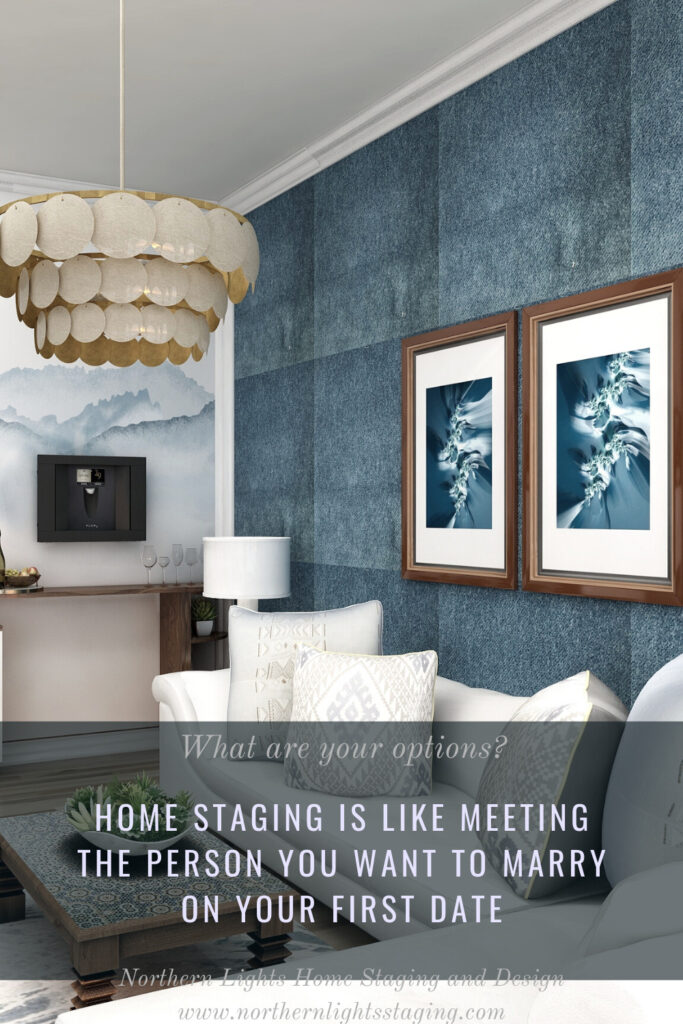 Home Staging Consultation
The most cost effective way to stage if you are living in the home while on the market,  is to get a home staging consultation with a pro and then stage it yourself.  They will give you their expert opinion on everything you can do both inside and outside to get top dollar and only recommend things that will give you a good return on your investment of time or money. This is great for folks with small budgets, but who know the value of home staging and are handy. The end result may not be as good as if a pro does it, but it will definitely help!  Your stager may be able to offer a final review after you do the staging to refine the end result.
Every home, no matter how nice can benefit from a consultation. The value comes from the pro's knowledge of the market, how to stage for the buyer and their un-biased view of your home. When you live there every day, it is impossible for you to have that perspective. Don't be worried about what they will recommend…. their goal is to get you the most money possible and reduce stress by selling fast. When preparing your house for sale, it is all about the buyer.
The longer the home is on the market, the more showings you have to deal with at a moment's notice while still paying your monthly home expenses. The longer it is on the market, the more likely your realtor is to recommend a price reduction, which is typically $10,000 each time. The longer it is on the market, buyers wonder what is wrong with the house and are less likely to offer top dollar. Once you set the initial price, it is only downhill from there. It is extremely unlikely you can list it un-staged for one price, then stage it later and raise your price. So do the staging before listing.
Investment.-$400-$850. A 2-hour consultation is about $600. Based on your location, size of your house and if you need a color consultation before painting, it may take more time and run up to $850 or more.
This is really the way to go if you will be living in the house while on the market. You start with the consultation to come up with a plan for staging. Then working mainly with what you already have, you work together and stage it that same day. Your stager may recommend purchasing a few items such as a new bedding set for the master bedroom, new shower curtains or towels for the bathrooms. Those things make a huge difference in helping the home look fresh, clean, modern and move-in ready to buyers.
Most people have everything we need to stage it beautifully. Often it is just a matter of re-arranging the pieces to make sure buyers know what the room function is,  it looks spacious and modern, the best features of the home are highlighted and it appeals to your target market. Because we work with what you already have, you generally don't have to rent anything, saving you money.
Investment– $800-$2200. Based on the size and condition of the house, it could take 4-10 hours or more to do the staging and you may have to purchase new bedding, towels etc. It depends on the time needed for your particular house. You should be done in a day though!
The same as Occupied Home Staging except you may need a few things, like some furniture pieces if yours is in poor shape. Rental fees are by the month, and my estimate assumes you are paying some rental fees for 2 months.
Investment- $1000-$3500.  Based on the size and condition of the house, it will likely take 6-13 hours to do the staging/de-staging and you may have some costs to purchase new bedding, towels etc. and rental furniture. Anything you will be "using" such as bedding, towels etc. (besides furniture) you need to buy, as they are not available for lease. Your stager needs extra time for sourcing the rentals, potentially packing and delivering some items, being there for delivery and then for de-staging to make sure no damage is done to your house. The staging should be done in a day.
 Vacant homes don't sell quickly. They look sad and lonely, don't make an emotional connection with buyers, there is no sense of scale so no one can tell how big a room is or if their stuff will fit, how the furniture can be arranged, or the purpose of the room. There is nothing to look at but the flaws. As the house sits on the market for months, the utility and mortgage bills add up, plus all those price reductions! Just stage it!  See the article in Alaska Home Magazine, "Staging a Vacant Home- Why It's Worth the Money".
Yes, it is expensive. Imagine if you had to completely deliver a house worth of stuff, unpack it and make the place look gorgeous in a day. Plus, your stager needs time to plan what can fit in the home, what looks good together and where to get the items, and may have to pack some  and deliver some of it themselves. They also need to be there to de-stage the house when it sells.
Investment– $3000-$4500. It depends on how much furniture needs to be rented and how long the house is on the market. This estimate is for up to 2-3 months.
Virtual home staging is a computer rendering of what a vacant space might look like if it was staged with furniture and accessories. Virtual is better than not staging and can show the buyers the possibilities. It can be helpful for out of state buyers that may not be able to visit in person, real estate investors or for rental properties. It might be great for properties that need a lot of remodeling and the seller chooses to leave that to the buyer. It is also more affordable than renting furniture and accessories for actual staging.
Remember though, as soon as they arrive in person, they are seeing a "vacant" house with all the issues that I mentioned previously. See my article "Virtual Staging and Remodeling, the Pros and Cons" to learn more.
Investment– $125 per room, 2 room minimum for virtual staging.   Varies if you are hiring people from other countries that are getting paid close to nothing to do the renderings. You will get a low quality job that will look just like all the rest on the market. Have a professional do it for you will give more of the look that works in person to make the emotional connection.
How Long Do I Need to Keep it Staged?
Keep it staged until after the inspection is complete and the sale is pretty much a done deal. You don't want the buyer to come to the house and think, wow, this looks nothing like what I bought, or to have to start over if the deal falls through.  Many staged homes sell within the first month and rentals go into the second month while waiting for the inspection to be complete. I have had some homes sell the first day on the market, but it still takes time for the inspection, etc. My cost estimates were based on two months. There are no guarantees though. No one can predict how long it will take.
You know staging will help you sell faster and for more. Even if you spend $5000, that is likely half the cost of your first price reduction. You should be able to make the investment back easily at a higher selling price and reduced time (and expenses) on the market. See my article, "Spend a Little- Make a Lot with Home Staging" to learn more.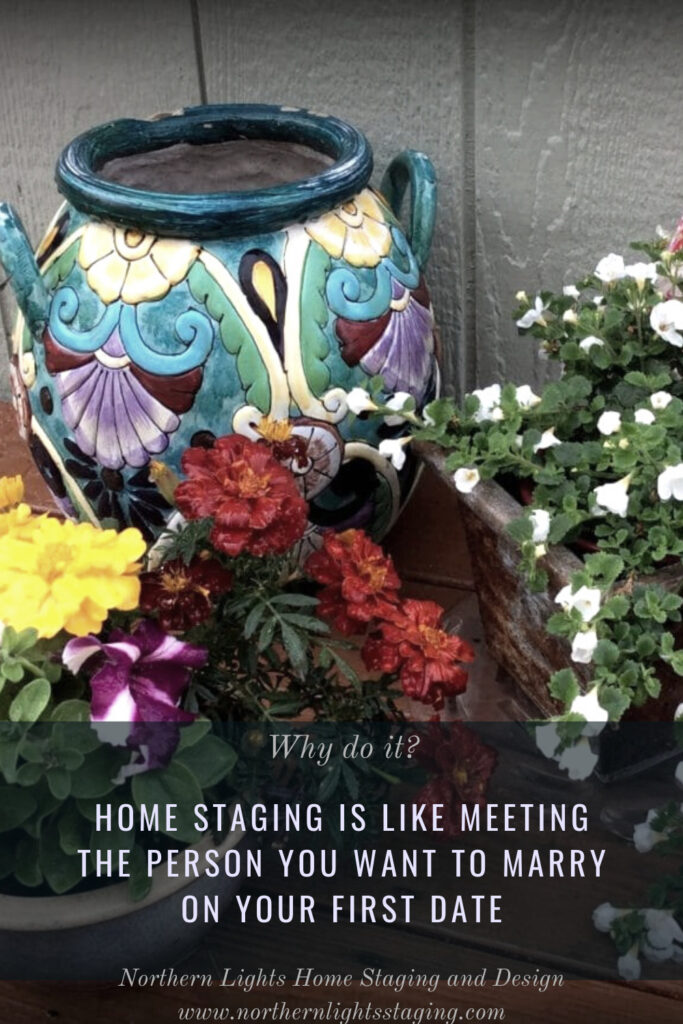 I understand you probably don't want to spend one more cent on the house you are trying to sell.  You may be tempted to go with the lowest cost stager or try partial staging or vignette staging or some other half measure. Your realtor may offer to do it for you. Are they a professional stager? Wouldn't you rather have them spending their time using their expertise to "market" your house instead?  Halfway measures are a waste of your money, don't work, and are distracting to buyers.  When I get calls asking me to do those things I always say no. See my article, "Bad Home Staging is like going on a first date to the drive-in for dinner" to learn more. 
I hope you found this helpful! For more info, check out my guides, FAQs for Home Sellers, or FAQs for Realtors, and best of luck on your home sale!! If you need help, I offer home staging consultations as well as virtual staging and remodeling services nationwide and in-person staging in my service area.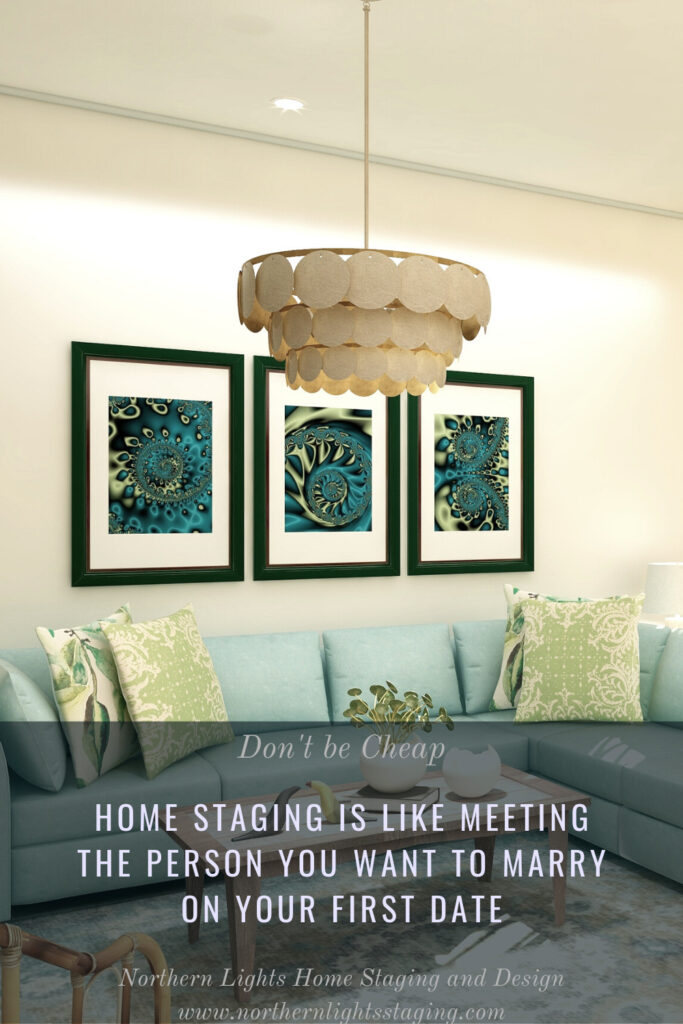 You Know What You Need to Do
Give me a call. I am here to help and we can do a consultation online, wherever you live.