There are 10 great reasons to love global style design. 
One of my favorite reasons is that Global style design is great at bringing the outside in to your designs, to help you feel connected and relaxed by surrounding yourself with the beauty of nature.
Global style tells the story of your life and adventures with things you have collected in your travels and local adventures. Highlighting unique, colorful, and beautiful art and crafts is a wonderful way to create your perfect space.
Each piece tells part of your story while creating a rich tapestry of color, texture, art, and history.  And you get the added benefit of supporting local and international artists and their communities.
How Global Style Brings the Outside In
Global styles are very connected to their natural environments.  They often take their color palettes and design elements from the landscape, plants, and animals of the area.
Art, accessories, and rugs highlight colors and motifs based on natural and unique features of the culture.
This has the effect of creating the feeling o bringing the outside in, or making your interior space feel connected to the outdoors.
For example, I wrote a series of articles showing how the colors and patterns of different global styles were related to their culture and landscapes.
Here are a few examples. They contain affiliate links which means I may make a small commission for sharing with you at no additional cost to you.
Indian style design creates inviting, informal, relaxed spaces filled with bright colored hand spun fabrics with paisley patterns, floor cushions around colorful rugs, intricate mandala motifs and nature-inspired themes with flowers, birds, animals
See an example of the natural landscape that inspired the design and some of the design elements I used below.
Mexican interiors are full of color, are welcoming, warm and there is often a sense of playfulness and whimsy. A mix of colorful, exotic Spanish and Indian handcrafted items and practical things add old-world charm. The colors are bright. Red is common and Yellow is also used heavily in shades ranging from bright lemon yellow to deep earthy golds. Terracotta is common. Blues are commonly used in art and accessories.
See the landscape that inspired the design and some of the design elements I used below.
Moroccan homes use bright colors, such as red, blue, orange, turquoise, pale ocean blues and green mixed with gold.
See the art of the landscape that inspired the design and some of the design elements I used below.
Turkish style is warm and inviting, earthy and exotic. There is an abundance of warm earth tones with pops of beautiful color. The colors and textures of the land have inspired much of the art, colors, and culture. 
See how the colors in the landscape inspired the design and some of the design elements I used below.
Greek Interior Design is simple and elegant, inspired by nature, and looks light, bright, airy, and clean.  Imagine lots of white with beautiful vivid blue, green, fuchsia, and gold accents, and a clean, de-cluttered, rustic look, 
See how the colors in the landscape inspired the design and some of the design elements I used below.
Bohemian style tends to be more general, selecting elements from many places and mixing and matching them into one glorious, colorful but harmonious whole. In other words, make it your own!
Bohemian style celebrates warm earthy colors, metals and jewel tones. Bohemian decor often uses deep browns, greens, grays or other neutral colors for base colors, then accessorizes with saturated purple, fiery orange, and electric blue and other jewel tones
Here are some examples of pieces I used for this design. Elements of the outdoors are incorporated in my fractal art inspired by bioluminescence in the ocean, pillows with plant motifs, bird accessories, lotus plant light fixture, and more. Learn more about this design in my article, Get the Look- Global Style- Bohemian.
What Story Does Your Landscape Tell?
Look around. What are the colors, shapes and inspiring things about your landscape that you can connect to your indoor spaces?
What are the main things you see from the windows into your main living areas?
Consider your surroundings. Do you live in the mountains, a forest, on the ocean or in a city?
What is your view?
What are the prominent colors and how do they change with the seasons?
Some of my Landscape Stories
Here are some of the colors, shapes, and inspiration from my landscape here in Seward Alaska that shape what I try to bring indoors into my space and my designs.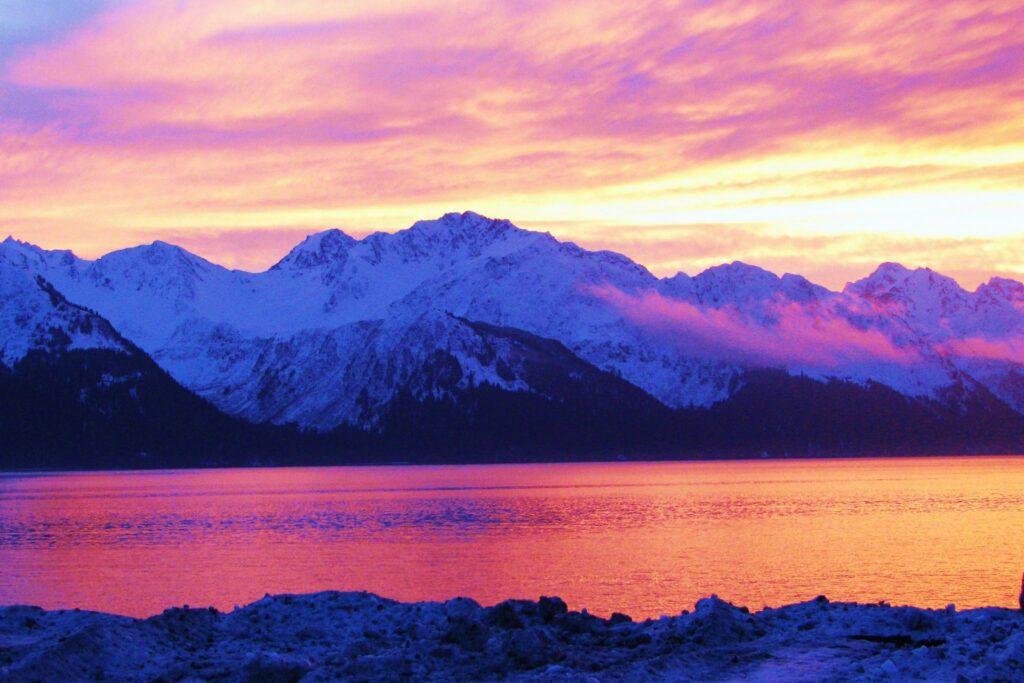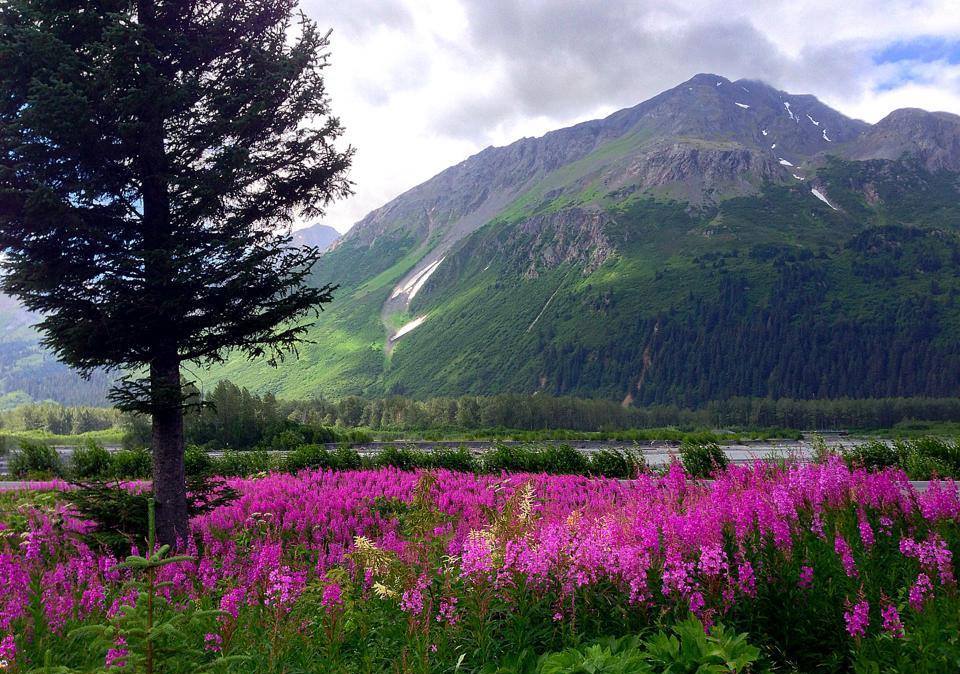 How Can You Bring the Outside In?
It is easy to get started by picking art or accessories that have nature-inspired designs.  Look for things that reflect the area you live in or a place you love to go. Maybe you are inspired by the scenery, water, plants or animals. You can also use your selection as an inspiration piece to build your color palette.
Art and Accessories Inspired by Water
Live near water? Here are some pieces of art inspired by the ocean or other water bodies you might like. Try a watery color scheme of greens and blues.
Art and Accesories Inspired by Plants
Live near a forest or have trees and shrubs in your yard? Try lighting, art, or accessories based on plant motifs.
Art and Accessories Inspired by Animals
Abstract Art Inspored by Nature
Before I became a designer, I was a wildlife biologist in Alaska for 20 years and 10 years before that in Arizona. I was always fascinated by the beauty of nature, the colors, the patterns of the landscapes, plants, and animals. Whether it was the amazing patterns I could see of the section of a plant under a microscope to the big picture view of doing wildlife surveys in a plane, those experiences influence the fractal art I create today. It is all related to nature in some way. Check out some of my fractal art below and visit my stores on Society 6 and Vida to see more.
Why Connecting with Nature Matters
As humans, we want to be connected with nature and other living things such as people, animals and plants. This longing for "connection" with other life forms is called "biophilia".
As humans, we have always been connected to nature, for survival, sustenance, spiritual renewal, and inspiration. Mother nature is the best designer there is, with her endless abundance of beautiful color palettes, shapes, patterns, and textures. Spending time in nature is good for our health and wellbeing.
Learn more in my article, Healthy Home- Feel Good with Biophilia.
Look at your surroundings and find the colors and inspiration from the outdoors that it meaningful to you, and bring some into your space.
Ready to Connect to Nature in Your Home?
My philosophy of great Interior Design, which I call Aligned Design, considers three key factors which are art (creativity), science (color), and energy (connection). The intersection of the three is where the magic happens.
Connecting to nature and biophilia is part of the energy of great design.  
Start with an Aligned Design consultation to create a plan to create your perfect space.
Check out My Fractal Art Studios
Examples may contain affiliate links, meaning I may get a small commission for sharing them with you if you buy something, at no additional cost to you.