Welcome to my Portfolio Gallery where each image is a gateway to my unique Aligned Design philosphy.  
Each design showcases a specific energy concept or supports the needs of a specific person to live to their highest potential.
My energy art serves as the designs foundation.  It is a harmonious mosaic of Artificial Intelligence and Fractal art, or fractal art alone. Fractal art, deeply rooted in sacred geometry, allows us to visualize the invisible, yet fundamental, building blocks of energy that create life. I infuse my energy into the designs to support what you need. As you desire to lead your best life, your energy and intention and mine infused into the art's essence work together to transform the energy of your space, providing unwavering support on your journey.
Through this interplay of technology, aesthetics, and personal energy, my designs reveal the underlying symphony of energy patterns and structures that orchestrate our vast universe.
It's like a dance where art, science, and spirituality come together to improve your space's energy, supporting your growth and success.
Click on any image,  and learn more about the art and design through a blog post or Saturday Night Live Art Show video.
---
Check out the slide show for a closer look at a few of my favorites.
Check out the Gallery Summary to look at designs in your favorite colors.
The Gallery Details gives a closer view of the foundational art with links to blogs and videos on the projects.
Take a closer look at the art and supporting videos and blog articles about each design to see how the energy art is the foundation that supports you in your design.
Butterfly Medicine- Transformation and Joy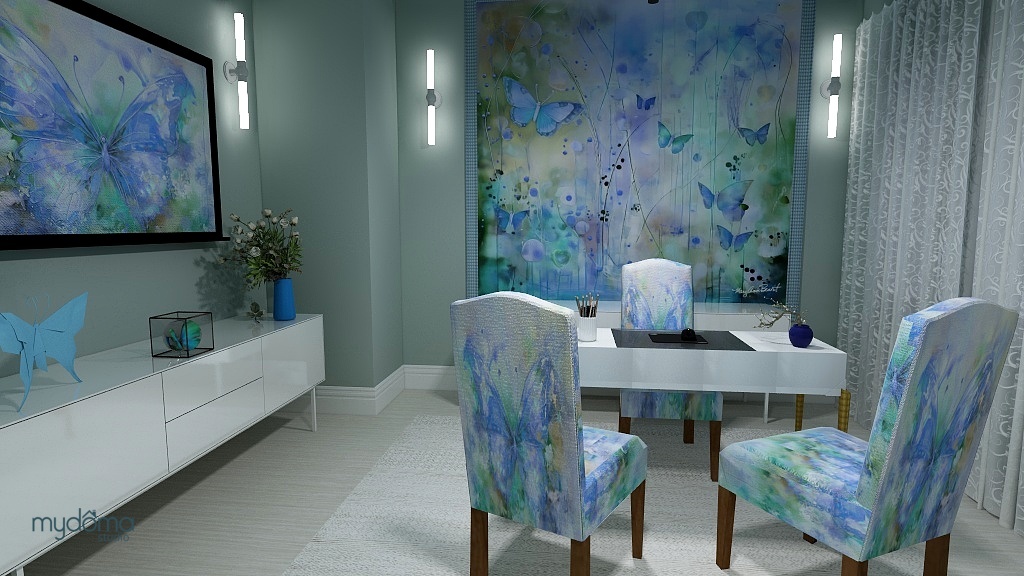 Raven Medicine- Make Space for Magic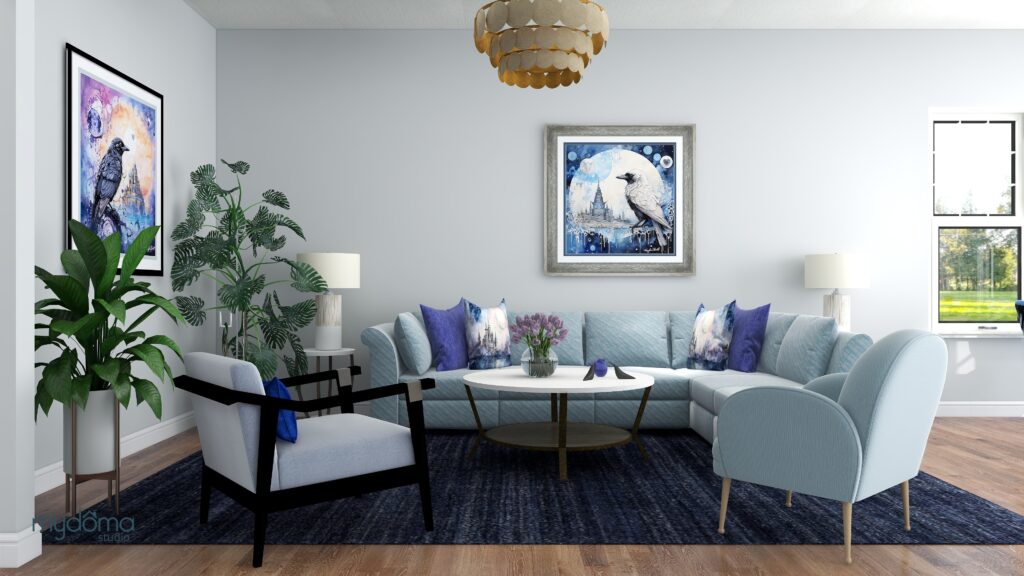 Crow Medicine- Living in Integrity
Modern Global Style- Fireweed Office
A great example of how to bring the colors and energy of summer from the outside in for health and wellness. 
A beautiful example of how to bring the outside in for health and wellness.
Modern Global Style Living Room- The Magic of Lighting
Global Style Office-Work From Home Stress Free
Modern Global Style Living Room- Bring the Outside In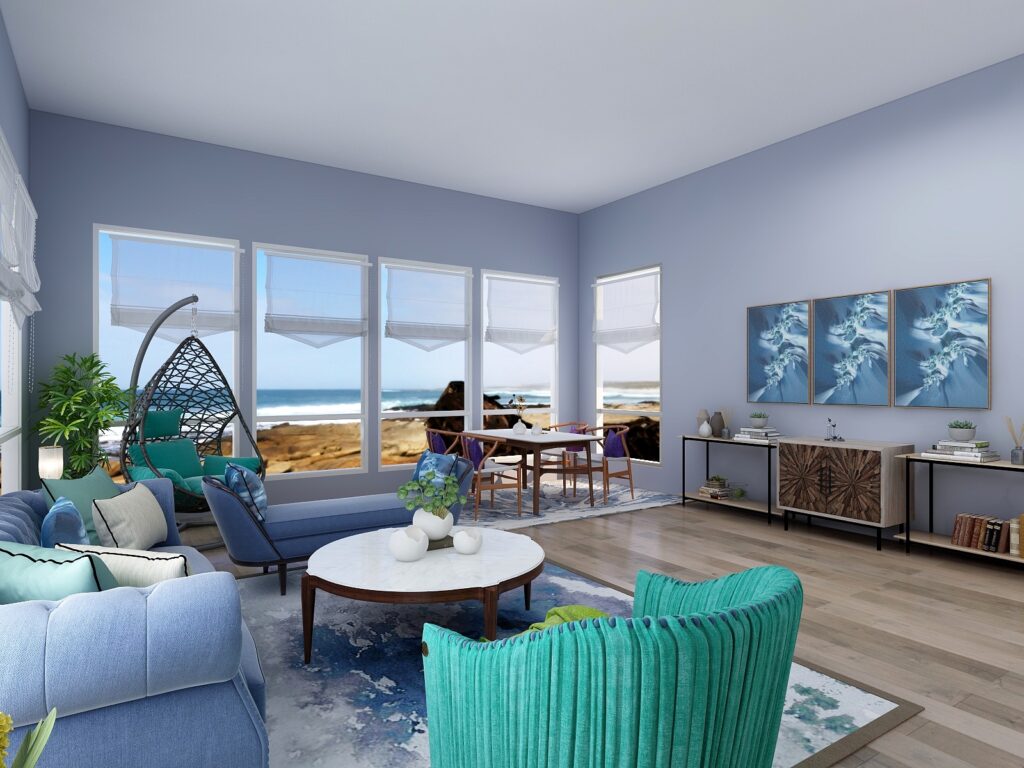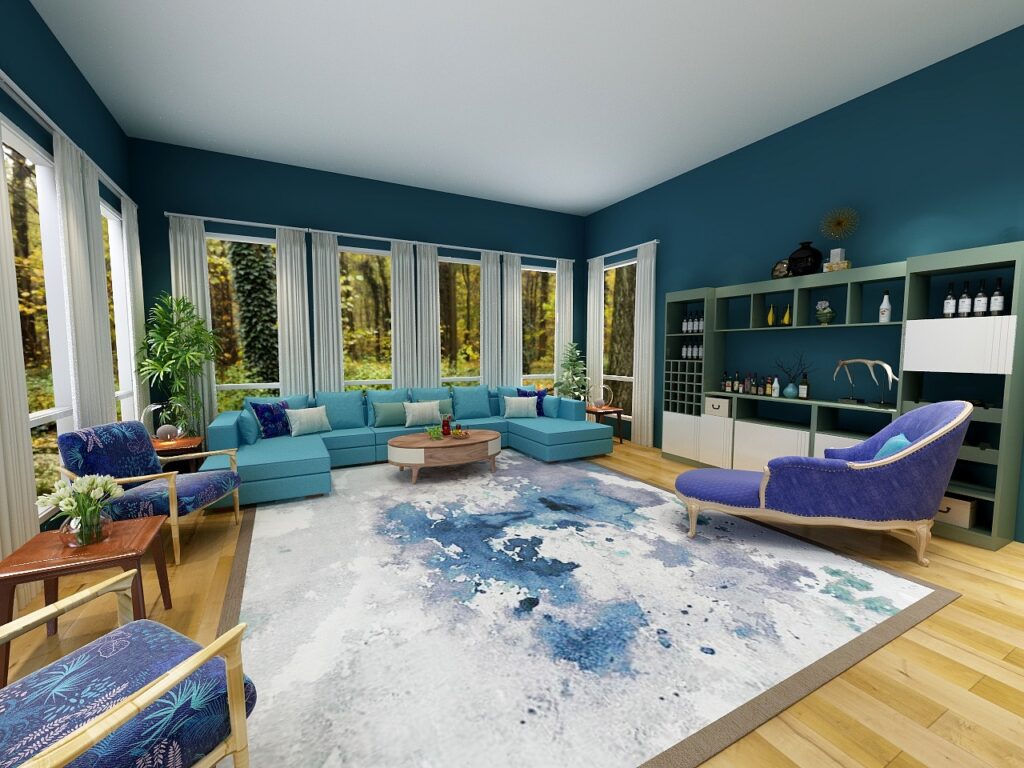 Modern Global Style Living Room- Exploring Color Schemes
Click on the pictures to go to the blog articles describing the details of each design and color scheme.
Modern Global Style Bed and Breakfast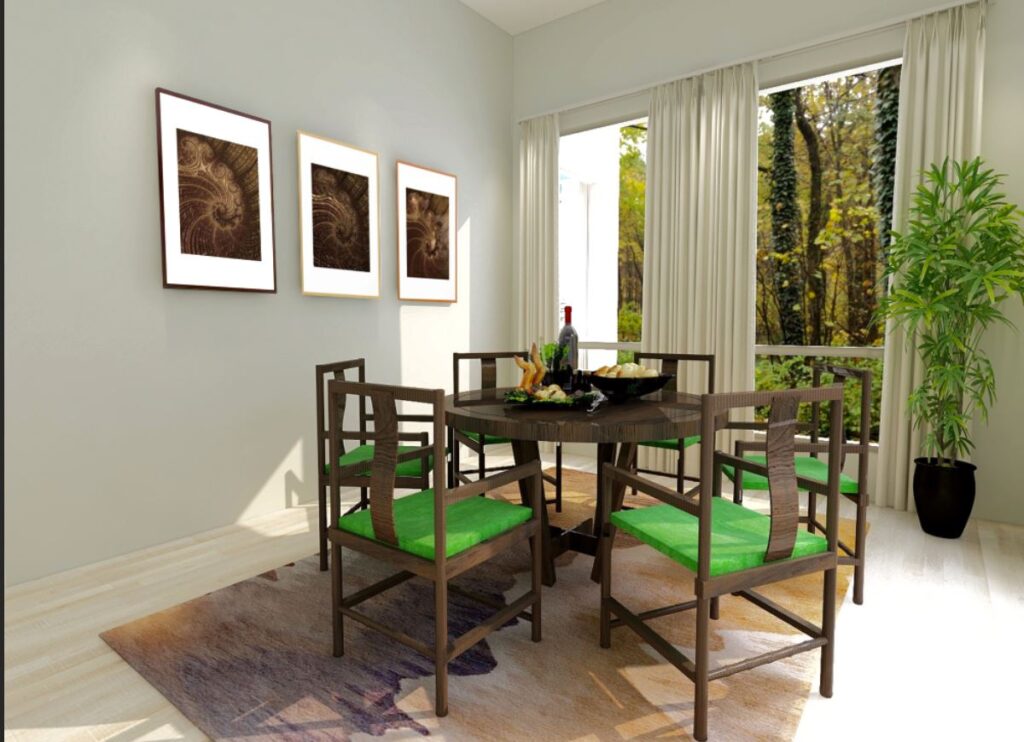 Bohemian style is vibrant yet relaxed, worldly yet intimate, and always deeply personal and expressive. It's a style that resonates with those who value individuality, creativity, and a connection to the world around them.
Moroccan interior design is characterized by its warm, inviting, and multi-sensory experience, layered with historical and spiritual depth. It's a style that doesn't just look good – it feels good, enveloping inhabitants in an ambiance that's both exotic and comforting.
Indian design captures the heart with its warmth, vivacity, and intricate detailing. The essence of this style is a harmonious blend of relaxed elegance and vibrant energy.
The energy of Mexican interior design is vibrant, colorful, and rich in cultural heritage. It embodies warmth, a sense of community, and a celebration of life. The design often features bold patterns, traditional craftsmanship, and an appreciation for natural elements.
Turkish style interior design is a harmonious blend of history, culture, and sensory richness. It evokes feelings of warmth, connection, and timeless beauty, resonating with both the heart and the senses.
Vacation Rental Staging of Design.
Revitalize your vacation rental property with vacation rental staging and design to boost your bookings, elevate income, and attract ideal guests.
Bed and Breakfast Remodel
What sets me apart from most designers is the exceptional expertise I bring to the realm of color. I employ the science of color, a rare skill that has earned me the distinction of being the only certified color strategist in Alaska and among a select few nationwide.
Occupied home staging is a process that utilizes the homeowner's existing items to highlight the property's strengths. 
Vacant home staging involves bringing in a complete set of furniture and décor to transform an empty house into an inviting home. 
Hybrid home staging offers a blend of these approaches by incorporating some of the homeowner's items and supplementing them with rented pieces, as required. 
Anchorage- Hybrid Home Staging and Color Consultation
Anchorage Occupied Home Staging
Staging the Stagers House-Occupied Home Staging
Anchorage- Hybrid Home Staging
Anchorage- Hybrid Home Staging
Anchorage Vacant Home Staging
Anchorage Vacant Home Staging
Anchorage Vacant Home Staging
Are you a vacation rental owner struggling to attract the right guests and earn the income you believe you should?
Implementing thoughtful interior design and staging, which take into account aspects of art, science, and energy, can help. This approach draws in customers who are the best fit for your property and enhances their satisfaction, as your rental will align with their expectations and preferences.